18 October 2007 Edition
Matt Treacy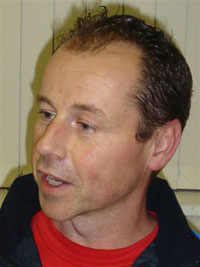 Inter Pro – time to go?
FOLLOWING ON from last week's theme, there was more industrial unrest in Gaeldom when the Limerick footballers refused to play for Munster in the Inter-Provincial semi final, the reason being that the Munster Council has seeded Kerry and Cork so that the two cannot meet before the Munster final.
We shall return to that but, first, I will digress by expressing my warm sympathies for the Limerick men in having nothing whatsoever to do with the Inter Pro, formerly known as the Railway Cup. Many's the Patrick's Day I froze to death in Croke Park and it evokes sharp memories of misery and hardship. A political prisoner in the frozen wastes of even the most progressive state could not have felt more put upon.
Seriously, though, it might be high time to knock the whole thing on the head. Only 400 people turned up to see the two matches in Fermoy last Saturday. Now while that may have been due to the sympathy of the toiling masses for the Limerick men, it was more likely due to a lack of interest. At this stage the plan to hold the finals in Croke Park under lights seems ill-conceived, to say the least. Nobody – other than people from the likes of Fermanagh and Kildare – gets excited about 'their' province anymore and few of the players from the good teams seem that interested.

CHAMPIONSHIP DRAW
Back to the issue that sparked the withdrawal of the Limerick men from said competition: the draw for next year's championship.
It was made last Sunday and throws up some interesting encounters.
In Ulster, Monaghan will probably have been pleased to avoid Tyrone's side of the draw but will have a tough semi-final against either Derry or Donegal if, as expected, they first overcome Fermanagh.
Tyrone, arguably, have the easier passage but much will again depend on the health of the squad which showed continuing signs of frailty this Summer. I'm going for Monaghan.
In Leinster, Dublin will face neither of their main rivals, Meath or Laois, until the final and will be strong favourites to make it four in a row in 2008, a feat not accomplished since 1995 when they won the All-Ireland and also beat Louth in the first round. It all makes sense, you know. Dublin to win Leinster.
Munster looks pretty predictable and, while Limerick do have a point about the draw, it is difficult to see any team, including Cork, troubling Kerry.
Connacht is less easy to call. Mayo and Galway were poor last year and Sligo was by far the weakest of all the provincial winners. That provides a huge incentive for both Roscommon and Leitrim to up their effort and I am going to make the mad prediction that it will be Leitrim who come out on top.
In an effort to make the hurling championship more mysterious (or perhaps puzzling), a new system has been introduced. Galway and Antrim play one another in the first round with the loser playing either Waterford or Clare and the winner playing the loser of Offaly versus Laois, most likely Laois. The two losers of those matches then play one another and the loser of that plays the winner of the Christy Ring Cup to decide who enters the senior championship in 2009.
The losing semi-finalists in Leinster and Munster – Wexford/Dublin, Offaly/Kilkenny, Cork/Tipp and Waterford/Clare/Limerick – play off to decide which two go further to meet whoever comes out on top between the winners of the second phase (probably Galway and Clare) and the losing Munster and Leinster finalists.
The provincial champions go through to the semi-finals, where there is an open draw to decide which two of the quarter finalists they have to play. It is all very complicated but you would not need to be clairvoyant to predict the likely outcome of the earlier rounds.
Some have complained about the unfairness of the new system. Kilkenny are 99 per cent certain to win Leinster and will only have their first genuine test in the semi-final. However, that is not unfair; it is merely a reflection of the lack of competition. The only way that could be addressed is by doing away with the Munster championship and pitting the Cats against the Munster teams from the word go. But no one is advocating that and they are right not to. The Munster championship was enthralling this year and more than compensated for a lop-sided Leinster. Besides, the Cats' hegemony will not last forever and when they are toppled it will mark a huge achievement for whoever is responsible. Just let it be a team in blue!
FOOTBALL DRAW:
• Leinster
First Round: Kildare v Wicklow; Meath v Carlow; Longford v Westmeath.
Quarter-finals: Laois v Kildare/ Wicklow; Wexford v Meath/Carlow; Offaly v Longford/Westmeath; Dublin v Louth.
Semi-finals: Kildare/Wicklow/Laois v Meath/Carlow/Wexford; Longford/Westmeath/Offaly v Dublin/Louth.

• Connacht
First Round: Galway v Roscommon; Leitrim v New York; London v Sligo.
Semi-finals: Galway/Roscommon v Leitrim/New York; London/Sligo v Mayo.

• Ulster
First Round: Antrim v Cavan.
Quarter-finals: Armagh v Antrim/Cavan; Tyrone v Down; Donegal v Derry; Fermanagh v Monaghan.
Semi-finals: Antrim/Cavan/Armagh v Tyrone/Down; Donegal/Derry v Fermanagh/Monaghan.

• Munster
First Round: Limerick v Tipperary; Waterford v Clare.
Semi-finals: Cork v Limerick/Tipperary; Kerry v Waterford/Clare.
HURLING
• Munster
First Round: Waterford v Clare;
Semi-finals: Limerick v Waterford/Limerick; Cork v Tipperary.

• Leinster
First Round: Dublin v Westmeath, Offaly v Laois.
Semi-finals: Wexford v Dublin/Westmeath; Kilkenny v Offaly/Laois.

An Phoblacht Magazine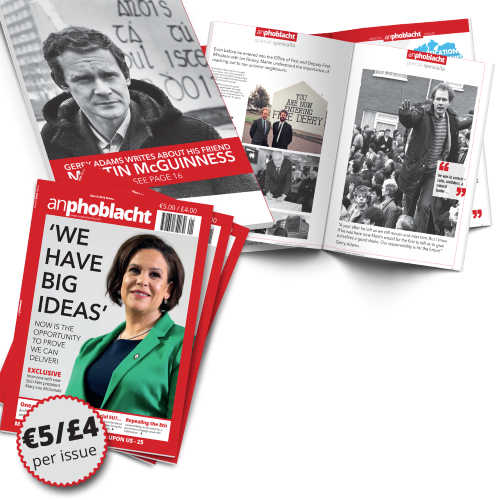 AN PHOBLACHT MAGAZINE:
The first edition of this new magazine will feature a 10 page special on the life and legacy of our leader Martin McGuinness to mark the first anniversary of his untimely passing.
It will include a personal reminiscence by Gerry Adams and contributions from the McGuinness family.
There will also be an exclusive interview with our new Uachtarán Mary Lou McDonald.
test