18 October 2007 Edition
Doherty lobbies for transfer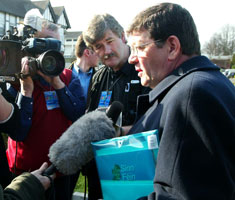 Sinn Féin Vice President and West Tyrone MP Pat Doherty has been engaged in a intensive series of meetings with MPs from all of the main political parties in Britain this week to lobby for the free transfer of vacated British military sites to the Six County Executive. Doherty wants to see British Ministry of Defence (MoD) sites at Lisanelly and St Lucia in Omagh, County Tyrone taken over and used for social and economic regeneration in the region west of the River Bann.
Under the terms of the Reform & Reinvestment Initiative negotiated by members of the previous devolved administration a small number of MoD sites namely: Long Kesh; Ebrington Barracks; Crumlin Road Jail and Magherafelt, were put at the disposal of the Executive for socio-economic regeneration purposes.
Following talks in 2003, both the Irish and British Governments issued a Joint Communiqué. The British intimated they would favourably consider the transfer of additional MoD sites to a local Executive to regenerate areas worst affected by the conflict.
"The British government has, of yet, failed to follow through on this peace dividend contribution and vacated military sites are being sold off to the private sector resulting in massive profits for the MoD", Pat Doherty said.
The West Tyrone Sinn Féin MP also highlighted the potential of the transfer of sites in West Tyrone adding:
"Covering an expanse of 155 acres, in total, the vacated military sites of Lisanelly and St Lucia in Omagh are second only in size to the Titanic Quarter in Belfast in terms of the land now available in an urban setting in the six counties for regeneration and redevelopment purposes.
"If this land is transferred to the Executive, a golden opportunity exists to strategically plan for not only the best usage of these sites in terms of regeneration of the local area but also in terms of effecting balanced regional development on an east/west of the Bann basis."
"Ministers in the current Executive are pursuing the free transfer of additional MoD sites, including Lisanelly and St Lucia, with the British Government and tomorrow and Thursday I will be engaged in an intensive round of meetings with MPs from all three main parties in Britain who I believe can influence the British government to positively respond on this crucial issue including: Labour members of the influential Ireland Affairs Committee, Andy Burnham, Chief Sec to Treasury, Owen Patterson MP, Conservative Shadow Secretary of State, Alistair Carmichael, Lib Dem spokesperson on Ireland as well as Plaid Cymru and other individual MPs", he said.