11 October 2007 Edition
Fifth Column
Float like a butterfly, sting like Willie O'Dea
SDLP and Sinn Féin punch-up
THERE'LL be no shadow boxing when Sinn Féin faces a fresh challenge from the SDLP next week in a new contest – a charity boxing match in aid of suicide awareness.Despite a long run of defeats in the political arena, the SDLP is now putting Lisburn Councillor Matthew McDermott in the boxing ring against a republican contender, most probably West Belfast MLA Paul Maskey.Other bouts include a media match featuring the Andersonstown News's Ciarán 'Bad News' Barnes although his opponent is yet to be named. Could we hope the gloves will come off for Richard 'Pretty Boy' Littlejohn, Eoghan 'Right Hook' Harris or Gary 'The Beast' Bushell?

Organised by Gleann Amateur Boxing Club coach Desi Hill, the big fight night takes place at the Devenish Complex on Friday 19 October.
Show Dublin City Council the red card
ANTI-RACIST charity Show Racism the Red Card fell victim to an outrageous off-the-ball incident on All-Ireland Final day at Croke Park.
The Show Racism the Red Card team, backed by the Gaelic Players' Association, lined up on big match day, muscles tensed as they waited to give out 25,000 postcards bearing the anti-racist message.
But it wasn't a game of even one half, let alone two halves, when spoil-sport litter wardens threatened to slap fines of €125 (£87) for every single postcard found lying on the ground if anyone threw them away or dropped them. So even 500 cards dropped would have cost the charity a small fortune.
No one argues that there's a role for council litter wardens but I wonder if DCC is as quick issuing fines when copies of the Dublin commuter free-sheet newspapers, the Daily Mail's Metro and Sir Anthony O'Reilly's Herald AM, are littering the place every weekday in pursuit of media barons' profits. Do they get slammed with a €125 fine for every issue? Or maybe it's not a level playing field at Dublin City Council.
Rosetta Rasta man
MÁIRTIN Ó MUILLEOIR, progressive and enlightened media mogul (yes, they are compatible), reports in his online blog from the Irish-American Unity Conference in Boston at the weekend.
Academic Peter Shirlow, who hails from a unionist background, told the conference that many "cultural" unionists who view themselves as British no longer vote unionist.
He described how he regards himself as British and Irish and has been keen to move away from the 'Protestant = unionist' stereotype. So keen was he to do this that in the 1990s' government censuses he refused to describe himself as Protestant or Catholic.
"The authorities decided they needed a second question to catch people like me," Shirlow said, "so, at the last census, they added an additional question asking what your perceived background was. But I refused to play that game. I ticked the box for 'other' and wrote in "Rastafarian".
"So if you go to the official census return online for the Rosetta ward of Belfast, you will see there that Rosetta has one Rastafarian and he's here today."
Leo Varadkar's polo goal
FINE GAEL'S 'fresh face in the Dáil, Dublin West TD Leo Varadkar (Enterprise, Trade and Employment) is only a wet day in Leinster House and he's tearing into the Fianna Fáil/PD/Green Government on Bertie's funny money matters; that they don't know how many state agencies they have; and that Bertie's brother, Noel, has been ratcheting up more than twenty grand in mileage expenses even though he lives in Dublin.
And Leo has ridiculed Fianna Fáil's stamp duty reforms for benefiting millionaires rather than house hunters in Hunterstown. Three first-time buyers have received more than €100,000 in stamp duty rebates, showing that they paid more than €1 million on their first home, Leo said, although Fine Gael was in favour of the policy pre-election. But in case anyone thinks the David Cameron of Dublin West has sold out the Fine Gael families on Millionaires' Row, Leo quietly slipped the following parliamentary question in on the Dáil order of business last Thursday, 4 October:
"To ask the Minister for Enterprise, Trade and Employment if he will make special provision for work permits and visas for people being brought in from overseas to work in the polo industry, especially as horse trainers."
There's Diarmuid Gavin horsing around with all sorts of scallywags and pony kids on the telly when one is at one's wits' end because one just cannot get a decent polo pony trainer for Lord and Lady Loads O'Money and their pukka chums in the Phoenix Park.
That's the trouble with these FÁS job centres: turning out plumbers but no decent polo pony trainers. Leo Varadkar and Fine Gael ride to the rescue. Hurrah!
Bush ally melts away
THE entire military presence of one of the nations named as heroic by George Dubya for standing alongside him has quietly melted away last week. Iceland has pulled out. Iceland?
Yes, Iceland took its one soldier home. Its single soldier. Its sole, solitary soldier... who was actually a press officer, not even a proper soldier that kills Iraqis like.
That leaves Dubya's 'Coalition of the Willing' more than just one man down. Now it's one whole nation down.
Next, please.
Who guards the guards?
SIX FBI agents are being brought in from Washington to investigate the Baghdad bloodbath on 16 September that left some 17 Iraqi civilians dead and more than 20 wounded after a shooting spree by gunmen working for the US private military company, Blackwater.
The people in the dock are Blackwater security.
Who will meet the FBI on their arrival in Iraq?
Blackwater security.
Who will be responsible for the safety of the FBI?
Blackwater security.
Who will be responsible for getting the FBI safely to and from the crime scene with any evidence?
Blackwater security.
As they used to say in Hill Street Blues: "Let's be careful out there."

An Phoblacht Magazine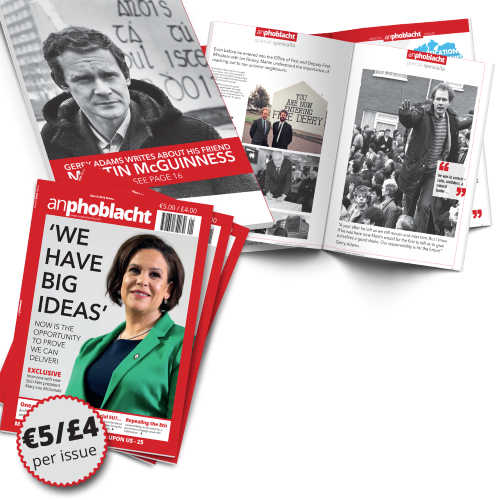 AN PHOBLACHT MAGAZINE:
The first edition of this new magazine will feature a 10 page special on the life and legacy of our leader Martin McGuinness to mark the first anniversary of his untimely passing.
It will include a personal reminiscence by Gerry Adams and contributions from the McGuinness family.
There will also be an exclusive interview with our new Uachtarán Mary Lou McDonald.
test