11 October 2007 Edition
Cross border theme in new drama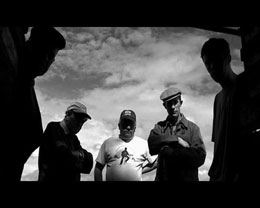 TV Preview:
Testing Time Teddy Boy
TG4
9pm Thursday 11 Oct

Thursday, 11 October will see the broadcast of the locally-filmed drama, titled Testing Time Teddy Boy, on TG4 AT 9pm. This is the first short drama from the border region to achieve such notable attention. Written and directed by Kevin McCann, the film has a cross border and intercultural theme. It features a cast, crew and locations from both sides of the border.
Testing Time, Teddy Boy is a spiritual and challenging short drama about a lost man in an ever-changing world. Upon realising that the days on his small farm are threatened, farmer Teddy Monday decides upon a stark and tragic plan for himself, his cattle and his dog...until the rain falls and a heavenly fate intervenes. McCann states that Testing Time, Teddy Boy is a film that explores communication and obsession within a rural setting. Although the words and images are local, the tale is taken from the universal pot. Suicide is a prominent yet taboo issue all over the world. It is a worrying matter in rural Ireland even during our 'progressive' economic boom known as the 'Celtic Tiger'". This fine film centres around the annual Ulster Drag Hunt and features many local actors.
The film has received large applause from audiences. The famous Screenwriter & Author Patrick McCabe was in high praise: "Testing Time, Teddy Boy is tough, terse and authentic. Shot in rich monochrome and with a haunting soundtrack by Brendan Perry, it is well worth checking out."
The critically acclaimed award-winning film is the first drama production from Maccana Teoranta Production Company, based in Belturbet.
An Phoblacht Magazine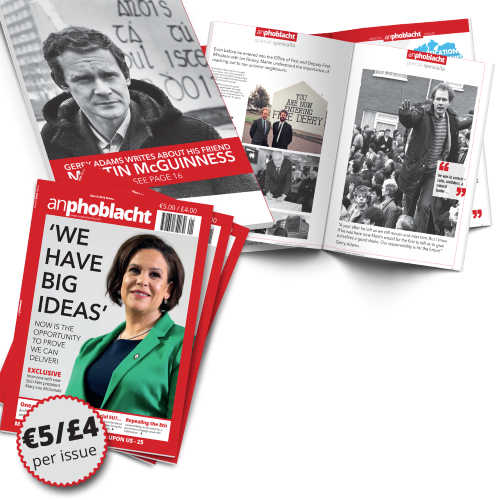 AN PHOBLACHT MAGAZINE:
The first edition of this new magazine will feature a 10 page special on the life and legacy of our leader Martin McGuinness to mark the first anniversary of his untimely passing.
It will include a personal reminiscence by Gerry Adams and contributions from the McGuinness family.
There will also be an exclusive interview with our new Uachtarán Mary Lou McDonald.
test