11 October 2007 Edition
ECONOMY : Ulster Bank chief outlines all-Ireland economic challenge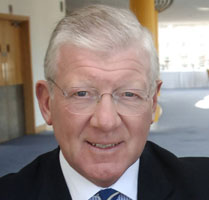 Bringing real benefit to the whole island
BY ROBBIE SMYTH

IT WAS HARD to figure out which was the worse response to the carefully written article by Ulster Bank Chairperson Alan Gillespie on promoting all-island economic growth published in The Irish Times last week.
There was the predictable knee-jerk economics from the DUP and UUP Assembly members whom it seems were queuing up by the end of last week to distance themselves from Gillespie's recommendation that the island's two economic development agencies, the IDA in the 26 Counties and INI in the Six Counties, be merged into one entity.
But what was much worse was a news media waiting to pounce selectively, first on Assembly Enterprise and Employment Minister Nigel Dodds and, secondly, on DUP deputy leader and Assembly Finance Minister Peter Robinson but not actually ask them about the core message of Gillespie's article, which was that a successful economic strategy must be rooted in investment in education, workers' skills, infrastructure (including ports, airports, roads and telecommunications), as well as efficient and cost-effective energy supplies. Investment in innovation, R&D, housing, schools and culture were on all on Gillespie's list.
Unfortunately, we never got to hear what the DUP ministers thought about this aspect of the Gillespie article as the media focus was on just one aspect of what was a long piece. Gillespie wrote:
"We should promote an all-island economy through a single, joined-up, effective agency with the IDA and INI no longer competitors but merged and fully collaborative."
Gillespie went on to say:
"Surely sensible people in Belfast and Dublin could work out a mutually beneficial operating protocol to bring real benefit to the whole island."
It was this element of the article that the media focused on last week. The DUP's Nigel Dodds went in the course of a morning from saying that the article was an "interesting contribution" though he was not convinced about the merits of an IDA/INI link-up to saying later in a radio interview: "This sort of idea is not helpful. I think it skews the debate. It is not going to happen."
Sinn Féin's Economy spokesperson, Mitchel McLaughlin, took another view, welcoming the Gillespie article but focusing not just on pooling the resources of the IDA and INI but on the other aspects of the article:
"As my party's spokesperson on the Economy, I am on the record urging substantial investment in education, information technology and R&D as the most potent way to stimulate the economy."
McLaughlin asked Dodds to listen carefully to what Gillespie was saying, particularly as the DUP minister is on the record as saying his economic vision is for "a higher value-added economy that is able to compete effectively within a globalised workforce". Is this much at odds with Gillespie's vision of working on "developing all aspects of our competitiveness package"?
Gillespie also made other economic proposals which were overlooked, including the idea that "there is a compelling argument for the creation of a new single department of government for economic strategy and policy delivery. New ministers have inherited a situation where nine out of 11 departments of government carry some responsibility for the economy."
By the end of the week there were more mixed signals coming of the DUP when deputy leader Peter Robinson, speaking after an Irish Taxation Institute briefing in Dublin, said: "I am not going to hide the fact there would be major political issues involved that would make it impossible." It was, he said, "a united Ireland agenda".
Unionists would go, though, for "co-operation and collaboration" and Robinson said there was scope for improvement in the collaboration between the IDA and INI and greater co-operation.
Perhaps the most important aspect of the Gillespie article is not whether we agree with his analysis or not (few republicans would have concurred with the plaudits he was heaping on the IDA), but the real question is whether all the parties on the island are ready to debate future economic strategies, North and South.