11 October 2007 Edition
Police Ombudsman's report undermined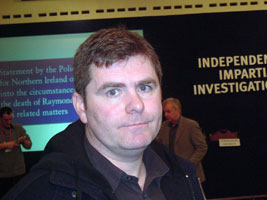 BY LAURA FRIEL
THE Police Ombudsman did not examine the overall operational planning that led directly to the killing of Neil McConville, said Mark Thompson of Relatives for Justice.
"The operation involved huge covert resources and also relied on the tactical support of the British Army. It was a failure not to fully investigate this aspect of the killing," said Thompson.
Neil McConville (21) was shot three times when the car he was driving was rammed from behind by the PSNI who had been in pursuit of the vehicle outside Lisburn. A passenger in the car, David Somers, had been under Special Branch surveillance for several weeks and a shotgun was found in the car.
Police Ombudsman Nuala O'Loan subsequently investigated the shooting but restrictions placed on the Ombudsman's remit have undermined her ability to investigate fully the circumstances surrounding McConville's death, say Relatives for Justice.
O'Loan said that the PSNI officer who fired the fatal shots had been justified in opening fire but expressed "grave concern" about other aspects of the case, in particular the fact that secret intelligence information had been deleted from a PSNI computer during her investigation.
"Despite seizing the relevant computer hard drive and securing expert assistance, it had proved impossible to recover the material," O'Loan reported. "People have great difficulty accepting the explanation offered, particularly following the resistance to granting access to the material."
Chief Constable Hugh Orde was forced to intervene after the PSNI refused to hand over crucial intelligence files. When the files were finally handed over, six weeks later, some of the key files had been deleted. Control room officers refused to co-operate and took early retirement to avoid helping the investigation.
Other concerns highlighted by the Ombudsman's report included the fact that the PSNI rifle used in the shooting was engaged in automatic rapid-fire mode, contrary to regulations, and no attempt was made to intercept or arrest the couriers of the sawn-off shot gun collected by the car despite it being under helicopter surveillance for most of the day.
According to Relatives for Justice, the failure to investigate the overall operational planning and the Ombudsman's inability to investigate the role of the British Army seriously undermines the report's findings. Among those officers involved in the killing who avoided investigation by taking early retirement was a former assistant chief constable.
As the McConville family initiated civil proceedings against the PSNI Chief Constable, Mark Thompson concluded:
"The current statutory remit of the Ombudsman's office provides loopholes that are frequently availed of by those officers involved in serious misconduct and wrong-doing.
"In relation to the shooting dead of Neil McConville, we have always believed that prima facie evidence exists that would have warranted prosecutions for unlawful killing, including charges against the PSNI of corporate manslaughter concerning those senior officers who authorised the covert operation that led directly to the killing."