11 October 2007 Edition
Struggle for truth on shoot-to-kill deaths will continue
Developments this week demonstrate clearly that many challenges remain to be surmounted in the struggle to expose the reality of British state violence in Ireland over the past number of decades.
Irish republicans do not need to be told that state murder was an official policy in the North throughout the recent armed conflict. We know that only too well. But that truth is distorted day and daily by powerful elements in the political and media establishments in Ireland and Britain. They are engaged in an effort to manipulate the events of the past to suit a political agenda that would place the blame for conflict on the shoulders of those who refused to submit to systematic sectarian discrimination and violent suppression for generations.
The British state has systematically covered up the murderous operations of the British Army and RUC over the years. Such operations targeted nationalist civilians aswell as republican activists. The shoot-to-kill policy was an important tool deployed by the British state in its campaign of terror against the nationalist and republican population.
The families of a number of men killed in shoot-to-kill incidents in the 1980s and 1990s are understandably angry this week at the attempts by the PSNI Chief Constable Hugh Orde to derail the inquest into a number of RUC killings.
Hugh Orde has attempted to derail the search for the truth behind the controversial deaths. Not only is he challenging the right of the inquest to go ahead and the coroner but he is also trying to block disclosure of the Stalker and Sampson Investigations into the shoot-to-kill incidents.
There is a total contradiction in Hugh Orde's complaint about the cost of inquiries and investigations into the past and his eagerness to use expensive and time-consuming legal tactics to cover-up the truth about such murders. The truth and full disclosure would cost nothing.
The families of the victims of Britain's shoot-to-kill policy in Ireland deserve due process. Hugh Orde has failed to demonstrate the commitment to accountability that is required.
Sinn Féin will continue to support the families of the shoot-to-kill victims in their demand for truth.
An Phoblacht Magazine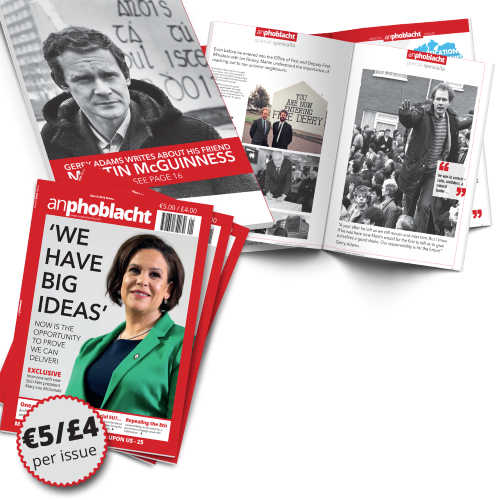 AN PHOBLACHT MAGAZINE:
The first edition of this new magazine will feature a 10 page special on the life and legacy of our leader Martin McGuinness to mark the first anniversary of his untimely passing.
It will include a personal reminiscence by Gerry Adams and contributions from the McGuinness family.
There will also be an exclusive interview with our new Uachtarán Mary Lou McDonald.
test