4 October 2007 Edition
Disability rights campaign makes a million signatures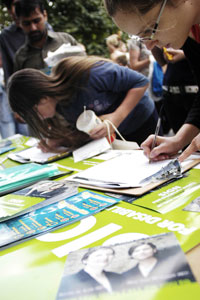 SINN FÉIN Equality Spokesperson Aengus Ó Snodaigh TD has announced that the 1million4disability campaign has successfully collected one million signatures to put pressure on the European Commission and individual states to deliver disability rights in all aspects of life.
The campaign is about getting the EU to introduce effective legislation to combat all forms of discrimination and guarantee full inclusion of the more than 50 million people in the member states who live with disabilities.
The Dublin South Central TD said Sinn Féin had taken up the gauntlet with signature drives throughout the 32 Counties as the deadline for the collection of signatures was fast approaching with Ireland falling 4,000 short.
"I am delighted to announce that the 1million4disability has successfully met its target of collecting one million signatures for presentation to the European Commission and President of the European Parliament on 4 October," Ó Snodaigh said.
"The one million signatures collected by the campaign send a huge message to the European Parliament that must not be ignored and to member states that discrimination on the basis of disability is no longer acceptable and that equality legislation must be introduced.
"I would like to congratulate all those involved in this hugely successful and important campaign and I would call on our own Justice Minister, Brian Lenihan, to look at amending the Disability Act 2005 with a view to taking on board some of the recommendations I made at the time to ensure that people with disabilities are not discriminated against in Ireland."