4 October 2007 Edition
Time to confront gun and drug crime seriously
Last week's shooting of a traffic Garda in Dublin has brought increased media and political attention to the issue of gun and drug crime in Ireland.
The scourge of gangland crime including the brutal murders occurring in Dublin and elsewhere is inextricably linked to the huge drugs industry and the widespread problem of drug abuse and drug addiction.
This multi-million euro industry is now the single biggest cause of crime in Ireland. Some people believe that it has got out of control and many despair at the impotence and ineptitude of government responses so far to what is surely one of the greatest problems confronting modern Irish society.
The response of successive governments to a problem that has grown steadily over several decades has been shameful. They have allowed the problem to grow and in the 1980s and 1990s, when communities in Dublin rose up to confront the drug dealers, the state turned on the concerned parents and attempted to criminalise the anti-drugs movement.
That despicable political approach to a huge social issue ensured the growth of problems such as gang warfare on the streets of our capital city and other urban areas, a lost generation of young people whose lives have been destroyed by drugs, and growing anti-social behaviour which is making life a misery for thousands of residents in housing estates in many parts of the country.
The Government must now finally accept the scale of Ireland's drug problem. Every possible resource at the state's disposal must be mobilised to full effect to combat it. This includes providing Gardaí with the basic tools required for good policing such as modern communications systems, proper vehicles and Garda stations that are fit for purpose.
Sinn Féin TDs this week said that the Irish Government must give the same urgency to tackling crime as it did when the threat of foot and mouth loomed.
The party has also proactively and critically engaged with the various policing institutions in an effort to ensure that serious drug and gun crime are prioritised at every level.
This week's meeting between Sinn Féin representatives and the Garda Inspectorate marked another important development in those efforts. Sinn Féin members on Joint Policing Committees in the 26 Counties are critically engaging in efforts to ensure that both local Gardaí and Councils live up to their responsibilities to tackle drug-related crime and anti-social behaviour.
The drug barons have declared war on Irish society for the last 30 years. Drugs shipments entering this country contain a frightening array of lethal weaponry - of such quantities and calibre to prosecute a war. So far, the government has failed to stand by the people and to confront the drugs problem. This must change.
An Phoblacht Magazine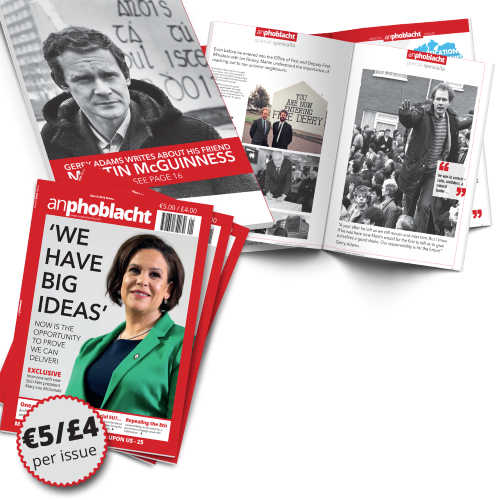 AN PHOBLACHT MAGAZINE:
The first edition of this new magazine will feature a 10 page special on the life and legacy of our leader Martin McGuinness to mark the first anniversary of his untimely passing.
It will include a personal reminiscence by Gerry Adams and contributions from the McGuinness family.
There will also be an exclusive interview with our new Uachtarán Mary Lou McDonald.
test