27 September 2007 Edition
Action needed to offset huge predicted job losses
This week the 26 County Department of Environment, Heritage and Local Government indicated that employment numbers in the construction sector will fall by 20,000 jobs due to a predicted decline in house building over the next two years.  This is considered by many to be a conservative estimate.
Sinn Féin has been warning for some time that the numbers employed in construction were unsustainable. Over-dependence on the construction industry is one of the fundamental weaknesses of the 26 County economy.
Sinn Féin highlighted the fact that at the end of 2006 the construction sector accounted for 23% of the state's GDP, compared to an EU average of about 12%. The party further highlighted the fact that the ESRI and even the IMF raised serious concerns about this over-dependence.
The government has failed to demonstrate any willingness to address this issue, proving that Fianna Fáil's assertions that it is best placed to manage the economy does not stand up.
Prior to commencement of recent reductions, one in eight workers (approximately 254,000 people) — and around one in every four male workers  — were employed in the construction sector.
Job losses across regional towns have been camouflaged by the buoyant construction sector. A further fall in construction employment, which is almost inevitable, will have particularly dire consequences for those areas that lack alternative employment opportunities.  
The previous Fianna Fáil-led government failed to replace jobs, in particular in the manufacturing sector, that have been lost across regional towns over the last number of years. Proof of the government's poor management is the fact that most new jobs for male workers created in recent years were in the construction sector.  
What Sinn Féin has argued is the need to plan now for the future of those likely to lose their jobs in the construction sector and associated services. In fact planning for this eventuality should have started before now.
While the focus must be on saving jobs where possible, a key factor that will determine the future prospects of many workers is whether the upskilling and retraining needed is put in place now to facilitate those who lose jobs in construction.  These workers must be enabled to access alternative employment.
It is also vital that those who lose their jobs, as the construction sector contracts to a level more in line with European norms, get proper redundancy packages.
If action is not taken now the consequences of a slow-down in the Irish construction sector will be even more grave and far reaching.
An Phoblacht Magazine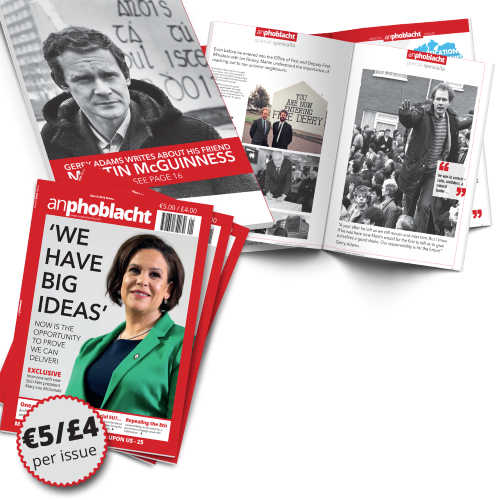 AN PHOBLACHT MAGAZINE:
The first edition of this new magazine will feature a 10 page special on the life and legacy of our leader Martin McGuinness to mark the first anniversary of his untimely passing.
It will include a personal reminiscence by Gerry Adams and contributions from the McGuinness family.
There will also be an exclusive interview with our new Uachtarán Mary Lou McDonald.
test