20 September 2007 Edition
Letter to the Taoiseach
I'VE BEEN following you and Celia at the Mahon Tribunal.  I'm not the only one, says you!  I found it intriguing that you were christened 'Bartholomew'.  Hardly the most political of observations but it reminded me of a story that my mother told me about my own christening.
I was to be called Barry Columba but Fr Hughes determined that "Columba Barry shall be the order". Fr Hughes was the ultimate parish priest when it came to exercising his authority. Older people say that he was 'a powerful priest' and this explains why some carry a cross blessed by him to this very day.
So, you were once called Bartholomew which then became Bertie – an important piece of information to emerge from the Mahon Tribunal.
I did not get speaking to you, Taoiseach, at the All-Ireland Final on Sunday. I have a question for you. How come that if you look up to the big screen for replay action of any off-the-ball action, all you get is an advertisement, 'Nivea Cream for Men'?  It happens all the time, whereas you will always see several re-runs of moments of brilliance on the part of Kieran Donaghy or Colm Cooper. It's as if the cameras are switched off when Paul Galvin is about.
Is there anything new at your end? Anything new or startling? Stephen McKenna taught English literature at Omagh CBS for years, Bertie.  'Anything new, Stevie?' asked one of his neighbours on the Kevlin Road and Stevie explained that Dickie O'Neill had installed a new bacon slicer in his shop.  For some, this type of development is more significant than for others.  
Terry Spence is a senior member of the Police Federation in the North. Not the most progressive of individuals and not the most progressive of organisations, as you will undoubtedly know yourself.  Terry reckons that there is no call for a Truth Commission into what has happened in the North in the past few decades. We all know that turkeys do not vote for Christmas.  
Any word of developing the rail infrastructure in the north-west of the country? This would be a great issue for both governments to work on. Perhaps, there could be a single-issue meeting of the North-South Ministerial Council on it. I am mindful, of course, that there is work underway to upgrade the A5/N2, which will better connect us to the capital.  But I have not given up on the trains either.
I travelled on the DART from Kilbarrack to Fairview at the weekend and this short journey reminded me of the pleasures of rail travel, something that was taken away from us in the North West. It might come in handy for you too, if Fianna Fáil do organise up here in the Six Counties. All aboard!
People are very nostalgic up here about trains and trams.  I am spearheading an initiative which is looking for the return of the tram to the people of Fintona. This horse-drawn tram made its last journey on 30 September 1957 and is currently domiciled in the Ulster Folk and Transport Museum at Cultra, on the road from Belfast to Bangor. The horse found the pressure all too much at the finish and they had to get down off the tram and walk alongside it on the final leg of the journey.
If you are free on Friday 28 September, Taoiseach – that is, if the Mahon Tribunal is not on that day – you might come up with us to the museum to be reconnected with the Fintona tram. I'm bringing up school teachers and children, as well as community groups from the town for a special day. In fairness, the museum staff are working well with us to make this day a success.
If they think, however, that the people of Fintona are going to be softened or sweetened on this issue, they have another think coming.  If the Greek Government can petition the British Government for the return to Athens of the Elgin Marbles, then the people of Fintona are entitled to have their tram back.
Is mise le meas
Barry McElduff



NB: Bertie Ahern can be contacted on (00 353) 1 619 4020 or e-mail [email protected]  Address: Office of the Taoiseach, Government Buildings, Dublin 2.
An Phoblacht Magazine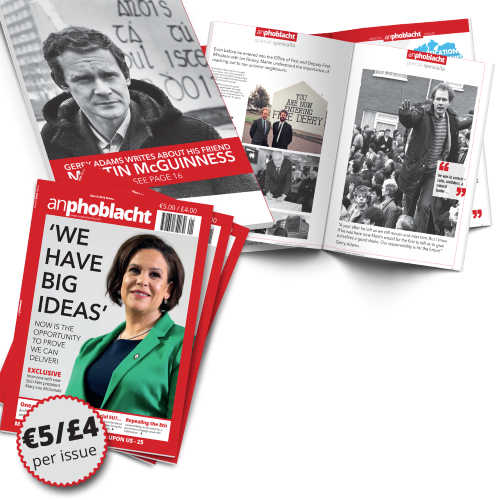 AN PHOBLACHT MAGAZINE:
The first edition of this new magazine will feature a 10 page special on the life and legacy of our leader Martin McGuinness to mark the first anniversary of his untimely passing.
It will include a personal reminiscence by Gerry Adams and contributions from the McGuinness family.
There will also be an exclusive interview with our new Uachtarán Mary Lou McDonald.
test