20 September 2007 Edition
Murphy addresses All-Ireland Conference on Ports and Seaports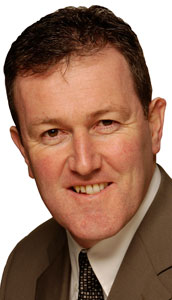 SINN FÉIN Regional Development Minister Conor Murphy outlined the role for the North's ports as major gateways to economic growth across the island of Ireland at a conference in Croke Park, Dublin, last Tuesday, 18 September.
Murphy was the main speaker at this major seminar focusing on developing ports and airports infrastructure in Ireland.
"Ports are the key gateways to building the North's economy and that of the whole island. The gateway ports offer the potential of clustering economic development to create strong magnets for regional growth to the benefit of everyone across this island.
"These are indeed exciting times for the economy across the island of Ireland. The return of the devolved and all-Ireland institutions provide enormous commercial opportunities for our sea and airports."
The conference, Gateways to an All-Ireland Economy, was organised with the support of IBEC, CBI and the Joint Business Council. It was attended by a wide range of key players in the ports industry across Ireland, including the CEOs of the five main commercial ports – Dublin, Belfast, Cork, Waterford and Warrenpoint.