20 September 2007 Edition
Marie from Dungloe succeeds Pearse Doherty in Donegal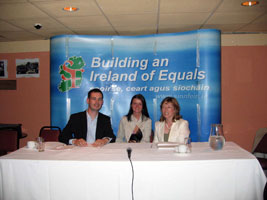 MARIE THERESE Gallagher from Dungloe has been selected by convention to succeed Senator Pearse Doherty on Donegal County Council.
More than 200 party activists attended the convention last Saturday night in Óstan na Rosann in Dungloe.
Chaired by Councillor Pádraig Mac Lochlainn, the convention was also addressed by Councillor Tony McDaid, Údarás member Gráinne Mhic Géidigh, and Senator Pearse Doherty himself.
After her selection, Marie Therese (26) said:
"I am delighted to be selected. I feel that, being the youngest member on Donegal County Council, I will bring a new and fresh approach to local politics.
Three years ago, Sinn Féin had no representatives in the Glenties electoral area. We now have three: myself in the council, Gráinne Mhic Géidigh on Údarás na Gaeltachta, and Pearse Doherty in the houses of the Oireachtas. This shows the great work done by our local representatives and party activists
"I will be working closely with our other three elected councillors – Thomas Pringle, Pádraig Mac Lochlainn and Tony Mc Daid – to ensure that the people of Donegal are represented to the highest standard and that we advance our agenda of empowering local communities."