20 September 2007 Edition
Media View
Well done, Professor Drumm
LIKE most normal people who do not inhabit the Irish Times newsroom, I'm less than fascinated by the Mahon Tribunal's doings. Last Saturday's Irish Times devoted page after page of coverage to an issue that most of the Irish people have made up their minds on already.
There are those of us who don't believe Bertie, then there are the wilfully ignorant, known Fianna Fáilers who hi-jacked the audience on Monday night's edition of the excruciatingly boring Questions & Answers and who believe his every utterance.
I'm with Caoimhghín Ó Caoláin on this one. He described the delay in the provision of radiotherapy services, now likely to be another eight years before the national network is completed, as "a bigger scandal than anything before the tribunals and a damning indictment of the Minister for Health and Children, Mary Harney, the Taoiseach, Bertie Ahern, and their government colleagues who are presiding over this disgrace".
He made those comments after it was reported, somewhere in the back pages in most papers, that it will now be 2015 before cancer patients have what the Fianna Fáil-led Government promised would be available in 2011.
Readers might be interested to know what is being blamed.
Professor Brendan Drumm, who last week was awarded an €80,000 annual bonus based on his performance (the mind is still boggling) as CEO of the HSE, blamed public/private partnerships (PPP). According to the Irish Times: "Professor Drumm told a press briefing in Dublin there was no doubt that PPP was a more difficult way to deliver anything..."
Well done, Professor Drumm. Sinn Féin has been a lone voice saying this for years, and pointing out that in the long-term it's the most expensive option. Then again, if the HSE is paying you a bonus of €80,000 a year on top of your €360,000 a year salary while the nurses are denied a pay-rise and the unions threaten strike action over health cut-backs, I suspect you're not that bothered about the expense.
****************************
FIGURES from the Revenue Commissioners published at the start of the week show that 48 of the highest earners in the state pay less than 5 per cent tax and three top earners paid no tax at all in 2003. The number of top earners paying less than 20 per cent, the bottom rate of tax for ordinary mortals like you and I, has increased to 104 from 95.
And what was the reaction from the Fourth Estate? Well, the Irish Times gave it less than 300 words and half of Paul Cullen's article was a cut and paste job from a Labour Party press release. The Irish Independent, the paper owned by and for tax dodgers, ignored it completely, to absolutely no surprise at all. The Star gave it a tiny two-paragraph 'News in Brief'.
But one newspaper went big on the story and editorialised that the rich are getting away with murder, they have to pay their fair share and the government needs to make sure they do it. Step forward the Irish Sun.
And when one of Murdoch's papers, albeit to allow itself to pose as a populist champion of ordinary people, is the only daily pointing out glaring inequalities in the Irish taxation system, it makes you cherish that An Phoblacht subscription all the more.
****************************
I SLIPPED out of work early last Friday to catch a few of the films at the Irish Film Institute's Stranger than Fiction documentary film festival and ended up camped out at the IFI over the weekend for some outstanding films. Two that will appeal especially to republicans were Get Collins and Now or Never.
The first film dealt with the exploits of 'The Squad' under Michael Collins during the Tan War, and Collins's secret negotiations before the Truce with British Assistant Under-Secretary Andy Cope, which were new to me. Finely acted and dramatic, it's an alternative Wind That Shakes the Barley and will appeal to us Dubs who know that the real war against the Brits was fought here in Dublin.
Now or Never was the story of the long-running feud between de Valera and Churchill, centring on Churchill's alleged offer of an end to partition if Ireland got involved in the Second World War, an offer Tim Pat Coogan, among others, suggested had more to do with Churchill's fondness for booze than anything else.
Contributions from a number of British and Irish historians make clear that what he had meant by the offer of 'a nation once again' was not an end to partition, as Dev assumed, but that entering the war was a way for Ireland to assert her nationhood.
Both documentaries will be on RTÉ in October and you could do a lot worse than tune in.
****************************
FINALLY, turning to An Phoblacht last week where my colleague Matt Treacy was, as usual, required reading on the GAA and the under-21 hurling final. I was a little heartbroken to see in his commentary on the clash of Dublin and Galway that there was no room for the two matches either side of it, both of which were more exciting and more closely fought.
So belated congratulations to Derry for snatching a one-point win with a goal from Aisling Diamond in the sixth minute of injury time in the Junior Camogie All-Ireland over a valiant, and, no doubt, gutted, Clare side.
In the Senior Camogie final, Stella Sinnott's Wexford team, inspired by two Una Leacy goals, held on despite a nerve-wracking last ten minutes against a side from the rebel country chasing a three-in-a-row, to take the Model County's first camogie championship since 1975.
Hope to see Matt writing next week about the Ladies' Football Final taking place this Sunday between Cork and Mayo.

An Phoblacht Magazine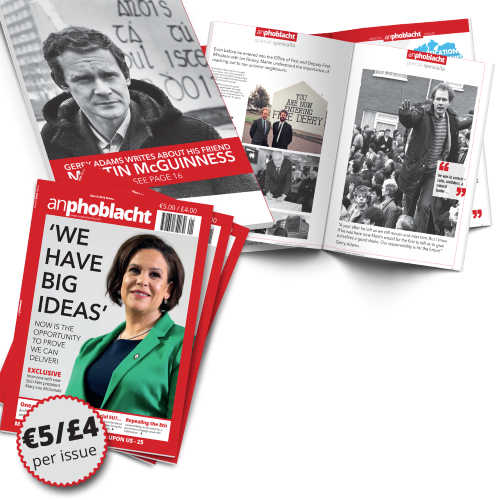 AN PHOBLACHT MAGAZINE:
The first edition of this new magazine will feature a 10 page special on the life and legacy of our leader Martin McGuinness to mark the first anniversary of his untimely passing.
It will include a personal reminiscence by Gerry Adams and contributions from the McGuinness family.
There will also be an exclusive interview with our new Uachtarán Mary Lou McDonald.
test