20 September 2007 Edition
The Matt Treacy Column
The Kingdom reigns supreme
SOMEONE was once telling me about a chap who made a great catch from a throw-in, burst past his markers and kicked the ball over the bar for a point worthy of the great Mick O'Connell. The only problem was that it happened to be the goal that his team was defending. A buck eejit was probably one of the kindlier epithets thrown in his direction.
Ger Spillane and Alan Quirke probably feel a bit the same way as your man after the almost burlesque prelude to Kieran Donaghy's first, and Kerry's second, goal last Sunday. The one that effectively killed the match.
It was a basketball player's dream. A visible ball insecurely held at waist height. Smart dispossession and, of course, the target was about a hundred times as large and no defensive block because Quirke was somewhere over near the Cusack Stand, waiting, like Vladimir and Estragon, for something that would never arrive.
That was that and those of us watching at home could catch up on chores or lost sleep. To be honest, unless you were from Kerry, or had a large bet on them to cover the spread, then it was about as interesting as, well, watching a recording of last year's final against Mayo.
On the bare face of it, Cork were three points better than Mayo. In reality, it was just as one-sided. There had been much speculation prior to the game that Cork would at least present a formidable physical obstacle and the forecast of heavyish rain on the day seemed to lend credence to that belief.
It did rain, but not much, and in any event it is unlikely to have made much of a difference. Kerry won the key physical battles, especially at midfield where Nicholas Murphy and Derek Kavanagh needed to dominate Dara Ó Sé and Seamus Scanlon. They didn't and the supply of ball to the Kerry forwards never faltered.
As against Dublin 'The Gooch' was central to proceedings, both as a play-maker and on the scoreboard where he finished with a goal and five points. Indeed, one of those points in the first half could easily have been a goal after he had woven his way through the defence before blasting over with his left foot.
Kerry's other source of goals was Donaghy with the above gift and another when the Cork defence failed to deal with an Eoin Brosnan ball into the square. Cork did attempt to come back into it and were rewarded with a goal by Daniel Goulding, who probably should have started, but it only briefly raised hopes.
If Cork had any hope of building on the goal, and there was still almost 20 minutes remaining, they needed to keep Kerry on the back-foot. Kerry, however, cleverly ensured that the momentum was nipped in the bud and several Cork players were foolishly suckered into a bit of pushing and shoving after Paul Galvin performed a passable impression of the dying swan. 
What had been a Cork free became a throw-in and almost inevitably that was won by Kerry and... well, you know the rest.
One or two Cork commentators have remarked on Kerry's tactics at that stage but, in fairness, with little hint of sour grapes. Kerry do what all teams try to do when sitting on a potentially winning lead. They bring players behind the ball and injured players are not always in a hurry to resume their place.
Those sad individuals who watch matches with a stop-watch in one hand can provide detailed analyses of how little actual playing time there tends to be in the last quarter of such games. In a situation where, say, 15 minutes playing time actually becomes three or four minutes it is virtually impossible for the team chasing the lead to claw it back.
But Cork cannot use such an excuse. They were simply outplayed throughout the pitch and for virtually the entire 70 minutes. Indeed, they might actually count their blessings that Kerry did slow things down in the last quarter.
Kerry's win now earns them a place in the Pantheon of greats with the prospect that they can join the illustrious team of the '70s and '80s by winning a third title in succession in 2008. Already they have proved themselves to be beyond doubt the best team of what some choose to call the "noughties".
They have won three of the last four All-Irelands in an era when some were predicting, certainly after 2003, that Kerry might be about to enter a period of decline due to an apparent inability to counter Tyrone and Armagh. That ghost has certainly been laid to rest.
With Armagh apparently content to go through a period of rebuilding and Tyrone's future uncertain, Kerry can perhaps be less concerned about any threat from Ulster although Monaghan gave them a good game in the quarter-final.
Even now there would appear to be few serious impediments to Kerry's accomplishing the first three in a row since 1986. Cork will hardly present any more of a threat next year although they can probably be relied upon to put on a better show in the Munster final.
Dublin... Well, they may have gained some solace from having run Kerry close but will they improve sufficiently and if so where will that improvement come from?
Anyway, it is far too early to be engaging in such speculation. The nights are drawing in and club jerseys will take precedent over the county for the winter for those fortunate enough still to be in contention for local honours. For the rest, a long break beckons.

An Phoblacht Magazine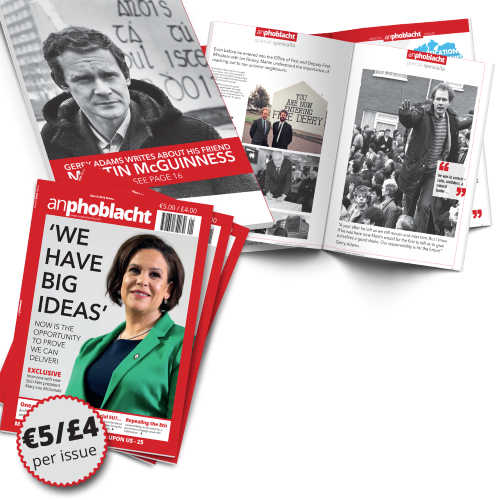 AN PHOBLACHT MAGAZINE:
The first edition of this new magazine will feature a 10 page special on the life and legacy of our leader Martin McGuinness to mark the first anniversary of his untimely passing.
It will include a personal reminiscence by Gerry Adams and contributions from the McGuinness family.
There will also be an exclusive interview with our new Uachtarán Mary Lou McDonald.
test