20 September 2007 Edition
British arms trade within Six counties under scrutiny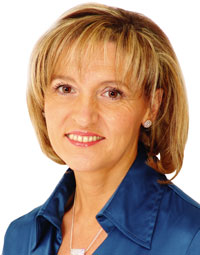 BY LAURA FRIEL
THE ROLE of the Six Counties within the British arms trade came under specific scrutiny with a report this week by Amnesty International, Northern Ireland: Arming the World.
Amnesty offers a detailed analysis of the ways in which industry and organisations operating in North of Ireland contribute to the world's military hardware, associated surveillance and so-called 'smart bomb' technology.
Sinn Féin's spokesperson on Human Rights, Martina Anderson, welcomed Amnesty's call for greater transparency and public scrutiny of the arms trade in the Six Counties. The Derry MLA was part of a cross-party delegation which met Amnesty International representatives this week. All parties, with the notable exception of the DUP, attended the launch of the document.
"As Amnesty makes clear in this document, the arms trade is not only about the manufacture and procurement of weaponry but also associated technology involved in targeting and delivery," Anderson said.
"Amnesty International is calling for greater transparency and public scrutiny of the export of military and dual-use equipment. As Amnesty has pointed out, ineffective controls to regulate the arms trade is a major factor in the abuse of human rights around the world."
Dual-use is a category of equipment that has both a civilian and military capability. In other words, it can be sold as one thing and used as another.
The operation of the British arms trade within the Six Counties is part of an increasingly global supply chain and as such, argues Amnesty, it requires "a system of tough global rules to regulate it".
In the report, Amnesty highlights concerns about the manufacture, development and export of military equipment, the use of public funding to support the trade, loopholes in British brokering laws which also affects the Six Counties and the lack of controls in the 26 Counties of Ireland. The report calls for more effective regulation and greater democratic scrutiny.  
Since 1997, the British Government has published a (formerly annual and now quarterly) report providing details of licences granted and limited data on exports. But since the data presented is amalgamated it offers no specific information in relation to the Six Counties.
In 2004, Derry City Council challenged the locally-based Raytheon Systems and made it clear that the people of Derry did not support involvement in the British arms trade within their city. But the lack of specific information about Six Counties-based involvement in the British arms trade has made the exercise of local accountability more difficult.
Amnesty International said:
"One of the problems with these reports is that the data for the entire UK is amalgamated and there is no way that a concerned citizen, journalist or politician in Northern Ireland can gain any meaningful understanding of what is being exported from the region and where it goes."
As part of its investigation, Amnesty wrote to 19 companies operating within the North of Ireland, requesting further information about their involvement in the military, security and police trade. The human rights watchdog also asked each company whether they supported proposals for a legally binding international arms trade treaty. Only one company replied.
The export of military and dual-use from Britain and the Six Counties is currently regulated by a licensing system operated by the British Department of Trade and Industry. All export licences are scrutinised under a set criteria drawn from the 1998 EU code of conduct on arms exports which assesses if any export will contribute to human rights violations, prolong armed conflict, fuel instability or increase regional tensions.
Scrutiny of the British Government's export policy is restricted to oversight by a parliamentary select committee whose membership is drawn from a number of government departments, including Trade and Industry, Defence, Foreign Affairs and International Development.
Despite the in-house nature of this scrutiny, the select committee has repeatedly criticised the British Government over its failure to close existing export loopholes, poor licensing decisions, a lack of detailed reports to allow meaningful scrutiny, insufficient monitoring of where exports end up and their use and the failure to hold to account those in breach of the regulations.
Patrick Corrigan, Amnesty's programme director for the Six Counties, pointed out that Amnesty isn't opposed to an effectively regulated international arms trade based on effective, transparent and accountable export control systems.
"Such systems should help prevent the transfer of arms to places were they might be used in violation of international human rights and humanitarian law and other relevant international standards.
"Transparency remains a vital prerequisite for a responsible arms export control system. It is the only way that a government's record on human rights in this area can be publicly scrutinised. Transparency mitigates against poorly-judged export decisions and forces decision-makers to be publicly accountable for the decisions they make."
Amnesty argues that greater powers of scrutiny should be given to the Stormont Assembly. Amnesty suggests this could be accomplished through an annual report and statement to the Assembly by the Office of the First and Deputy First Minister (OFDFM) that would trigger a process of scrutiny.
But this could only be realised if the British Government released specific information regarding military exports by companies operating within the Six Counties.
Amnesty also recommends that human rights conditions should be applied to support given by Invest NI to prevent public money being used to finance exports to countries liable to use those exports to breach international human rights.
Between 2002 to 2005, Invest NI allocated multi-millions of pounds of support to companies involved in the British arms trade, including £28.4 million to Bombardier.
Meanwhile, Ian Paisley Jnr lambasted Amnesty's report as "reckless and dangerous". The OFDFM junior minister claimed the report was "a deliberate attempt to besmirch the reputation of some of the country's finest manufacturing companies".
An Phoblacht Magazine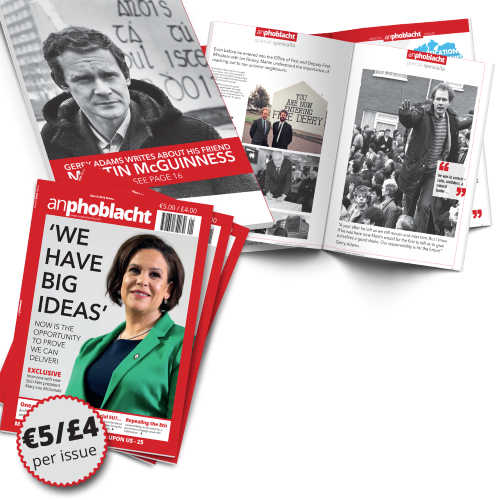 AN PHOBLACHT MAGAZINE:
The first edition of this new magazine will feature a 10 page special on the life and legacy of our leader Martin McGuinness to mark the first anniversary of his untimely passing.
It will include a personal reminiscence by Gerry Adams and contributions from the McGuinness family.
There will also be an exclusive interview with our new Uachtarán Mary Lou McDonald.
test