20 September 2007 Edition
Agriculture: All-Ireland approach essential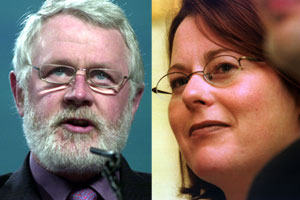 Fighting for the future of rural Ireland
BY ARAN FOLEY

If anything in recent weeks showed the common sense of an all-Ireland approach to agriculture, it's the outbreak of foot-and-mouth disease in Britain and how the threat it posed to farmers' livelihoods in the North has been countered.
The European Standing Committee for Food Safety and Animal Health ratified an earlier European Commission decision to give meat and dairy exports from the Six Counties a 'special status' in line with the rest of Ireland. This was a major victory for proponents of an all-Ireland approach to agriculture. It was also a victory for common sense.
Welcoming the decision, on 6 August, Sinn Féin Agriculture Minister Michelle Gildernew pointed out that she had already ensured that trade throughout the island of Ireland would continue freely and that the EU decision meant that farmers in the North could also trade throughout Europe.
Gildernew has been working with her counterparts in the 26-County Department of Agriculture, Fisheries and Food in harmonising Ireland's approach to foot-and-mouth. One of the key issues was the decision by countries such as the USA, Germany and Japan to refuse agricultural produce from farmers in the North due to uncertainty over its origin and status.
Gildernew's ability to secure a ban on cattle, goats, sheep and pigs coming into the North from Britain was paramount in winning the special status for the Six Counties. That, along with the ability of the authorities, North and South, to act in unison has averted what could have been an economic disaster.

An all-Ireland approach is at the core of Sinn Féin's agriculture policy.
The foot-and-mouth crisis, though, is by no means the only problem facing Irish agriculture.
Last April, Sinn Féin launched a major agriculture policy document, Equality for Rural Communities. It recognised that small farmers in particular are under severe economic pressure.
When the Central Statistics Office released figures in 2006 that showed farmers' incomes had fallen by 15 per cent, Sinn Féin Agriculture Spokesperson Martin Ferris said that rising fuel bills and a continuing downward pressure on milk prices were responsible. The dip in milk prices, he said, were the result of massive centralisation and something that Sinn Féin wants to stop.
The party wants to allow the maximum number of people to remain on the land while at the same time stem the trend towards large-scale, factory-style units in agriculture.
Sinn Féin believes that governments must have a strategy that will help smaller farmers adapt to the new climate with practical help in areas such as diversification.
Although he welcomed one such policy in the 26 Counties, Martin Ferris pointed out the very limited nature of the new grant scheme for fuel crops announced by the then Junior Agriculture Minister, Mary Coughlan, earlier this year.
"As the minister herself stated, only €8m will be given in grants over the next two years. This indicates the current low level of take-up due to the belief among farmers that there is little economic incentive in this."
Unless the processing of energy fuels was to be carried out on a large scale in this country, it could have little impact, he added.
Ferris has criticised the growing dominance of a small number of processors and major retailers. While Sinn Féin has consistently supported farmers in their battles around prices, the party has also urged the re-establishment of genuine producer co-operatives as an alternative to the major food processors and a means to ensure that farmers receive adequate payment for their produce.

Sinn Féin elected representatives and members are committed to supporting the establishment of farmers' markets as a means of gaining better returns for producers and higher quality and value for consumers.
In relation to the milk quota, Sinn Féin has pointed out the consequences of an official policy that is geared towards the consolidation of the quota in a small number of large producers. This would mean that small-to medium-sized producers would be eliminated and milk production would disappear altogether from certain parts of the country.
Sinn Féin supports the ring-fencing of the milk quota from both parts of Ireland to ensure that quota is redistributed within the island. EU policy currently treats Ireland as two regions. There are advantages in treating it as one in areas such as the EC milk quota.

Sinn Féin Roscommon/ South Leitrim representative Martin Kenny said that farmers need much more encouragement and help to come away from the areas in which they are already well established, such as dairy and meat.
Kenny said farmers face problems caused by a monopoly at the processing end. Big processing centres can dictate prices to farmers. In the case of milk, this leaves farmers in too weak a position to affect pricing. The huge processors and retailers take a massive share and they pass on any price rises back to the farmers who are seeing their share constantly squeezed, he said. When it comes to meat, it gets even worse.
"If something isn't done to help the small farmer you can forget about any rural regeneration policy.
"There are rural communities across Ireland under threat from this centralisation, small towns and villages whose economy is solely dependent on the small farmer.
"Organic produce would be one logical route for many farmers to go. It would need grants, technical advice and genuine co-operation from the retailers and processors in labelling and other measures but it is doable. The main thing here again would be public awareness of the products' quality advantages."

John, a small farmer in Boyle, in County Roscommon, spoke to An Phoblacht. He was adamant that the only way to make small farms viable was for Irish produce to be distinctly labelled. "At the moment, the consumer does not have the ability to make this choice properly as the labelling regulations are not enforced properly and, in practice, are misleading.
"You get the processors importing big slabs of meat from overseas and simply cutting it in two and adding some salt. This product then becomes 'processed in Ireland'!
"What is the point of us refusing to import British beef because of foot-and-mouth when we import en masse from the likes of Brazil which is rife with F&M and has no control mechanisms?"
The Irish Farmers' Association made precisely this point in Brussels recently only to see Fianna Fáil Minister Mary Coughlan retreat from their position when she declared that there was not a safety point here, merely a quality one.
It is patently obvious that there is a safety point here when you look at the likes of Japan and the USA who will not import Brazilian beef precisely because of safety fears," John said.
"Part of the problem here is that Europe is deliberately set on importing this cheap beef so it can win trade concessions for the likes of the banking and insurance sector. In effect, the Irish and the European farmer is being sold out to big business interests.
"On the day the IFA made their presentation in Brussels, most of the Fianna Fáil MEPs didn't even bother to turn up. They only got excited about the event when the Irish Farmers' Journal pointed out their absence, whereupon one of them took the trouble to write to the Journal saying that of course he supported the farmers. The usual lip-service with no action."

John gave another example of how the supermarket chains use their economic stranglehold to squeeze the small farmer.
"A farmer in North County Dublin was told by a big supermarket chain that he must grow, pick and deliver his lettuces to them for 40 cents a head. If he did not like that then they would simply import them from abroad – and all this when they were selling them for €1.60 a head.
"Leaving aside the whole green argument here in relation to carbon emissions, it is clear that the Irish farmer has lost any bargaining ability regarding the cost of their goods. The only way to restore this in the immediate term is a properly enforced labelling policy and a greater determination on the part of government to make the public aware of the higher standards of Irish produce. At the moment, they seem to be too swayed by vested interests not to do this."

In the Six Counties, agriculture has developed along similar lines as that in the South with many of the issues being the same either side of the border. Prior to the re-establishment of the Executive, British ministers had a policy that reflected the priorities of large-scale farmers in southern England with scant regard to the differing realities in the Six Counties.
Sinn Féin has been seeking recognition at EU level that Ireland as a whole represents a single agricultural bloc. With this in mind, the party has called for an all-Ireland White Paper on Agriculture.
Sinn Féin agriculture policy wants to:
1)     Ensure that rural communities have equal access to public provision in terms of education, transport, communications, policing and other essential services. 
2)     Have a single, co-ordinated rural policy for the entire island of Ireland that will allow strong negotiations at EU and World Trade Organisation level.
3)     Make rural Ireland a place where Irish people can find work and high quality public services.
4)     Allow those who come from a rural community and have made a contribution to that community to make a home in that community.
5)     Reduce travel to work and all the ill effects that go with it by creating incentives for rural economic hubs.
6)     Allow the maximum number of people to continue in farming while stemming the shift towards large-scale, factory- style farming.
7)     Grow the emerging renewable energy sectors both in bio-fuels and wind energy.
8)     Give people access to broadband telecommunications and redress the imbalances in access to new technology.
9)     Show that Ireland must maintain a GM-free status to safeguard our environment and promote the high quality of Irish food internationally.
10)     Put measures in place that support social capital and create new ways of developing the ability of rural communities.
11)     Set in place a strategy fully supporting the role of women in rural communities, ensuring them equal recognition under Irish and EU tax and rural payment entitlements.
12)     Provide proper childcare in rural areas to enable women to access training and employment.
13)     Establish a Rural Advice Bureau to bring the public sector and other agencies together to help farm families with social security payments, complex forms, support on serious financial problems, advice on the CAP Single Farm Payment, avenues for future diversification in non-farming activity, and address health issues associated with farming.

Central to all these issues is establishing equality for rural communities in terms of resources and infrastructure.
While lip-service continues to be paid at government level to the notion of regional development and decentralisation, the reality remains that rural communities continue to experience economic and population decline while the unplanned and chaotic growth of the major urban centres undermines the quality of life of people in rural communities.
Despite the obvious growth in house building right across Ireland in recent years, housing is still a major issue in rural Ireland. The failure to effectively deal with social housing in rural communities has created problems for young people who want to stay and raise their families in their own community. This issue alone, never mind employment and access to services, has displaced thousands of young people to towns and cities.
Sinn Féin supports a review of local authority development plans where one-off housing is virtually prohibited to long-standing residents of areas. Such prohibitions are having severe, adverse effects on rural communities.
Planning legislation needs to be amended to allow the building of one-off housing where this will be used for people in the locality. But proper guidelines need to be implemented to ensure that this is not abused, such as to build large amounts of holiday homes or for commercial purposes.
Sinn Féin policy is geared to finding a way for rural communities to not just survive but to prosper. How do we do this? By improving the access to infrastructure. By being innovative in assisting small farmers cope with the growing trend in centralisation. And by recognising the central role of farm families in sustaining rural communities throughout Ireland.
On Thursday, 9 August, there was a call in Dublin on the Irish Government and the Northern Executive to ban imports of Brazilian meat because their lower standards threaten Irish agriculture.
That call came in a joint action by the Ulster Farmers' Union and the Irish Farmers' Association. United action by farmers is the way forward for farming. All-Ireland action is the way forward for farming.

An Phoblacht Magazine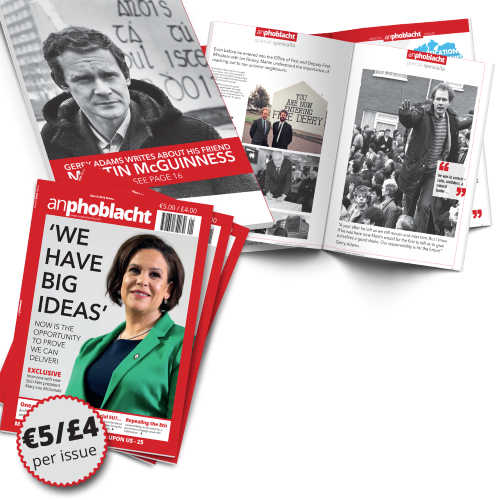 AN PHOBLACHT MAGAZINE:
The first edition of this new magazine will feature a 10 page special on the life and legacy of our leader Martin McGuinness to mark the first anniversary of his untimely passing.
It will include a personal reminiscence by Gerry Adams and contributions from the McGuinness family.
There will also be an exclusive interview with our new Uachtarán Mary Lou McDonald.
test