20 September 2007 Edition
Rosemary Nelson murder - British must lift restriction on Inquiry
The report of the North's Police Ombudsman into the handling of death threats against murdered Human Rights Lawyer Rosemary Nelson released this week highlights failures by both the RUC and NIO to take the threats seriously or act to protect her life.
Nelson was killed by a car bomb outside her home in Lurgan, County Armagh, in 1999 at the age of 40. The attack was claimed by unionist paramilitaries. She is survived by her husband and three children. In 2004, the Cory Collusion Inquiry recommended that the British Government hold an inquiry into the circumstances of Nelson's death.
Rosemary Nelson was killed after years of death threats made by loyalists and RUC personnel. She was a well respected Human Rights lawyer who stood up for the rights of local people yet these serious threats were not dealt with seriously by either the RUC or NIO.
The Ombudsman's report makes it clear that the RUC did not handle the investigation into unionist paramilitary death threats 'properly' and that the force turned a blind eye to threats made by RUC personnel themselves against Rosemary Nelson.
In her report Nuala O'Loan highlighted key issues including the fact that the RUC's assessment of Rosemary Nelson's situation, and its subsequent actions, were inadequate. She said police should have made more strenuous efforts to establish a clearer picture of the level of risk and threat to Rosemary Nelson, particularly given her profile at the time.
"They did not acknowledge the existence of the previous death threats, including two threats which were said to have come from police officers. Nor did they acknowledge a previous assessment in which Special Branch believed Mrs Nelson was at a 'degree of risk' ", O'Loan said.
There is a widely held belief that British State agents were directly involved in Rosemary Nelson's murder. This belief has been strengthened over the years as successive RUC and PSNI regimes have sought to frustrate and delay the search for the truth.
The Police Ombudsman's report clearly highlights why there should be a full independent inquiry into Rosemary Nelson's murder.
The British Government should now lift restrictions on the present Nelson Inquiry as called for by Judge Cory and allow the truth to come out.
An Phoblacht Magazine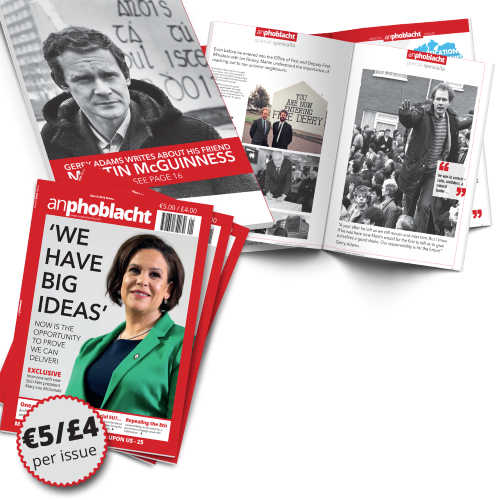 AN PHOBLACHT MAGAZINE:
The first edition of this new magazine will feature a 10 page special on the life and legacy of our leader Martin McGuinness to mark the first anniversary of his untimely passing.
It will include a personal reminiscence by Gerry Adams and contributions from the McGuinness family.
There will also be an exclusive interview with our new Uachtarán Mary Lou McDonald.
test