13 September 2007 Edition
Interview : Lifelong republican, Seamus Graham
First and foremost an Irish republican
As part of An Phoblacht's coverage on the 50th anniversary of the IRA's 1950s Border Campaign, ELLA O'DWYER interviews lifelong republican SEAMUS GRAHAM who joined the IRA in 1953.
Born in 1931, Seamus Graham attended the Christian Brothers school on Synge Street off Dublin's South Circular Road. On leaving school he became apprenticed as a coach maker, later becoming an insurance clerk. Seamus became politicised at a very young age.
"The first time I got involved in politics was in 1945 when I was 13 or 14 years of age. I went into town on VE Day, celebrating England's victory at the end of the Second World War.
"A lot of Anglicised people came into the city wearing epaulettes or other such emblems. A Union Jack was placed over Trinity College and a Tricolour was burned. It ended up that a crowd was attacking Trinity College and throwing stones in objection to the British flag on the top of the building and the burning of our national flag.
"I was young but these small things left an impression. England was the enemy of Ireland and still is – at the heart of difficulties in this country."
"By the way, while I've been a committed republican all my life, I never allowed myself to be consumed by hatred for England – I just didn't approve of their occupation of this country. I couldn't tolerate it."
My mother was very republican. One day she said  – "Whatever you do, don't vote Fianna Fáil or you'll be out the door.
"My father was the son of a Presbyterian whose name was Thomas Graham. Of his own volition, my grandfather took counsel from the Carmelite Order and converted to Catholicism. I don't know why he did it.
"My mother's family home – they were Colclough – was a very active republican house."
Seamus who now lives in Crumlin on the southside of Dublin city, was interned in September 1958, at the height of the IRA's Operation Harvest, which saw IRA guerilla attacks on the RUC and British army and on British installations in the North.
Describing the kind of activities he was involved in for the IRA in the 50's Seamus said: "I mainly worked in the Intelligence Department for Dublin and I was Acting Quarter Master General from '57 to '58 and I never lost any gear.  I'd be responsible for maintaining and supplying equipment for the Border Campaign. Sometimes I'd deliver the gear to the Units working on the Border. I'd clear dumps when necessary and I remember clearing the dump where the last Thompson Submachine guns were stored. I was very active, a lot of it was back-up work."
 He spent eight months in the Curragh. Asked to describe conditions in the Curragh at the time Graham said; "It was a collection of huts surrounded by fences. There was a V shaped ditch in the middle of the huts where there were believed to be 'trip grenades' which would explode if touched. There were forty of us to each hut. We were out of the huts most of the day and we'd play football or hurling then we'd be locked up at 7pm. That's when we'd have our classes – training in explosives, bomb making and the like. Seamus Costello was in my hut and he was the one who trained me. I learnt a lot in the Curragh."
During his many years as an active republican, Seamus Graham met many prominent republicans.
"I knew John Joe McGirl fairly well in the course of my membership of the Movement. John Joe was a 1940s man. John Joe, in the context of republicanism as I knew it, was the real thing –  a very, very, sound, sincere and genuine republican – a very good man.
"Charlie McGlade lived up the road in Drimnagh. He wasn't a mixer or socialising person but I knew him as a republican. Charlie was another sound republican and, like John Joe McGirl, a very nice man.
"Ruairí Ó Brádaigh was a tremendous operator – not that I was on any of those operations. Of all the republicans I've met, Ó Brádaigh stands out. He was the best example of a republican activist that I knew.
"I remember Máire Drumm too just to say hello to. But several of my friends in the 1950s would have been amongst the 'Stickies' later on – Sean Garland, Tomas Mac Giolla and the likes. In fact Garland gave me my first training in small arms. He taught me in the Dublin Mountains. That was about 1954.
"Sean Garland led the attack on Brookeborough RUC Barracks on 1 January 1957 when Sean Sabhat and Fergal O'Hanlon were killed.
"Seamus Costello, who in the 1970s established the INLA, was my IRA Training Officer, for a long time."
While working as an insurance clerk in the 1950s, a man who is long since dead and who had been living in the Middle East came back to Ireland and presented Seamus with .32 automatic pistol.
"He was a bit of a republican himself. The weapon was never used anyway but it was kept in a cardboard box in my office."
The weapon was discovered many, many years later while Seamus was in St James's Hospital  recovering from a severe stroke that he suffered in 1992.
"I'd told a friend of mine to clear a particular drawer which was full of important stuff but I never told him about the weapon".
The gun was hidden in another part of the office.
"There was an anti-republican type working in the premises and when they found the weapon in the cardboard box it was brought to the attention of the police. The Special Branch wanted to come into the hospital but Doctor Pritchard – the Master of Hospital Files then  – wouldn't let them. He said they could not come in once I was his patient. He said to me: 'Mr Graham they are not coming in here while you're my patient. But once you leave here – if you leave here and I hope you do – It'll be a matter for yourself'."
When Graham was let out of St James's after six months, recovering from the stroke the Branch came to the house to ask about the weapon.
"I let on I was a bit worse than I was and said I couldn't recall the details. That's all you could say. There was no point in magnifying a story that you might trip yourself up on!"
Seamus was arrested again in the early 1960s for refusing to account for his movements. He served six months in Mountjoy Jail.
Following the split in the Republican Movement in January 1970, one of the tasks of the leadership was the publication of a new republican paper as soon as possible. The first issue of the new monthly paper, An Phoblacht, under the editorship of Seán O Brádaigh, appeared on 31 January. Seamus Graham was appointed manger at the new republican paper.
An Phoblacht, with an initial circulation of 20,000 copies per month carried in-depth analysis of the new policies being formulated by the reorganised Movement, articles on various historical topics, organisation notes and reports of events in the North.
"The papers would be brought to my house here and I'd wrap them and get them ready for posting.  I made an office in this room. The accountancy aspect was simple at the time – just a card registering the sales. I'd weigh the papers, wrap them and post them from a post office that was down the road.
"Then we got the office in Kevin Street. It was an Englishman who leased it and he said; 'I don't care if you're a Hotentot so long as you pay the rent.' He knew what I was – I'd explained to him. "
When Seán Mac Stiofáin was on Hunger Strike in Mountjoy Jail after being charged with IRA membership in 1972, he was moved to Dublin's Mater Hospital and the IRA mounted an attempt to rescue him. Seamus Graham didn't think it was a good plan and opposed it on military grounds.
"A few shots were fired and the men were caught and arrested. It's easy to criticise and in truth, lots of jobs the IRA did went wrong for a variety of reasons but that happens. I would never be cynical about things going wrong because that can happen to any group of operators.
"I was operating in the 1950s and it was still like the 1920s in a way. The same kind of weapons and the same ways of operating. It was still like The Wind that Shakes the Barley. That film reflected the type of armoury. The way we worked and the type of operations we did in the 1950s. Things moved on a hell of a lot since then."
In the '70s I did back up work for the campaign in England providing good IDs. Things changed in the 1970s with different influences. A new kind of expertise emerged. The IRA developed on the explosives end of things.
"Then, shiploads of Semtex came in during the 1980s. They would never have known that it was coming in except that the Eksund – the last consignment ship, went adrift on the east coast.
On the republican peace strategy of recent years Seamus Graham says:
 "I'm 76 – an old style republican but I was always in favour of anything that would bring about a further step forward in the realisation of a united Ireland.
"The peace process was certainly an alternative to armed struggle but I cannot say for certain if it it will work."
Seamus believes that the seeds of what eventually became the peace process were sown as far back as the 1970s and that the republican leadership always saw the need to build a political alternative to war.
"Gerry and Martin are very determined – they've stayed with the whole republican project all the way."
On newly elected Seanad member and former leading Sticky idealogue Senator Eoghan Harris, Seamus recalls:
"I remember going on a holiday in the West of Ireland. It was full board and who was there but Garland, Harris and his wife.  Words were passed and myself and Garland ended up outside the premises arguing. The next thing Harris sticks his head out the window and shouts 'f....k the IRA. I want to go to sleep!'."
Seamus Graham, had to retire from political activism due to serious illness in 1992. "When you get a very serious set back to your health like I did with the stroke in 1992 things change. I was a write off. I wasn't meant to make it at all.  I remember when I started to come round out of the stroke my doctor saying to me 'there's no medical explanation for your recovery'."
Seamus's wife Marjorie died while he was in hospital and his four children are all now grown up. Though hampered by the affects of the stroke he still lives a very active life.  He has powered mobility vehicles – he keeps two in case one breaks down. They get him into Dublin city centre in 15 minutes.
Although he served a term as Acting IRA Quartermaster General, the lifelong republican reckons he's nothing special.
"Sure I'm just a small cog in the wheel. I was Acting Quartermaster General for a year but I mainly worked in the Dublin Brigade. As an active Volunteer I was doing fairly routine stuff. I was active but some of it was boring enough.
"The excitement of arms training was fine when you were young but a lot of the work was routine. We spent a lot of time sitting around in cars watching houses and people. In fact there's a funny story about that. I remember myself and another fella watching a particular house from a Hillman Van. The next thing a light went on in one of the upstairs rooms. It was a young woman probably getting ready for a night out.
"The next thing the mother went into the room and happened to look out the window. She saw us in the van and came running down with a brush in her hand and started banging at the window. We got out of there like lightning. I was bursting laughing and I said to your man – 'Imagine if you could tell that story – how the IRA got chased by a woman with a brush'.
"I'm very supportive of the Republican Movement. The Republican Movement is first and foremost for me."

An Phoblacht Magazine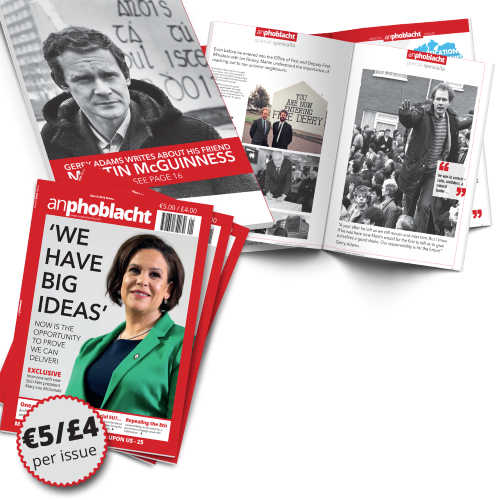 AN PHOBLACHT MAGAZINE:
The first edition of this new magazine will feature a 10 page special on the life and legacy of our leader Martin McGuinness to mark the first anniversary of his untimely passing.
It will include a personal reminiscence by Gerry Adams and contributions from the McGuinness family.
There will also be an exclusive interview with our new Uachtarán Mary Lou McDonald.
test