6 September 2007 Edition
The Matt Treacy Column
Worthy Champions
Anyone who thought that Limerick might have been content to have reached the All-Ireland final and be there to put up a good show would have been disabused by watching the faces of Richie Bennis and Gary Kirby when interviewed after the match.
They were clearly devastated and no words of consolation or encouragement from their conquerors or the pundits could compensate for that. There is never a next year or a next time just after you've just been beaten. That will come later. So too will the realisation that, from where Limerick stood this time last year, they have made enormous strides.
Limerick simply were not good enough to beat Kilkenny. Probably no team would have been. Waterford might have produced a more enthralling contest – are they capable of anything else? – and Cork never lie down in front of the Wassies, but it is difficult to imagine that either would have beaten them.
The most telling statistic of all is that the Limerick full-forward line which produced four goals and a point from play in the semi-final was held scoreless from play by a Kilkenny full-back line that makes the Tipperary 'Hell's Kitchen' of the early 1960s look like a testosterone-challenged cribbage circle.
And even that was with the early loss of full-back Noel Hickey, who was ably replaced by John Tennyson. I'm not sure whether he is any relation but the poet Alfred Lord Tennyson would surely have approved of his stout heart. "To strive, to seek, to find, and not to yield." Could have been writing about the man himself.
Man of the match for me, however, was Jackie Tyrell in the left corner. Andrew O'Shaughnessy had been a handful against Waterford, scoring 2-7, and Limerick needed him to have a good game if they were to have any chance. Tyrell stuck to him like a virus and denied him any real chance of a goal. Job done, as they say. A corner-back's corner-back.
Limerick's best player and only real threat up front was Ollie Moran, who seemed to be the only one capable of taking on and beating Kilkenny defenders. His goal gave brief hope that Limerick would at least be there to the end, but Kilkenny were able to kill off any threat with timely points and could even afford some wides that in other circumstances would have caused them concern.
Limerick kept at it and never gave up – that was all they could do – but as the faces of the players and management proved, that is no consolation. Not yet.
I don't usually watch trophy presentations but there was something compelling about Sunday's. Anyone who is of the opinion that Kilkenny hurling is some anaemic affair and that winning All-Irelands means little to them can't have been listening to Henry or watching the emotion on the faces around him on the podium.
Helping him to lift the trophy was Darragh McGarry, son of James the substitute goalkeeper, and of Vanessa, who died during the summer in a car crash. In a world where much sport is a banal reflection of the ersatz passing playthings of millionaires and cheats, it was a timely reminder of what we have. This is what Croke Park was built for.
The aftermath of the final witnessed an uncharacteristic attack by Brian Cody on the current Galway manager, Ger Loughnane. Loughnane had engaged in some psychological warfare prior to Galway's quarter-final with Kilkenny when he referred to their deliberate pulling across opponents' hands and wrists. Cody said that hadn't really bothered him as he regarded it as part of Ger's gamesmanship. What did annoy him was Loughnane's renewed attack in a preview of the final.
Loughnane accused Kilkenny of treating opponents with disdain and of basically physically intimidating them. Not very subtle, you might think. Nor was Cody's response in which he described Ger as "a lunatic from Clare". Measured and understated, not.
An indication that Loughnane is not universally popular among Galway hurling folk either was hinted at by Pete Finnerty, who quoted his father to the effect that, "A big mouth is good for cooling soup."
I've always admired Loughnane and one of his endearing traits is his tendency to say exactly what he thinks the moment it comes into his head. Sometimes, maybe it is better to let things lie.
With regard to the substance of his charge – that Kilkenny deliberately employ intimidatory tactics – my view, for what it is worth (and that is very little really as I have never played against them), is that they do not. They are tough, hard tackling and impose the kind of intense man marking and harassment more common to football in every position on the field. The fact that in historical hurling terms they are so imposing physically makes them very difficult to play against.
People's main gripe about them concerns one player who some thought had stepped over the line. Anyone watching last Sunday's match will not have to employ psychic detectives to realise who I am referring to. But to suggest that Cody encourages this as part of Kilkenny's game plan is another thing entirely.
Hurling has always been a tough game and no place for effete prima donnas. Sometimes raw confrontations and betimes skulduggery have been romanticised, perhaps best exemplified in folklore by Christy Ring's response to the aptly-named Tipp back, 'The Rattler' Byrne, who told him that they'd have to shoot him. "Well," said Christy, "ye've tried everything else." And they had.
At one level that speaks of respect between opponents. On the other, it reveals something of the reality of the ferocious combat that is championship hurling. Or any hurling. In most cases it remains on the right side of sportsmanship and by that measure so do Kilkenny. They are worthy champions and the benchmark for any team seeking to dethrone them.

An Phoblacht Magazine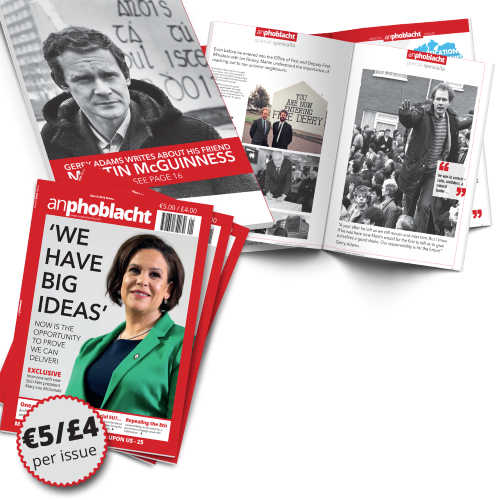 AN PHOBLACHT MAGAZINE:
The first edition of this new magazine will feature a 10 page special on the life and legacy of our leader Martin McGuinness to mark the first anniversary of his untimely passing.
It will include a personal reminiscence by Gerry Adams and contributions from the McGuinness family.
There will also be an exclusive interview with our new Uachtarán Mary Lou McDonald.
test