6 September 2007 Edition
Taoiseach must demand Aer Lingus EGM be held - Ó Caoláin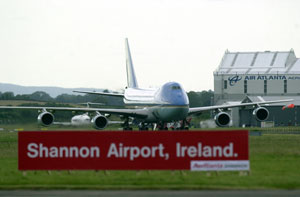 Following the announcement last week by Aer Lingus that it will not hold an EGM as requested by Ryanair, Sinn Féin Dáil leader Caoimhghín Ó Caoláin has called on the government to immediately intervene as a major shareholder of the company and insist than an EGM is held.
"Government has an obligation to its citizens in this matter and should seek to direct the board of management to secure into the future the Shannon Heathrow route.
"The connectivity of the mid western region is under serious threat, jobs are at stake and the future terms and conditions of all Aer Lingus workers are in jeopardy.
"I am calling on Taoiseach Bertie Ahern to fulfil his government's commitment of last year by using its 25.1% shareholding in the company to protect the strategic interests of the country.
"Mr Ahern must immediately write to the Aer Lingus Board of Management demanding that an EGM be held.
"As a major shareholder government has this right under company law to call such a meeting and it would be grossly negligent if Taoiseach Ahern does not do so", Ó Caoláin said.