6 September 2007 Edition
Garda turban ban : Republicans should not support overt religious displays by state
Police turbans not on
In an opinion piece in last week's An Phoblacht, SINÉAD NÍ BHROIN argued that a decision by An Garda Síochána not to allow a young Sikh applicant to the Garda Reserve to wear his turban on duty was arrived at from ignorance. Allowing Sikh Gardaí  to wear a turban would illustrate a new commitment to equality, Sinéad said.
Sinn Féin Dublin City Councillor KILLIAN FORDE takes a contrary view.
Let's bury the myths first

Myth 1: All Sikhs wear turbans.
Less than half of the Sikhs in India are estimated to wear the turban, according to Jaswinder Singh, of the Turban Pride organisation based in Punjab.  The Sikh Times, reporting in 2006 on the worries of the Sikh religious leaders, says that only 20% of Sikhs in rural Punjab were wearing the turban.

Myth 2: A Sikh must wear a turban.
In the year 1699, the tenth, and last, Guru of Sikhism, Gobind Singh, decreed that the faithful were to display five articles of faith. This included the carrying of a small dagger, the wearing of particular shorts, the wearing of a steel bangle and the wearing of a short hair comb in uncut hair.
These instructions are obligatory for all Sikhs and not subject to picking and choosing.
There is no mention of the turban in these instructions.

Myth 3: In Sikh theology the hair is used to pull a Sikh up to 'heaven' when they die.
No. In the words of Guru Gobind Singh, the Sikh is to grow his hair so as not to "get lost in a sea of Hindu and Moslems".
Some three weeks ago, in republican company, I found myself in a minority of one, arguing against political support for the position of a Sikh applicant to the Garda Reserve, who found himself barred from taking up his post unless he removed his turban. He refused to do so, apparently on the grounds of his religious beliefs.
My point specific to the turban issue was that we should, as a state, strive towards complete secularisation of the state, that the turban was not theological instruction and so evolved to become an ethnic identifier and as such it was wholly inappropriate for it be subsumed as optional dress within the law enforcement section of the state.
My arguments were dismissed as being somehow xenophobic and intolerant. I reminded my colleagues of Sinn Féin's previous efforts to ensure that the uniforms of the PSNI should be neutral or balanced.
While I do appreciate the strength of feeling some Sikhs have in relation to the wearing of the turban, the importance of what Sinn Féin must consider on this issue should not be missed.
In the 26 Counties we face a hugely challenging issue around cultural and national rights and traditions. In less than a generation we have gone from having an almost exclusively white, Catholic, Irish-born population to being host to hundreds of different faiths, nationalities, cultures, traditions and their concomitant viewpoints, practices and social norms. At least 10% of our population is now non-Irish.
One question I have repeatedly been quizzed about as an elected representative is Sinn Féin's immigration policy. My usual response is that immigration is not about the numbers of people who come to Ireland but what the Irish state develops as a policy towards this issue. We need to be clear on our cultural policy.
Unless we question the core logic of the conventional wisdom on issues around, for instance the right of Gardaí who happen to be Sikhs to wear a turban on duty, we as a party will end up with a cultural policy that is subjective, relativist and with no defining parameters to guide interpretation.
As a committed secularist I believe that we should not allow any overt religious displays by the state. I take this view as the least worst option of two. One being that all religious displays be allowed, demonstrating complete tolerance and my own preference being that you show no favouritism to any religion, equally.
Arguably our core principle of equality applies to both options but what's required to build a durable society in Ireland is cultural liberty not faith based separatism.
This cultural liberty needs to be based on the principle of aiming for a hybridisation of culture, not the fixing of identities according to born-into faiths, parentage or redundant dress codes. In practical terms this means in Ireland its collective citizenship adapt, consume, co-opt, reject or ignore cultural traits according to wishes but subject to a legislative framework that protects minorities from abuse from the dominant other(s).
My concern is that in the absence of defined universals on imported cultural practices we, as liberals, can easily end up insisting on inherited traditions being imposed on children. The most extreme example being the practice of female circumcision on children of some North African countries.
The greatest challenge this island will face over the next couple of decades is the inclusion of different cultures in a unified island. A new sense of Irishness needs to be built, one that is fluid and that contracts and expands to cater for new practices, traditions and social norms. This challenge will not be overcome by an almost certain Pavlovian and oppositional approach around cultural rights. Otherwise the end result is a sort of federated Ireland of pre-determined fixed cultures and identities based on unchosen variables such as religion, colour of skin, caste and parental nationality.
The public debate on cultural rights is unfortunately dominated by opposing camps. One side of the argument is the patronising "let's all be tolerant" attitude that many of the left seem to suffer from. It is insulting to immigrants as it infantilises them, stereotypes them and is neo-colonial in its practice. The other side is dominated by the "send them home" brigade – the racists and bigots of the country. The problem in practice is that both approaches can result in the same outcome, namely visible communities living isolated on the edge of society.
We in Sinn Féin should be able to lead public discussion on this island around interaction of different identities. We are uniquely placed to be able to appreciate the importance or otherwise of cultural symbols and ethnic identifiers.
It would be a shame if we continued to cede the ground on immigration, cultural policy and future of cultural diversity to either clueless but well-meaning, self-styled liberals or to ignorant and xenophobic bigots.

An Phoblacht Magazine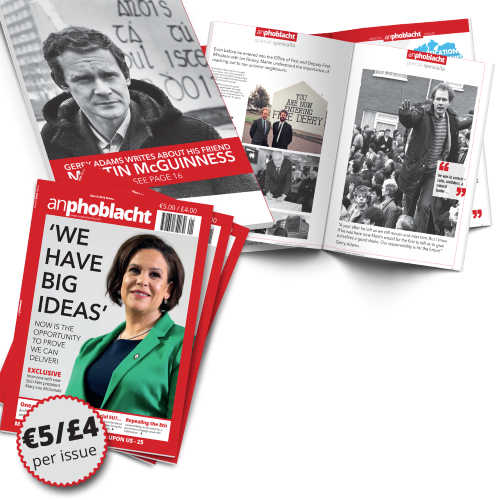 AN PHOBLACHT MAGAZINE:
The first edition of this new magazine will feature a 10 page special on the life and legacy of our leader Martin McGuinness to mark the first anniversary of his untimely passing.
It will include a personal reminiscence by Gerry Adams and contributions from the McGuinness family.
There will also be an exclusive interview with our new Uachtarán Mary Lou McDonald.
test