16 August 2007 Edition
Fifth Column
Flying into a storm
Especially while Fianna Fáil TDs in the West of Ireland are in a tail-spin over Aer Lingus's flight from Shannon to Belfast, I am loathe to give any coverage at all to Ryanair, but the anti-union cheap airline's latest cheeky ad (above) did raise a wry smile.


UDR gunman shoots down Ryanair
The Ryanair flyer raised more hackles than smiles over at what's left of the Ulster Unionist Party.
Castlereagh Councillor Michael Copeland said that it would alienate a sizeable chunk of the travelling public "starring Martin McGuinness and proclaiming that their fares are so low 'even the British Army flew home'".
The former UDR lieutenant fumed:
"Deliberately provocative, this advert is insensitive, crass and makes a clear political statement on the part of Ryanair.
"To many like me who served in the [British] Army, Northern Ireland is home. This shock tactic and 'oh no they didn't' style of advertising may have worked in the past but I would recommend that Ryanair focuses on what it does best: cheap flights, rather than offending people with crass advertising like this."


Going a bomb down the docks
Ryanair could argue that it is only taking a leaf out of the book of the Dublin Port Company's advertising campaign last month in using famous people who have been in the IRA.
Billboards around Dublin are aimed at "celebrating the arts and tradition of travelling by sea" of some of Ireland's most famous writers, including Samuel Beckett, Seán O'Casey, George Bernard Shaw, Oscar Wilde and WB Yeats, who, in the words of the Dublin Port Company, "all used ferries to make good their getaways". IRA Volunteer Brendan Behan's getaway was to take the boat to England to bomb Liverpool Docks.
The Dublin Port Company asked Irish artist Seán Lennon to create "unique Irish pop-art-style portraits" accompanied by quotes from these notable writers.
Behan's inimitable quote is his reaction to being court-martialled by the IRA.
"I was court-martialled in my absence and sentenced to death in my absence, so I said they could shoot me in my absence."
And any mention of the IRA or bombing Liverpool Docks in the likes of the Irish Independent was notable by its absence.


Trimble ain't nothin' but a hound dog
Who is David Trimble's hero? Sir Edward Carson? Margaret Thatcher? The Queen? No, and it's not even King Billy; it's a rockabilly – Elvis Presley, the real King.
The former Ulster Unionist Party leader, who has more of a wooden personality than a wooden heart, makes his revelation this week in a BBC Radio 4 programme, Great Lives, in which public figures can talk about their idol.
"I became conscious of Elvis in the summer of 1957," David Daddy-O recalls.
"You could not go along the seafront of Bangor, past the amusement arcades and the juke boxes, without hearing All Shook Up thudding out pretty well every day, all day."
He was sharp then, was Teenage Trimble:
"I was conscious of the controversy around it and that led to a little bit of excitement."
Oooooh, David, stop it – too much excitement will make the quiff in your hair go all funny.
"There was a dress that went with it – the hair being brushed back."
Whatever he was, David Trimble as Bangor's answer to Marlon Brando's Wild One? Nah.


Special Agent Elvis Presley
Aficionados of Mr Presley's musical genre will note that 'The Hillbilly Cat' wasn't always the king of cool.
In 1970, Elvis met President Richard Nixon after 'Tricky Dicky' received a bizarre, six-page letter from Presley begging to be made a 'Federal Agent at Large' in the Bureau of Narcotics and Dangerous Drugs.
During his meeting with Nixon, Presley excoriated The Beatles as 'un-American' because of their drug taking and their opposition to the Vietnam War.
Nixon didn't grant his wish but he did give him a 'Special Agent' badge and sent him on his way.


Presley's IRA favourite
Elvis was a big gun collector, holding more weapons than the IRA in 1969. Amongst his arsenal was a treasured Thompson sub-machine gun. (Deep sigh, all you old Chucks.)
This year, a firearms firm called America Remembers released a special edition 'Elvis Presley TCB Tribute Revolver' (Presley's entourage was known as The Memphis Mafia with its slogan, 'TCB – Take Care of Business').
The piece carries a picture of Elvis and is in 24-carat gold. It's a .356 Magnum made by Smith & Wesson.
When Daniel O'Donnell dies, he'll be lucky if he gets a €1.50 Magnum made by HB Ice Cream.

An Phoblacht Magazine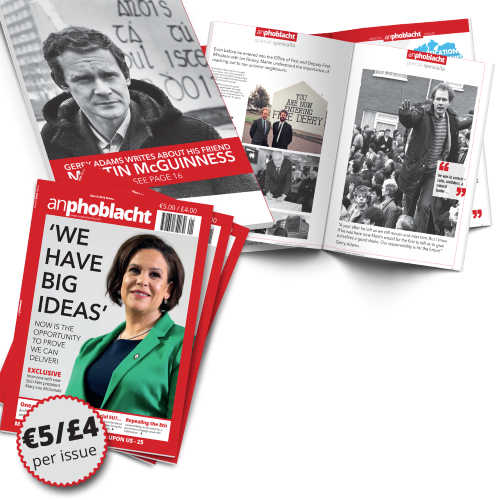 AN PHOBLACHT MAGAZINE:
The first edition of this new magazine will feature a 10 page special on the life and legacy of our leader Martin McGuinness to mark the first anniversary of his untimely passing.
It will include a personal reminiscence by Gerry Adams and contributions from the McGuinness family.
There will also be an exclusive interview with our new Uachtarán Mary Lou McDonald.
test