9 August 2007 Edition
Seanad : Criticism of Ahern nominations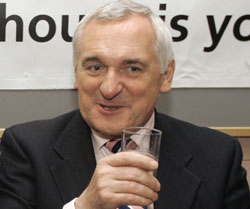 Dig outs, bail outs and bankruptcies
BY ROBBIE SMYTH

Bertie Ahern's countdown to retirement is going to be a rocky road, judging by the controversy generated by his third and final set of Seanad nominations. His 1997 and 2002 appointments hardly generated a headline but this week we have seen perhaps the real Ahern unleashed, with bridges to burn, voters to disregard and long held grudges to be appeased.
Of the 11 seats a Taoiseach can appoint, four were spoken for as the result of the deal making that kept Fianna Fáil in power, and so the Greens and Progressive Democrats shared two seats apiece.
In fact how the 11 seats were meted out is a replica for how Bertie Ahern does business in the 26 Counties. Four seats were, as already stated, the prizes of political deal making, an Ahern trait throughout his political career.
Two more, those of Lisa McDonald and perhaps Maria Corrigan were Ahern's nod to youth, which at two out of 11 is his usual token gesture from a politician who favours long service and rewarding his own peers – his 2002 cabinet had just only one minister in their early 40s.
Then there was the nomination of Donegal's Brian Ó Domhaill, another example of Ahern's tactical one-to-one marking as Ó Domhaill's entry into the Seanad is seen to be driven by the presence of Sinn Féin's Pearse Doherty also from Donegal, meaning that other Fianna Fáil hopefuls in Galway, Dublin and Roscommon must sit on the bench.
Then there is Ahern's desire for continuity and the nomination of Martin Brady fits this trait. Brady lost his seat in Dublin North East and it seems he gets an enhanced profile to keep alive a return to the Dáil in the next Leinster House election.
However the last three of the Taoiseach's nominations deserve closer scrutiny and could be the most revealing insight into the Ahern legacy.

John Ellis
John Ellis has embroiled three Fianna Fáil leaders in his financial escapades. The Ellis saga begins and ends with Stanlow Trading, a meat factory he ran with his brothers, which went bankrupt in 1986, but still has 80 unpaid creditors, all farmers, more than 20 years later.
Bertie Ahern has known all about Stanlow and the difficulties its closure left with farmers and their families who had sold cattle to the Ellis brothers. The farmers concerned have made representations to Ahern as they did to Charles Haughey in 1986. Somehow the money was found to eventually pay off most of the farmers who were in the Sligo/Leitrim constituency that Ellis was contesting for Fianna Fáil, but many others who were not in his  previous constituency are still owed money.
National Irish Bank initiated bankruptcy proceedings against Ellis for £263,000, but settled for a paltry £20,000, with allegations that senior Fianna Fáil figures lobbied the bank on his behalf.
The Swinford and Manorhamilton marts also initiated bankruptcy action against Ellis, but these debts were paid off by Charlie Haughey from the Fianna Fáil Leader's Allowance, effectively the taxpayers money.
At the time Haughey's minority government could not afford to lose a TD and precipitate a by-election. It is highly likely that the cheque given to Ellis came from a chequebook of blank cheques, pre-signed by Bertie Ahern who was a signatory for Leader's Allowance cheques at the time, along with then Finance minister and fellow Sligo/Leitrim TD Ray MacSharry. Ahern admitted to the Moriarty tribunal that he pre-signed the blank chequebooks at the time.
Though found personally not liable, Ellis did admit that, "I have a moral responsibility to these farmers and if I had the means to pay them, I would willingly do so"....20 years of a TDs wage with accompanying allowances has not yielded Ellis the money to pay these debts, even with the six figure payoff he gets from losing his Dáil seat. His new job gives Ellis an income of over €70,000 annually.
Other media sources allege that Ellis owns three properties in Leitrim – 153 acres of farmland and five development sites, but he has yet to pay off any of the outstanding debts. He describes himself in the Dáil register as "farmer, landlord" and director of a "development company".

Ivor Callely
Bertie Ahern's second controversial nominee Ivor Callely was another surprise choice. Callely became embroiled in controversy after it was revealed that while chairperson of the Eastern Health Board, a construction firm who had won health board contracts had, to use that quaint Ahern term, given Ivor a "dig out" with home improvements after one of his other contractors had let him down.
Even though Callely has consistently denied any wrongdoing, he was forced to resign his junior Transport ministry and was judged to have tarnished last December's Fianna Fáil budget bonanza giveaway by hogging headlines in his last stand refusal to quit.
Callely has also had his share of business disasters. In 1992 a company called Eurokabin went bankrupt with debts of nearly €9 million. It is still unclear what Callely's relationship was to the business.
In 2002 the Sunday Business Post reported that Callely has at various times said he was and then wasn't an employee of the firm. However, he also said he was and then denied being a director of Apollo Engineering which also went into liquidation and which operated from the same site and used the same telephone number as Eurokabin.
The Nealon Guide to the 26th Dail, gives Callely's business address as Apollo Engineering, Baldoyle Industrial Estate, and his name was on the firm's notepaper as a director!
However, controversy has continually dogged the North Dublin TD. In December 2005, a year before his eventual ousting, it was revealed that Callely had offered his constituency secretary Niall Phelan a free car as a bonus not to resign.
At the time of the car fiasco Bertie Ahern simply said Callely's actions were "not advisable", and when in the day before Callely eventually resigned as minister and was seemingly uncontactable Ahern merely told the Dáil that he was "not impressed".

Eoghan Harris
Someone who has impressed Ahern is Sunday Independent columnist Eoghan Harris, formerly of the Sunday Times and RTE, 'Official Sinn Féin', the Workers' Party and who was involved with the UUP and Fine Gael.
Harris and the Sunday Independent have had the soft focus out on Ahern for some time now, and the defence of Ahern by Harris on a pre-election Late Late Show, along with other eulogies most recently in July when he compared Ahern to Bill Clinton has lead its seems to this surprise nomination.
But Harris and Ahern do have more in common than flattery from Harris. Ahern doesn't like an intrusive media and Harris was for years an active advocate for media censorship. His zealous support of Section 31 is unmatched in the media as a journalist seeking to censor his and others' work.
Harris now has a trump card, that of parliamentary privilege. While the Seanad sits he will be able to speak with impunity, a right he would actively deny others. Protected by parliamentary privilege, the Independent Media and News group will no doubt actively report on his pronouncements.
If we needed any reminding of the problems with the Seanad, the lack of democracy in Irish political institutions and the misuse of political power, Bertie Ahern has this week delivered a political master class. 

An Phoblacht Magazine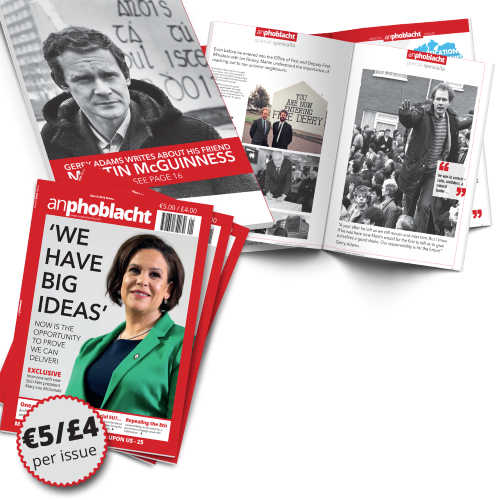 AN PHOBLACHT MAGAZINE:
The first edition of this new magazine will feature a 10 page special on the life and legacy of our leader Martin McGuinness to mark the first anniversary of his untimely passing.
It will include a personal reminiscence by Gerry Adams and contributions from the McGuinness family.
There will also be an exclusive interview with our new Uachtarán Mary Lou McDonald.
test