9 August 2007 Edition
Aer Lingus - Belfast's gain need not have been Shannon's loss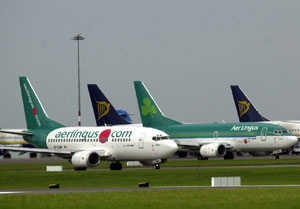 While Sinn Féin this week welcomed the fact that Aer Lingus is to base its new regional hub at Belfast International Airport, the party has expressed major concern at the threat to jobs at Shannon Airport.
MLA Paul Maskey said the decision brought good news for people and the economy in Belfast, with greater opportunities for foreign investment, export opportunities for indigenous businesses and potential for increased tourism in the North.
But he said that while Sinn Féin welcomes the additional new Aer Lingus service between Belfast and London Heathrow, the party was concerned that simultaneously services were being withdrawn from Shannon Airport, a key access point to the mid west region.
"Sinn Féin firmly believes that additional services could have been delivered in Belfast without removing the Shannon services. Ensuring that the mid west region is adequately served with air links is vital to achieving balanced regional development, which is after all our objective across the island", Maskey said.
"Slots at Heathrow which are presently leased out by Aer Lingus to other competitors operating out of Heathrow could and should have been used to deliver the Belfast services.  Air Lingus management should have approached this in a way which would not have resulted in any jobs or services being lost in Shannon. Management at Air Lingus should not treat long serving staff who have worked hard to make the airline profitable in the way that they have done in regard to today's developments."
Sinn Féin's Limerick representative Maurice Quinlivan said he was very concerned but unsurprised at news that Aer Lingus planned to discontinue the direct Shannon to London Heathrow route.
"Shannon Airport is vital to the economy of the entire mid-west region and indeed the whole of the West of Ireland. The importance of the Heathrow route to local business and tourism should not be underestimated. Simply put, this route is of vital importance to Limerick's economy. It is a key route necessary for attracting and maintaining investment, for developing and sustaining tourism and is essential for the maintenance of family connections with the many Irish emigrants from this area who live in the West London catchment area.
"My main concern at the recent privatisation of Aer Lingus was that in order to maximise return for it's new shareholders routes out of Shannon would be discontinued in preference for routes, which they perceived to be more profitable ones. It seems now that this has unfortunately come to pass. Following privatisation the airline now has no duty but to maximise profits for it's shareholders.
Quinlivan said Aer Lingus's recent commitment to Shannon was "very worrying and questionable".
"Aer Lingus have developed no new non-US routes out of Shannon in at least the last 6 years. I am very concerned that this will be the start of the total withdrawal of Aer Lingus from Shannon. And following the introduction of the open skies policy we will see a total Aer Lingus disengagement from Shannon Airport in the not too distant future. This decision on the Heathrow route if confirmed could prove very detrimental to our local economy and will make it difficult to attract tourism and future investment. Direct jobs will also be lost at the airport. We are a small island nation we need a national airline, one that will play a dynamic role in the national and local economy ensuring we have adequate cargo and freight routes as well. I would urge Aer Lingus even at this late stage to reconsider the plan to discontinue this very busy, popular, necessary and profitable route and to maintain this vital service", he said.