2 August 2007 Edition
Death of Volunteer Paddy Markey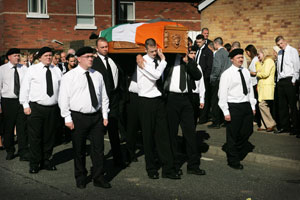 Around a thousand mourners gathered on Monday morning in the Oldpark area of North Belfast for the funeral of Volunteer Patrick Markey.
Paddy died at home surrounded by his family after a short illness on Friday last, 27 July. He was aged 51.
A lone piper led the cortege which was flanked by a republican guard of honour on its way to Sacred Heart church.
The funeral proceeded to the City Cemetery in Belfast for burial where veteran republican Martin Meehan  gave the oration.
"Patrick Markey joined Na Fianna Éireann in 1972 before moving into the ranks of Óglaigh na hÉireann the following year," said Meehan.
"He was liked by all his comrades, a big man, but one who never threw his weight around.
"He got on with all and any tasks he was ever asked to carry out  and by his death he had become the longest serving volunteer from the Bone area.
"Patrick was imprisoned on a number of occasions and spent four years inside on the word of  perjurer Christopher Black.
"He was back in again in 1988 on remand and despite being brutally honest about the fact that he hated jail, he hated being away from his wife Mary and family, he always reported back to the IRA."
Martin Meehan said that one of Paddy's proudest moments had been taking part in the guard of honour at the funeral of Vol Bobby Sands and he recalled that Paddy had worked tirelessly for the prisoners' cause during that time.
Paddy had also been proud of his involvement with an ASU operating in the North Belfast area in the 1980s.
"Many of these young people had joined the IRA inspired by the courage and sacrifice of the hunger strikers and Paddy was lifted by the courage of those young people and he did all that he could to assist them in any way he could and to pass on his experience.
"The people of his home area the Bone had huge trust and confidence in Patrick and no one could open doors in the area to the IRA quite in the same way as Paddy."
Martin said Paddy would be a huge loss to his wife Mary, children Deborah, Catriona, Caoimhe, Patti and Eoin and grandchildren Chantelle, Ethan and Sorcha.