2 August 2007 Edition
Death on the roads : Most road accidents preventable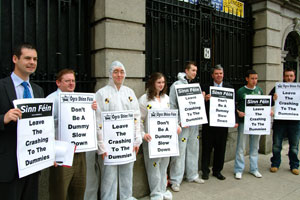 SF launches detailed Roads Safety Policy
Sinn Féin Senator Pearse Doherty launched a comprehensive All-Ireland Road Safety Policy document in Dublin on Tuesday. Doherty was joined by Sinn Féin's Road Safety Spokesperson in the Northern Assembly Cathal Boylan MLA and Ógra Shinn Féin member Peadar de Bluit.
Doherty said that every year hundreds of people are killed on Irish roads and many more are injured, sometimes permanently. So far this year 264 people have been killed on Irish roads and this previous Sunday saw seven lives lost in one day.
"Tragically these road deaths were not inevitable as most road accidents are preventable", Doherty said.
The Donegal Senator said that Ireland's roads are among the most unsafe in Europe. This was due to several factors, he said including an outdated road network  trying to cope with levels of traffic never envisaged when it was built and insufficient public transport particularly in rural areas.
"There can be no doubt also that the current existence of two separate and incompatible road safety systems on the island is creating dangerous and hazardous conditions in the border areas. The harmonisation of speed limits, road signs and other safety measures is not only essential but simple common sense", Doherty said.
A culture of joyriding among young people was also contributing to the excessive death rates Doherty said as was the culture of speeding and the lack of an updated driver education, testing and licensing system.
"All of these factors and others must be tackled and today Sinn Féin is putting forward comprehensive policy proposals aimed at making Ireland's roads save and prevent unnecessary loss of life on every road on the island of Ireland", he said.
Among Sinn Féin's key proposals are:
•    An All-Ireland approach to road safety including increased Ministerial and Departmental co-operation
•    Investment in public transport system including more night time public transport options, especially in rural areas
•    A programme of concentrated investment to fully upgrade all classes of roads to minimum national standards to be set by the single Road Safety Authority and sufficient provision for road maintenance in local budgets.
•    An all-Ireland Road Safety Strategy to harmonise speed limits (into kmph as required under EU law), road signs, penalty points system and other road safety measures.
•    Revamp the provisional licence system in the 26 counties including: an end to unsupervised driving before taking and passing the practical test.
•    Include Driver Training and Road Safety programmes in the school curriculum, using Transition Year or 5th year to introduce practical driver training in a safe environment.
•    Make formal driver training compulsory for licensing, as in many other countries.
•    A total ban on intoxicating substance intake and driving, ie a zero alcohol and drug limit, in order to eliminate both risk and public confusion.
•    An All-Ireland Multi-Agency Taskforce on Joyriding/Death Driving.
•    Mandatory alcohol and drug testing following all traffic accidents causing injury or death.
•    All local authorities on the island to create full-time posts for Road Safety Officers.
•    Exempt safety elements in cars from VRT.
•    Deployment of traffic patrols at identified times and locations where violations are most likely to occur.