26 July 2007 Edition
The Matt Treacy Column
Hurlingfest ahead
This weekend promises to be a feast of hurling. The postponed Kilkenny/Galway and Wexford/Tipperary matches take place on Saturday, while Sunday sees Limerick take on Clare and the much anticipated meeting of Cork and Waterford.
Hopefully, Saturday will at least see the two underdogs put up a show. Galway have never recaptured the brilliance they displayed when overturning the Cats in 2005 and their cause may not perhaps have been best helped by the comments of Ger Loughnane on the alleged "savagery" of the Kilkenny backs. Coming as it did after his ill advised spat with his old buddy John Considine prior to Galway's defeat at the hands of Clare, Loughnane's latest gambit has apparently not gone down well with the players, one of whom delicately suggested that maybe they could have done without it.
I can just imagine Brian Cody striding up and down Nowlan Park during training. Jaysus, if it's savagery they want boys!
Loughnane's basic problem, in my humble opinion, is that he is attempting to apply the same psychological formula to Galway that worked in Clare – the big difference being that perhaps the raw material is not the same.
Do Galway have the players to do what Clare did, or are they the "fucking chickens" that Loughnane told them Clare people believed them to be?
Do Galway even have the same historical resentment capable of being distilled into epic hurling that Clare had prior to 1995? (A fertile soil carefully cultivated on Crusheen hill from generations of humiliation and perceived mockery from the likes of Tipp.)
Actually, it is perhaps unfortunate for Loughnane that Galway haven't drawn Tipp so far, because if there is one sight certain to raise the ghosts of Galway pride it is the sight of the blue and gold and the echoes of the sneers from across Lough Derg in 2001.
Jamsie O'Connor once said that the Clare camp under Ger was "no place for fancy dans". I imagine that would qualify as something of an understatement. Loughnane had, and still has, a reputation for ferocity and for instilling that ferocity into his players. Dublin players who were on the team that beat Galway in the league recall leaving Parnell Park that afternoon and still hearing Loughnane roaring at the Galway fellas in their dressing room. He kept them for over an hour.
The suspicion must be, however, and one suspects that in his heart of hearts maybe Loughane himself suspects it too, that Galway simply do not have either the innate aggression nor the skills to challenge Kilkenny at this stage. They are also playing without one of the players who was touted as the answer to many of Galway's problems. But Joe Canning is not part of Ger's plans, a victim of a different sort of ferocity and one presumably that Ger himself would never stand over.
If Galway put up a good performance against the Cats then Loughnane will be safe for another year. If they get a hiding, and that is very possible, there will be a lot of people looking for his head on a plate. If Galway beat Kilkenny, they'll canonise him. But don't be sending off your Novenas to Saint Ger just yet.
The most anticipated match of the weekend for most people is the meeting again of Cork and Waterford. One would have to imagine that the psychological advantage now lies with Cork, having been without Cusack, O'Sullivan and Ó hAilpín for the Munster semi-final.
Not that I have any evidence whatsoever for believing that Waterford will approach the game in anything other than a positive frame of mind. So far this year they have displayed a level of coolness and an ability to win tight games that some suspected was not present up to now and which has prevented them building on their previous Munster victories, especially over Cork.
They will be focused and may even perhaps relish the prospect of beating Cork again and this time on the big stage and in front of the biggest hurling crowd of the year. What better way to exorcise whatever demons may lurk in the corners of Croke Park for the Decies. Not wishing any harm to Cork but I think every neutral in the country will be supporting the blue and white. This time they will do it, I think, and go one step closer to bridging that long long gap.

DUBLIN TRIUMPH
Last Wednesday saw another long interval closed, when Dublin won the Leinster Under-21 hurling title for the first time since 1972. It was a pulsating game and one in which for a short time Dublin seemed about to be revisited by the tragic muse that had taken victory out of their grasp on several occasions in recent years.
This time there was no mistake and when they lifted the Offaly siege in injury time to finish with a consummate goal from Peadar Carton, Parnell Park erupted in the biggest roar heard for many many years. Dublin hurling followers have shed many tears over the years and there were more than a few moist eyes around as John McCaffrey received the trophy from Leinster Chair Liam O'Neill, who then had to stand looking rather grim as he was subjected to yet another display of "provocative triumphalism".
Finally, I received a text last week which read: "Why the fk did u tip Mon to bt Donegal. We're fked now so we are." Well, my friend I was correct in all my predictions last week. This weekend, Kilkenny, Tipp, Limerick and Waterford in the hurling and Laois and Monaghan in the footie. You may send me postal orders to the value of one tenth of your winnings. 

An Phoblacht Magazine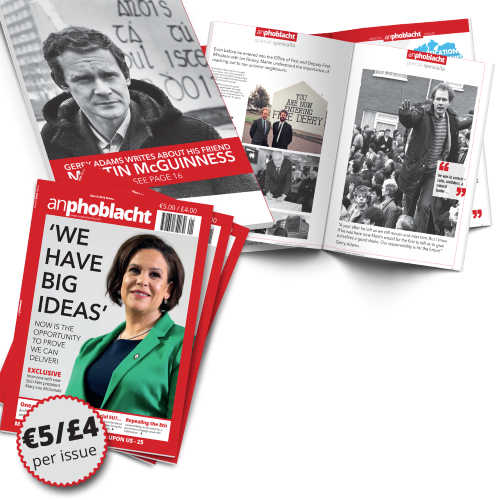 AN PHOBLACHT MAGAZINE:
The first edition of this new magazine will feature a 10 page special on the life and legacy of our leader Martin McGuinness to mark the first anniversary of his untimely passing.
It will include a personal reminiscence by Gerry Adams and contributions from the McGuinness family.
There will also be an exclusive interview with our new Uachtarán Mary Lou McDonald.
test