26 July 2007 Edition
The Magill Summer School, McGuinness wants fair and equal society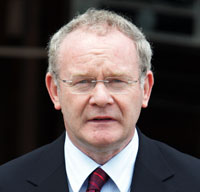 Deputy First Minister Martin McGuinness was joined by Junior Minister in the Northern Executive, Ian Paisley Junior, in addressing the annual Magill Summer School in Glenties County Donegal on Friday evening last.
During the course of his speech, McGuinness said that "the First Minister and I are part of an administration that is full of dedication and commitment to deliver in the here and now for all of the people. And I think that this work demonstrates an island not just in transition but an island in transformation".
He spoke of the announcements on roads infrastructure and the Ulster Canal brought about by the meeting of the All-Ireland Ministerial Council in Armagh last week and signalled that this type of all-Ireland approach offers a template for what can be achieved in the coming years. He described these announcements as "real action, bringing real benefits to communities marginalised by geographical and political isolation".
McGuinness spoke about the need to build a fair and equal society on the island. He said that he is committed to building the economy to ensure that we have the means to deliver for all of our people. He gave a commitment to work hand in hand with the business community, trade unions and educationalists in achieving this. "Through dialogue, accommodation and agreement, we have begun to script a new history, marked by confidence, optimism and creativity," he said. "Our priority in the years ahead is to continue with the good start that has been made".
He made it clear that as an Irish republican his clear objective is achieving Irish unity. He said that he and Ian Paisley are jointly leading "a unique set of political institutions and arrangements which reflect the unique set of political circumstances we have all come through".
"Dr Paisley's unionism, like my republicanism, is not compromised by the actions we have jointly taken. The arrangement we are now in threatens no one's political aspirations. Indeed, it provides for the first time a common space to discuss and debate our futures on the basis of equality and respect."
An Phoblacht Magazine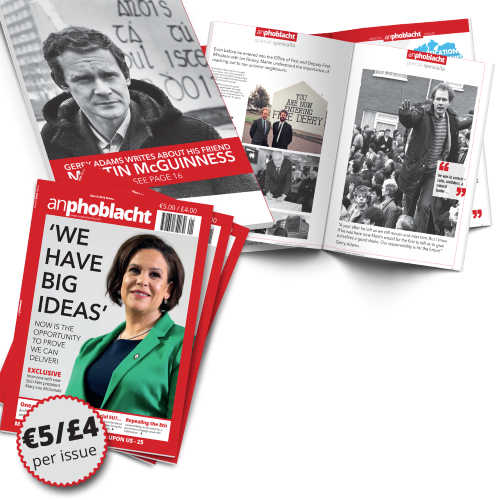 AN PHOBLACHT MAGAZINE:
The first edition of this new magazine will feature a 10 page special on the life and legacy of our leader Martin McGuinness to mark the first anniversary of his untimely passing.
It will include a personal reminiscence by Gerry Adams and contributions from the McGuinness family.
There will also be an exclusive interview with our new Uachtarán Mary Lou McDonald.
test