26 July 2007 Edition
Proposals for an inclusive Seanad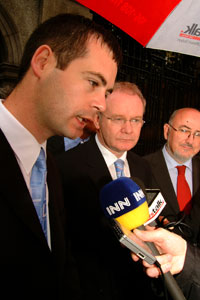 In 2003, Sinn Féin made a submission to the Oireachtas Sub-Committee on Seanad Reform.
Sinn Féin believes that the Seanad, as currently constituted, is fundamentally undemocratic and elitist and duplicates the role of the Dáil. The party envisages the creation of a reformed, democratic, transparent, accountable, and relevant second house of parliament.
Sinn Féin wants to see a democratically elected Seanad that would afford a role for civic society, and provide for fuller representation of all sectors of society in the legislative process.
The election of Pearse Doherty will mean that the issue of Seanad reform will remain on the agenda, rather than be raised briefly only to be forgotten about until the next election.
BEYOND ABOLITION & PARTY POLITICS
Sinn Féin rejected the abolition of the Seanad on the basis that one house does not adequately represent all sections of the Irish population and a second house could be constituted so as to represent those not adequately represented in the Dáil.
It is beneficial for the democratic nature of government to have an upper and a lower house of parliament in that it provides a system of checks and balances on government legislation and policy.
The option of a national list system, as recommended in the 7th Progress Report of the Oireachtas All-Party Committee on the Constitution was also considered and was rejected on the basis that it would not involve a radical reform of the Seanad, would not provide for greater representation of civic society and would result in a Seanad which would in its composition be a duplication of the Dáil.
Sinn Féin believes the Seanad should be elected on a sectoral panel system to ensure that civic society and specifically those marginalised in society, would have a role in the legislative process.

REFORM RECOMMENDATIONS
• The Seanad would be elected by universal suffrage of citizens of the 32 counties of Ireland and those resident therein for more than 5 years who are over the age of 16 years. Pending the reintegration of the national territory, citizens resident in the 6 counties would cast their ballot by postal vote.
•     Emigrants registered with their appropriate Irish Embassy or consulate would be entitled to vote.
•     The election would not take place on the same day as the Dáil election.
•     There would be no provision for nomination by An Taoiseach.
•     Senators would be elected from sectoral panels rather than on a party political basis.
•     Election would be by proportional representation single transferable vote on each panel.
•     The main function of the Seanad would be scrutiny of national and EU legislation.

COMPOSITION OF SEANAD
The current system is legislated for under the Seanad Electoral (Panel Members) Act, 1947 and the Seanad Electoral (Panel Members) Act, 1954.
Sinn Féin proposes a Seanad based on a sectoral panel system elected by universal suffrage of citizens of the 32 counties of Ireland and those resident therein for more than five years, who are over the age of 16 years.
The Seanad is currently elected by an undemocratic limited franchise panel system and the panels are constituted as follows:
•      Cultural and Educational Panel
•     Agriculture Panel
•     Labour Panel
•     Industrial and Commercial Panel
•     Administrative Panel
There are also reserved seats for those elected by graduates of certain third-level institutions.
Sinn Féin proposes retaining a 60-member assembly. The outline of panels would be as follows
1. Community and Voluntary Panel (including geographical communities and communities of interest)
2. Cultural and Educational Panel (including but not limited to arts, language, sports and students organisations)
3. Local and Regional Panel (for example representatives of community councils as recognised under Better Local Government, regional bodies etc.)
4. Labour Panel
5. Industrial and Commercial Panel
6. Agricultural and Fisheries Panel
In order to address the under-representation of women, quotas of at least 30% would operate across each panel.

NOMINATION PROCESS
All organisations who seek accreditation as a nominating body must apply to a 'Seanad Panel Accreditation Committee' before they can nominate a person to stand in the appropriate panel. It should be open to all bodies, other than political parties, to apply for such accreditation. An organisation would have to seek accreditation at least six months prior to an election.
Guidelines for accreditation would be laid out in legislation i.e. amendments to the Seanad Electoral (Panel Members) Acts
Each nominating body would only be permitted to nominate one person to one panel.
Arguments will be made by opponents of this system that it is cumbersome, however we contend that it is possible to overcome these difficulties. Any difficulties arising are far outweighed by the democratic and inclusive benefits of the sectoral panel system.

FUNCTIONS OF SEANAD
Sinn Féin envisages that the main role of the Seanad would be scrutiny. It would scrutinise draft domestic legislation and furnish reports to the Dáil, including specific recommendations for amendment, withdrawal, further consultation, impact assessment, fast-track progress, etc.
It would be responsible for checking legislative proposals against the constitutional and other rights of citizens, and also against Ireland's international obligations.
Sinn Féin proposes significant changes to current legislative stages. Prior to consideration by the Dáil, all proposed legislation would first pass scrutiny by the Seanad, to be known hereafter as the 'Seanad Stage'.
All legislation would pass through the following stages:
•     First Stage Publication (Dáil)
•     Seanad Stage (Seanad)
•     Second Stage Debate (Dáil)
•     Committee Stage (Dáil)
•     Report Stage/ Final Stage (Dáil)
The new "Seanad Stage" would include a community consultation process. Following this consultation, the Seanad would debate the bill and consider amendments. At the conclusion of this Stage, the Seanad would agree the amendments it would recommend to the Dáil.
The Seanad would have a responsibility to equality-proof and human rights-proof proposed legislation.
The Seanad could recommend withdrawal of legislation.
The Dáil must take cognisance of the Seanad Report when debating the bill in Second Stage, and subsequently.
If the Government ignores the Seanad recommendations, this could be grounds for a no-confidence vote. The President can also use this as a reason to refer legislation when presented.
The Seanad would have the right to question Ministers on legislation.
The Seanad would also scrutinise proposed European legislation and furnish reports to the Oireachtas including recommendations for amendment, withdrawal, further consultation, impact assessment, fast-track progress, etc.
The Seanad would have the ability to permit MEPs to attend and speak, without voting rights, at Seanad debates on European issues or on legislation resulting from the transposition of EU directives