26 July 2007 Edition
Challenging cocaine complacency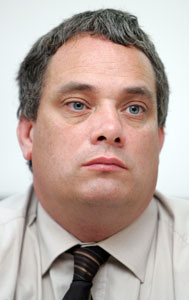 BY ARAN FOLEY

The interception of more than one and a half tonnes of cocaine, valued at €107 million, by Irish authorities at Dunlough Bay, Mizen, in West Cork on 2 July was a chilling indicator of the scale of the cocaine epidemic that is engulfing Ireland. Once considered the drug of the elite, it is now so widespread that there is barely a town in Ireland where it cannot be obtained.
Worryingly, cocaine has retained an image of sophistication and trendiness among many of those who use it. Despite the wealth of contrary evidence, many users regard it as harmless and socially acceptable. Its use has now crossed all class barriers although communities with a history of deprivation and substance abuse are, as ever, worst hit.
Sinn Féin TD Aengus Ó Snodaigh, speaking in Leinster House, pointed out that the massive cocaine find was "something of a fluke".
"It illustrates the need to increase the number of Gardaí dedicated to drugs squads to ensure that such a shipment would be discovered and seized, whatever the weather," he said.
The shipment was only discovered after the coastguard was scrambled when bad weather overturned one of the dinghies landing the drugs.
Ó Snodaigh has called for the immediate reversal of Budget 2007 funding cuts that have adversely affected local drug task forces. "We must all work together to challenge the now popular misconception that cocaine is only a 'recreational' or 'safe' drug," he said.
"In reality, cocaine-related deaths are on the increase. Cocaine is addictive and it is particularly dangerous when mixed with other drugs, such as alcohol. It has implications for users' health, mental wellbeing and financial state. Regular cocaine use has been linked with suicide.
"Cocaine has also been linked with rising levels of indebtedness amongst users and amongst their families, who may try to bail them out of trouble. This can put whole families under pressure from loan sharks and at risk from ruthless drug dealers.
"The cocaine myth must be consciously challenged through the formal education system," says Ó Snodaigh, "through youth services and by community role models in an age appropriate way to ensure that young people are fully aware of the risks associated with cocaine and in particular with regular or poly-drug use."

SERIOUS UPWARD TREND
All of these facts are known to the Government as, at its request, a joint report was drawn up by the National Advisory Committee on Drugs (NACD) and the National Drugs Strategy Team (NDST.) Using a variety of indicators, from Garda seizures through to people seeking treatment, the report came to a conclusion that there has been a serious upward trend in the use of the drug, with all the attendant consequences.
Published this year, but only using statistics available as far back as 2005 (most observers would agree that cocaine use here has only increased in the interim), the report identifies several disturbing trends.

1.     The Medical Bureau of Road Testing, carrying out testing under the Road Traffic Act, show the number of drivers testing positive for cocaine use in 2005 was 86, compared to just nine in 2002.
2.     The number of patients admitted to hospital with cocaine dependence as their primary or secondary diagnosis was 52 in 1999 and 222 in 2004.
3.     The number of urine samples sent by GPs to Beaumont hospital testing positive for cocaine was 0.5% in 1998 and 3% in 2005
4.     The number of offences for cocaine detected by the Gardaí under the Misuse of Drugs Act increased from 11 in 1990 to 1,220 in 2005, with more than 500 in Dublin, 236 in the Southern region, 88 in the Southwest and 44 in the West.
5.     The number of seizures of cocaine by Gardaí increased from 213 in 1999 to 968 in 2005. Customs and Excise seizures were 12 in 2000 and 46 in 2005.
6.     The National Drug Treatment Reporting System in the Health Research Board show that the number of new cases seeking treatment for cocaine as a primary drug increased from 33 in 2000 to 157 in 2003; numbers reporting cocaine as an additional problem drug grew from 189 in 2000 to 443 in 2003.

Because the detrimental effects of cocaine are more subtle and – at least at the beginning – less noticeable than, say, heroin, and it retains the myth of being socially acceptable, its rapid rise has created a host of new problems. And it is much more difficult to deal with, as there is no weaning off substance, such as methadone in the case of heroin. Cocaine addiction requires a totally different approach.
Mairéad Lyons, director of the NACD, reports that "Service providers describe some difficulties with behaviours of clients, others feel ill-equipped to address problem cocaine use and some have engaged in innovative approaches to address local needs. There is no social grading of cocaine – people from all walks of life, from all social strata report cocaine use, however, some communities appear to be disproportionately affected ie. those with an established history of problem drug use. The evidence indicates that to encourage cocaine users to avail of current treatment services will require a more cocaine-specific focus."

INCREASED VIOLENCE
Dublin Sinn Féin councillor Daithí Doolan, a member of both the Inner City Drugs Task Force and the Ringsend and District Response to Drugs, says that "people involved in local communities in Dublin have been shouting this from the rooftops.
"I dealt with my first cocaine addict in 2003. This drug is different in nature to heroin. While both involve gangland violence in terms of smuggling, supply and turf wars, the violence perpetrated by abusers is far more serious than heroin. It has become a scourge in communities, with beatings and stabbings apparently at random but in reality related to cocaine abuse.
"In addition, cocaine can lead to cross addiction. The use of cocaine enables the user to consume far greater quantities of alcohol than they would ordinarily be able to, leading to a double dependency. Polydrug abuse is a feature of cocaine.
"Just like the heroin epidemic of the '80s and '90s, I fear that the Government is not listening to the local communities. This has been reflected in budget after budget, which have consistently left those who work in this area underresourced."
A spokesperson for the Merchant's Quay Drugs Project told An Phoblacht that the socio economic profile of those reporting to them with cocaine problems remains the same as that of heroin use, with many cases of polydrug use included. The ultimate way to deal with this problem is structural, she said. There needs to be more resources made available to disadvantaged communities in terms of education, housing, opportunities and suchlike.
Dublin Sinn Féin councillor Christy Burke is calling for a total review of drugs strategy. "Cocaine is creating a whole new layer of addiction throughout this country. There is an urgent need for early intervention in terms of education to dismiss this myth that cocaine is somehow safe and socially acceptable. It is deadly."
He said the accidental nature of the Cork seizure spoke for itself in relation to the authorities' commitment and resources dedicated to intercepting shipments, never mind in dealing with the aftermath.

COUNTRYWIDE
It would be a mistake to think that the cocaine problem is unique to Dublin. Wexford Sinn Féin councillor John Dwyer told An Phoblacht that he has been warning about the problem for a number of years now. Back in the '80s and '90s many dealers, forced out of Dublin by residents' groups such as the Concerned Parents Against Drugs (CPAD), made their way up and down the east coast, establishing bases and networks.
"It is not an understatement to say that cocaine can be bought in any town in Wexford," says Dwyer. "The size of the recent seizure and the widespread availability of the drug indicate the extent of the market. It has now crossed all class barriers and while it may be appearing as a problem mostly in disadvantaged communities, this may well be because those from other communities have the money to cushion themselves against the symptoms of dependence for the time being. We are storing up for ourselves a health and crime crisis of endemic proportions. There needs to be an urgent priority placed on dispelling the myth of cocaine as safe and trendy. The fact that this myth still exists shows clearly that the authorities have not got their fingers on the pulse."

CRACK
In February 2006 a reporter for the the Daily Mirror, using appropriate testing equipment, found that 41 out of the 46 lavatories in Leinster House were themselves tainted with cocaine, that is, cocaine had been used in them.
If the drug discovered had been heroin there would have been a national outcry. As it was media, political and public reaction was mooted or worse still saw the whole issue as a bit of a laugh, displaying the level of ignorance surrounding cocaine.
Crack cocaine, a derivative of cocaine, is so addictive that some say you can become addicted by using just a few times. It is usually smoked. This drug wreaked mayhem throughout working class communities across America in the '80s and '90s, destroying a whole generation of young people and bringing drug related violence to unprecedented levels.
John Dwyer has told this paper that crack has already begun to appear on the streets in Wexford. Seizures in Dublin are on the increase. "If nothing else this fact alone should be enough to shatter the complacency that surrounds cocaine" said the councillor.

COCAINE COUNSELLORS NEEDED
Sinn Féin Councillor Dessie Ellis, who represents Finglas, an area that has seen more than its fair share of drug related violence, is extremely concerned. "The mixing of alcohol and cocaine in particular can cause extreme aggression and this has led to severe antisocial problems in the area," he says. "Even some of the gun violence is fuelled by this cocktail." He believes the drug is rampant throughout Finglas and beyond.
"What we need are dedicated cocaine counsellors," he says "There is no equivalent to a methadone programme for cocaine abusers and intense one-to-one counselling is required for successful intervention. "The psychological effects of abusing cocaine are devastating," he says. "What I want to see is a more coordinated approach from the health boards, including the incorporation of a suicide watch programme, as I have no doubt that cocaine abuse is linked to many suicides."
Echoing every other person we have spoken to who deals with this issue, Ellis called for urgent intervention to educate the public in order to dispel 'the poisonous myths that surround this poisonous substance".
Mairéad Lyons, Director of the NACD, agrees. "The evidence indicates that to encourage cocaine users to avail of current treatment services will require a more cocaine-specific focus.
"Furthermore," she says, "studies suggest that overcoming high levels of treatment dropout and relapse among cocaine users will require careful assessment and matching between cocaine users and their specific needs. Notwithstanding this, findings also highlight that drug service providers themselves feel information and training regarding cocaine for all professional health and specialist drug agencies is important. This training should include the specifics of treating cocaine."
What is cocaine?
Cocaine is a white powder made from the leaves of the coca plant, which grows mainly in South America. It is usually used by snorting the powder up the nose.
Cocaine is a powerful stimulant, and users feel more alert and energetic, and also feel less hungry or thirsty. These effects can last for up to 20 minutes after each use. Smoking 'crack' cocaine gives a shorter but more intense high.
Because of its powerful effects, cocaine users are often left craving for more. Large doses can lead to exhaustion, anxiety and depression, and sometimes users may become aggressive.
Snorting cocaine can cause permanent damage to the inside of the nose. Cocaine use can damage the heart and lungs, and high doses can cause death from heart attacks or blood clots. The depression that follows the 'high' can be severe, and can lead to suicide attempts. With long-term or binge use, the excitement caused by cocaine can turn to restlessness, sleep loss and weight loss. Some people can develop a paranoid psychosis where they may be violent.

How does it affect the brain?
Cocaine is perhaps the most addictive of drugs. It acts on the brain's reward pathway, that area of the brain that is activated when someone has a pleasurable experience, such as eating, sex, or receiving praise.
At a certain point, cocaine usage ceases to be voluntary: this is the onset of addiction. The positive reinforcement of the sensation of euphoria brought on by the drug eventually alters the brain so that the use of cocaine is obligatory. Also, after cocaine use, the user's dopamine levels fall significantly below normal, pre-consumption levels. The user therefore feels a "low", and the immediate response to alleviate this low is to take another hit of cocaine to again raise the level. Such behaviour is referred to as a "binge", when a user continuously takes hits of cocaine to recover from ensuing lows.
Because of the altered physiological state of the brain caused by the drug, events that previously caused pleasurable experiences other than cocaine use no longer do; only cocaine can induce the feeling of happiness. When an addict ceases taking cocaine, he or she has no source of stimulation of the reward pathway and experiences severe depression, irritability, and anxiety (symptoms that are opposite of the effects of the drug).

An Phoblacht Magazine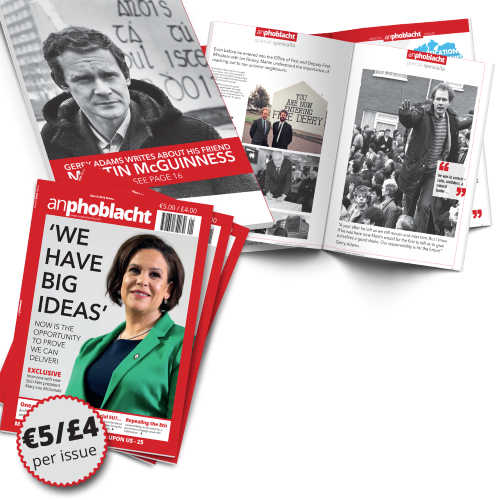 AN PHOBLACHT MAGAZINE:
The first edition of this new magazine will feature a 10 page special on the life and legacy of our leader Martin McGuinness to mark the first anniversary of his untimely passing.
It will include a personal reminiscence by Gerry Adams and contributions from the McGuinness family.
There will also be an exclusive interview with our new Uachtarán Mary Lou McDonald.
test