26 July 2007 Edition
Editorial
A voice for Seanad reform
The election of Pearse Doherty to the Seanad, Sinn Féin's first ever seat in the upper house of the Oireachtas, is a great fillip for party activists across the country, more so given the disappointment of the recent general election campaign.
Apart from swelling the party's Parliamentary team to five, what Doherty's election means in real terms is that the ever ignored issue of Senate reform will now be firmly on the agenda. Sinn Féin's proposals for a democratic overhaul of the Seanad are explained in detail on page 2 of this week's issue.
The country's 1,082 county councillors, TDs and senators currently make up the electorate for the five vocational panels, a very limited electorate indeed. NUI and Trinity graduates are entitled to elect three senators each but the scale of the reform needed is evident even here. The Union of Students in Ireland (USI) has found that 62,500 third-level graduates were disenfranchised in the Seanad election. Why? Because they graduated from colleges other than Trinity and the NUI.
But beyond that, all non-graduates must have an equal, equivalent right to vote in Seanad elections.
For too long the Seanad has been a completely unrepresentative body, too many of its seats filled by political appointees either past their sell by date or hoping that the title will help their next Dáil election bid. The electoral panels are undemocratic, harking back to de Valera's efforts at corporatism. The idea was to have a second house representative of key sectors in the community. That idea is worth salvaging, but it must be updated and democratised and the Seanad must have a real role in scrutinising legislation.
Double standards
Pearse Doherty was elected this week thanks to an electoral arrangement with the Labour Party, which helped both parties, Sinn Féin votes helping Alex White to a seat in the cultural and educational panel.
There was minimal dissent from certain elements within the Labour party but the arrangement worked as planned, in a sensible example of co-operation between parties of the left.
All very progressive, but unfortunately there's still a way to go for the establishment parties in respecting Sinn Féin's mandate.
In this week's paper we also report on continuing collusion between the three main parties to exclude Sinn Féin Fingal Councillor Felix Gallagher from the area's Joint Policing Committee.
The antics have reached such farcical levels that they are content to have the committee a seat short rather than admit Gallagher, who has benefited greatly from sympathetic local media coverage. Gallagher, like many a Sinn Féin elected rep before him, relishes a challenge and will not accept the denial of equality to Sinn Féin voters.

An Phoblacht Magazine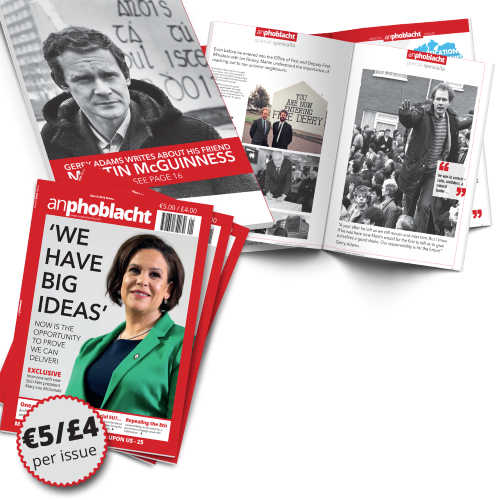 AN PHOBLACHT MAGAZINE:
The first edition of this new magazine will feature a 10 page special on the life and legacy of our leader Martin McGuinness to mark the first anniversary of his untimely passing.
It will include a personal reminiscence by Gerry Adams and contributions from the McGuinness family.
There will also be an exclusive interview with our new Uachtarán Mary Lou McDonald.
test