19 July 2007 Edition
Media View
Sweetening the bitter Orange
The Irish Times is a more sophisticated and, it must be said, less reactionary newspaper than the Sunday Independent and has supported the peace process as against the neo-unionist ranting of the Sindo, Tony O'Reilly's largest and most reprehensible creation. However, there are times when hate-filled diatribes from propagandists like Eoghan Harris are preferable (at least Harris does not hide his self-loathing anti-nationalism) than the more disingenuous commentary of The Irish Times in denial mode.
By 'denial' I mean deliberate denial of the facts from its southern readers who, the IT believes, should be protected from unpleasant information from the north of the sort that might challenge comforting, liberal perceptions of the situation 'up there'.
This hack will never forget the hand-wringing Irish Times commentary of the late Mary Holland, among others at the paper of record, on the truly dark activities of loyalists who attacked, daily, primary school children and their parents at Ardoyne's Holy Cross school. Holland suggested that the parents should bring their children through "the less controversial back entrance" to the school in a commentary that underlines how middle class liberals abandon middle class liberalism whenever they are confronted with the most liberal force.
Holland was not the worst IT columnist covering the north. These are usually to be found in the paper's northern office where years of house-training in anti-republican rhetoric are part if the induction process. Any ideology will do. Outdated Workers Party politics; SDLP moderation (most preferably); UUP moderation; Alliance Party moderation;the new DUP moderation, even, in one bizarre example, cartoon-republicanism of the dissident variety. Any politics but straight republicanism, as expressed by Sinn Féin.
All this is by way of introducing The Irish Times coverage of the 'glorious' twelfth Orange marches which even some of their readers found hard to stomach. For years, the newspaper has tried to project Orange marches as folksy, community days out despite the full knowledge of their own reporters that Orangeism is a sectarian force which exists first and last to keep Catholics down – it's simple as that as the order's own literature and rules illustrate.
************************
Worse, the gloating exultation at Catholics killed or to be killed is deliberately hidden from view by a journalistic team who believe their duty is to protect southern opinion from the spectacle of naked, loyalist sectarianism. According to the IT, last week's marches were imbued    with a "carnival atmosphere" in which toddlers, feisty women and prankish Orangmen engaged in a rare ould time altogether.
It was left to a correspondent to the letters page to point out two days later that an IT photograph of one Orange bonfire was deliberately angled to hide from readers' view the slogan KAT (Kill all Taigs). And it was left to The Sunday Business Post last weekend to outline some of the frightening realities of Orange supremacism when the brethren take to the streets and highways of the North.
This is journalism at a level not plumbed even by the Sindo and its columnist, Ruth Dudley Edwards, who at least wears her Orange colours on her sleeve. Much political bias in the media is of an unconscious variety, shaped by conditioning and the establishment culture in which most hacks are immersed. But Irish Times northern journalists know damn well what Orange marches are all about.
Presenting these displays as a harmless, community get-together is deeply dishonest and has to be a conscious exercise in censorship due to the Irish Times' view of itself as a civilizing influence on the excitable natives of Ireland.
************************
A slightly more considered effort by the IT to get to grips with republican politics was made by Mark Hennessy last Saturday when he wrote about the damage done by Gerry Adams in the TV election debate and how the party is unaware that northern events will not sustain its electoral progress down south. Hennessy tried to convey the impression that he had read and listened to a great deal of republican discussion on the post election debate but could not hide the fact that he had not done his homework. Adams told Sinn Féin members in Bodenstown that the party must take account of different realities in different jurisdictions created by partition. Adams and many, many other SF members have since engaged in a self-critical debate about past mistakes and – more important – future activity.
Adams' pasting from the media after his TV outings was way over the top and was a good example of how mistakes by republicans – and Adams did make mistakes as he himself has conceded – are seized on and enlarged by a media desperate, in this case, to undermine the most popular republican leader in generations. Incidentally, the IT actually reported during the election campaign that Fine Gael could be happier with the outcome of the two main party leaders' debate than Fianna Fáil. ALL other analysis and polling since then has concluded that Kenny lost that debate by a country mile and that it was key to Fine Gael's election defeat. By such analysis can one judge the objectivity of The Irish Times when it comes to coverage of nationalist politics.
Gerry will make more mistakes, as will we all. But the one big mistake that the media will continue to make is to underestimate the innate republicanism of Irish people – north and south. On the one hand, journalists continually write off republicanism as an outdated force in modern Irish society; this columnist has been told by sophisticated pundits of the so-called left and the genuine right every year since the 1970s that republican politics are irrelevant and out dated. On the other hand, many of the same critics feel the need to pillory and denounce this irrelevant and outdated political force. One wonders why.

An Phoblacht Magazine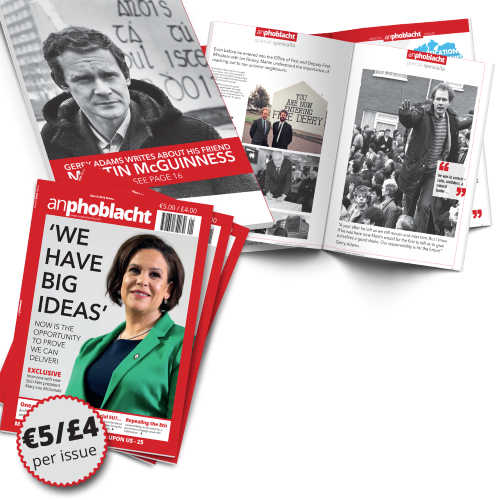 AN PHOBLACHT MAGAZINE:
The first edition of this new magazine will feature a 10 page special on the life and legacy of our leader Martin McGuinness to mark the first anniversary of his untimely passing.
It will include a personal reminiscence by Gerry Adams and contributions from the McGuinness family.
There will also be an exclusive interview with our new Uachtarán Mary Lou McDonald.
test