19 July 2007 Edition
Building party membership vital after General Election
Le Seachranaidhe
Ógra Shinn Féin 
The General Election has come and gone. It brought some successes, but unfortunately more disappointments. Since the advent of the election much discussion and analysis has taken place within our movement. This analysis has focused mainly on; where we went wrong, where we failed to perform as expected, and where, if at all, we went right. However while this debate has been ongoing, is has done so predominantly, within Sinn Féin as a whole. Ógra have yet to make a detailed, mature and comprehensive analysis from our perspective. Hopefully this article will instigate such a discussion.
For the last few weeks efforts have been made to equate our dismal election result either to the squeeze element of what became a presidential-type election, or to round on our own leadership and place the blame for the result solely on their shoulders. It is necessary to be careful in whatever avenue we follow as over-criticising our own comrades may breed unnecessary dissension. While brooding about elements over which we had no control is also a fruitless exercise. What our organisation now needs is to give our analysis of all the elements of the election that affected the final result.
In the weeks leading up to the election it was trumpeted in some quarters as the most important election in the last 50 years if not more. This assertion was made within our party primarily because it was believed that we would do quite well. These myths that circulated our movement prior to May 24 were an integral part of where it went so wrong for us in this election. We built ourselves up, both internally and publicly, to such an extent that anyone would think we were going to be senior partners in the next government. This action was fatal. It isolated us not only from the elusive middle-class vote that we were canvassing in earnest, but also from our own supporters, and our working-class base, who were clearly dismayed with seemingly endless overtures to Fianna Fáil. The most important results of this election are the lessons we learn from it. Never again can we put ourselves on a pedestal as we did in this election.
From a youth aspect the holding of the election on a Thursday was indeed a severe blow in a lot of our priority areas. Despite an almost united front from the youth wings of elected parties, Bertie Ahern bull headedly insisted on a Thursday election. This was an obvious blow to our electoral prospects. However it also highlights a failure within our own organisation to utilise the student vote in constituencies with third level institutions. While of course people nowadays only have one vote, voters are legally entitled to register wherever they reside. While the absence of local voters obviously meant narrowly losing out on seats in more rural constituencies, the student vote does not seem to have appeared in the priority Dublin constituencies, nor in other areas like Cork and Waterford. This is certainly a point that must be addressed, and remedied by the next election. The student vote is one of our biggest assets and it must be exploited to its full potential.
In this election we also made the grave and eventually fatal mistake of underestimating the Fianna Fáil electoral machine. Every single one of the constituencies we had openly and publicly earmarked for gains, were areas where our vote paled in comparison to a much increased Fianna Fáil vote. Our over-enthusiasm regarding some seats caused alarm bells to ring in Treasury Buildings (FF Election HQ), and ultimately proved detrimental to our election result. Just as our election teams in the Six Counties are a force to be reckoned with, Fianna Fáil, with 81 years of electioneering under their belt cannot be underestimated during election time in this state. In the future we cannot afford to be so outgoing around priority seats and show a little bit more political clout if we ever want to succeed in this state.
Our political behaviour during the election was reprehensible. Not only did our party leadership decide to turn their back on one of our core economic policies, but they also violated their own Ard Fheis motion by making very clear and distinct advances to Fianna Fáil before polling day had even arrived. It is unreasonable to expect that the party leadership go back to the membership for every minute decision that has to be made. However, it is not too much to expect that an Ard Chomhairle honour its own commitments, if it is to maintain the confidence of the party membership. While this confidence is still certainly intact, it has suffered, and steps need now to be taken to repair the damage.
The members and supporters who we had on the ground during the election cannot in anyway be faulted for their superb dedication during the election. One point which should now be glaringly obvious to all members in the 26 Counties is that we need to increase our membership massively. The only time other political parties can mobilise their supporters is at election time, but when they do it they do so with devastating effect. As a campaigning party we prefer to have our members constantly working for the movement. Our members and elected reps are some of the best for community engagement in the country, but we all get tired. Ógra must be a pivotal part of this phase of re-building. It is our duty to step up to the mark and make ourselves relevant both inside and outside the party. We desperately need to increase our party membership so we can spread the workload, and when the time comes take power North and South, but take power on our terms.
An Phoblacht Magazine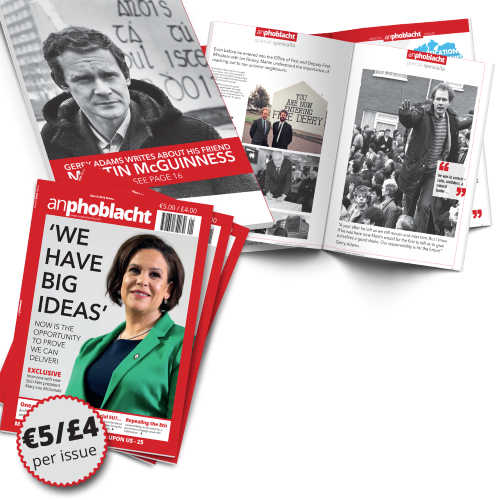 AN PHOBLACHT MAGAZINE:
The first edition of this new magazine will feature a 10 page special on the life and legacy of our leader Martin McGuinness to mark the first anniversary of his untimely passing.
It will include a personal reminiscence by Gerry Adams and contributions from the McGuinness family.
There will also be an exclusive interview with our new Uachtarán Mary Lou McDonald.
test