19 July 2007 Edition
Tyrone Volunteers honoured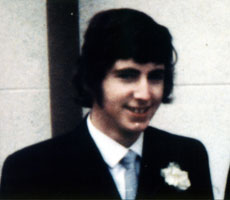 They are remembered in the new Ireland we are building
"The Hunger Strikers of 1981 and the Volunteers from County Tyrone who fell in the struggle are remembered in the new Ireland we are building today," said Sinn Féin Dáil leader, Caoimhghín Ó Caoláin, on the 26th Anniversary of the death of hunger striker, Martin Hurson. The Sinn Féin TD for Cavan/Monaghan was speaking last Friday evening 13 July in Galbally Community Centre in the course of an indoor commemoration. The decision to hold this year's commemorative event indoors was taken at the last minute because of the unrelenting downpour.  The proceedings in Galbally Community Centre were chaired by local Sinn Féin activist Paul Kelly and among those in attendance were members of the Hurson family and other Tyrone families who lost loved ones as a result of the armed struggle and loyalist murders.Brendan Hurson, Martin's brother, presented the Martin Hurson Memorial Cups to the winners of the men's and women's Gaelic football competitions. The Martin Hurson Memorial Band played the National Anthem to end the proceedings. We carry here the oration delivered by Caoimhghín Ó Caoláin TD.
Cuireann sé áthas an domhain orm a bheith anseo libh anocht chun comóradh a dhéanamh ar shaol agus ar íobairt Martin Hurson. Fuair Martin agus a naonúr comrádaithe bás ar stailc ocrais sé bliain is fiche ó shin ach tá siad fós linn. Tá siad linn sa meon saoirse atá ag poblachtánaigh an chontae seo agus ag poblachtánaigh ar fud na hÉireann. Leis an meon sin leanfaimíd ar aghaidh le chéile go dtí go mbeidh againn an Éire gur fhulaing Martin ar a son – Éire Aontaithe – Poblacht na hÉireann.
The Republicans of County Tyrone have not forgotten Martin Hurson and they will never forget him nor his nine comrades who died on hunger strike in 1981. They remember each and every Irish Republican Army Volunteer from County Tyrone who fell in the struggle. They are remembered in the events you have organised this weekend. They were remembered in the heroic resistance to armed British occupation which you maintained for more than a decade after Martin's death. They are remembered in the key role you played in bringing about a new phase of republican struggle. Above all they are remembered in the new Ireland we are building today. They are remembered in the ongoing struggle because the struggle is ongoing and will continue until we achieve the United, Sovereign, Independent Republic of Ireland for which Martin and his comrades gave their very lives. Martin, of course, is remembered with special affection in the counties of Longford & Westmeath which constituency hosted his candidacy in the 1981 General Election.  I understand that there are representatives from those counties here with us this evening and I commend them for making the journey.  Go raibh maith agaibh.
If Martin were with us today he would be 50 years old. But to his family and friends and comrades he will always be the young man of only 24 years whose life was cut tragically short when he died on hunger strike in the H-Blocks of Long Kesh. He will always be the young Volunteer who was arrested and beaten mercilessly by the RUC and sentenced in a Diplock court. He will always be the laughing boy who brought joy to his family and crack and comradeship to his friends.
This son of Cappagh was an ordinary young man who found it in himself to do an extraordinary thing – to put his life on the line for his friends and comrades, for his country and his people.  To his family we extend our continuing sympathy and solidarity. No-one can know the full extent of their loss or the measure of the grief they and the other families endured as the agonising minutes, hours and days of hunger strike proceeded.
It is with awe that we contemplate the tenacity and endurance of those who undertook the hunger strike. From Thomas Ashe who died from force-feeding in 1917 to the lonely ordeals of Michael Gaughan and Prionsias Stagg in English jails in 1974 and 1976 to the ten in the H-Blocks – the 22 Irish Republicans who died on prison fasts in the 20th century bore witness before the world to the unquenchable desire of the Irish people for freedom.
Here in County Tyrone you remain unconquered and unconquerable. The roll of honour of fallen republicans since 1969 speaks of tragedy for many republican families in this county. It speaks also of pride and determination, courage and resistance to injustice. This part of East Tyrone has played a huge part in the struggle for freedom. In recalling Martin we cannot but recall Volunteer Seamus Donnelly who died at Loughgall and whose family live on the same lane where Martin lived. This year marked the 20th anniversary of Loughgall and we recall with sorrow and pride the sacrifice of those Volunteers and the civilian who died in May 1987.  The strong links between East Tyrone and my home area of North Monaghan are well known to many of you.  Our respective Rolls of Honour reflect that bond of comradeship in struggle, comrades in arms, comrades in death.
All around us are reminders of the tragedy of war and of the courage and resistance of republicans.
The British government believed it could bury Irish Republicanism in the concrete tomb of the H-Blocks. They believed they could subdue Irish Republicanism with an arsenal that included the British Army and all its forts and barracks, the sectarian UDR, the loyalist counter-gangs, the RUC, the Diplock courts. They failed. We, the Republicans, have worn down every element in their arsenal of repression. The UDR is long gone. The British Army is on the way out. The old RUC is gone and we are making sure that whatever element of it remains in the PSNI will also be gone. And of course the British government said they would never negotiate with us. They have been doing so now for over a decade.
There will be no turning back to the days of second-class citizenship and sectarian rule. There will be no turning back to the days of military rule disguised as Westminster direct rule.
Let no-one underestimate the achievement of Irish republicans in our time. We successfully resisted their attempts to crush us. We halted their advance. We left them with no political option but to come to terms with us. And we successfully advanced our struggle, making Irish republicanism politically stronger now than it has ever been in the lifetimes of any of us here gathered.
There are those who taunt us with the question 'Was it all worth this? Is this what the republican dead gave their lives for?' And it is natural also that we should ask ourselves those questions.
Without hesitation we should answer that the men and women who died for freedom died as part of a struggle that we are carrying on, a struggle that is not over and that will not be over until Ireland is united and free. The sacrifice of our comrades has ensured that not only has Irish republicanism not been defeated but it has survived and thrived and it lives on in struggle. It lives on in new forms and new phases of struggle. We have been at the centre of a unique Peace Process involving years of negotiations. It has seen many courageous and very difficult decisions being made by republicans. Leadership and imagination have been shown at all levels of our struggle.
Of course this is an imperfect peace. The Good Friday Agreement involved compromise and fell short of what we as republicans aim to achieve. But the new political landscape that has been shaped since that Agreement allows the people of Ireland to work out our future for ourselves. And that can only happen if we, as republicans, make it happen.
Sinn Féin is the bridge to the future, the bridge between North and South, the bridge between where we are now and our destination of a free and United Ireland. And we must also be bridge-builders across the divisions of sectarianism that imperialism created in our country. We abhor and reject sectarianism and bigotry in all their forms. We seek a new relationship with unionists. The United Ireland we seek will be Green and Orange and will reflect the diversity of all the people who share this island – be they descendants of the ancient Gaels of Tír Eoghain, people of Planter stock, or the most recent immigrants who have come to our country.
Cultural diversity we have a plenty in Ireland today.  It presents itself in language, music, song, dance and theatrical expression.  It shows itself also in sport.  On that note it is appropriate that I show myself to be above the tribal rivalries of inter-county football by wishing both Monaghan and Tyrone well for Sunday's game and wishing the best team to go forward success on the day – but I'm not above such rivalries – so I make no apology for saying that I'm for the white and blue and look forward to seeing many of you in Clones on Sunday.  So there you are – up Monaghan!
Comrades, Martin Hurson and his fellow hunger strikers are a continuing inspiration not alone to those of us who witnessed and participated in the events of 1981 but to the youngest republicans of 2007. The Volunteers and members of Sinn Féin in this county and throughout our country who died in the struggle continue to inspire us. Those too who have given of their all and who have died of natural causes or in other tragic circumstances have also imbued us with the spirit of freedom. I think here particularly of men like Patsy McMahon, Cathal Quinn and Mickey McAnespie and I remember too the great contributions to our struggle of others like Tommy O'Neill, Martin McCaughey, Vincent Kelly, Brendan Doris and Barney McAleer. They, if they were here, would all urge us to succeed for the children of today, the generations of the future. May their spirit make you strong and self assured and confident. Make no mistake about it we are advancing towards our objective and with unity and determination we will reach that goal.
Beidh an Phoblacht againn. Beidh ár lá linn.

An Phoblacht Magazine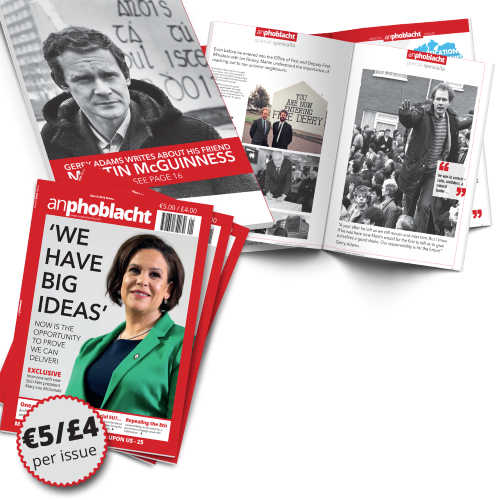 AN PHOBLACHT MAGAZINE:
The first edition of this new magazine will feature a 10 page special on the life and legacy of our leader Martin McGuinness to mark the first anniversary of his untimely passing.
It will include a personal reminiscence by Gerry Adams and contributions from the McGuinness family.
There will also be an exclusive interview with our new Uachtarán Mary Lou McDonald.
test