19 July 2007 Edition
Ireland's top media companies
Who owns the message?
BY ROBBIE SMYTH

The disclosure of Denis O'Brien's €200 million bid for three Irish radio stations, including the flagship company Today FM took many by surprise. The deal to buy Today FM, FM104 and Highland Radio is just the latest episode in a series of buyouts and mergers that are transforming the Irish media landscape.
The O'Brien buyout, which is still subject to approval from the Competition Authority and the Broadcasting Commission of Ireland, is also part of a wider global process of change in international media markets where the transformed Irish communications sector mirrors developments across Europe, North America and beyond. This week An Phoblacht asks who the top media players in Ireland are in 2007.

Independent News and Media (INM)
Tony O'Reilly's media conglomerate has for nearly two decades dominated the Irish media market. Internationally the company is growing with ongoing expansion in India, Australia and South Africa. But it has not been all plain sailing for O'Reilly. Even though INM earned €250 million before tax in 2006, the company has failed to expand out of the old medium of print. It lost money on Chorus, its cable TV venture, now sold to Liberty Global and the emergence of the Metro free sheet partnered in Ireland by the Irish Times and Associated Newspapers meant that INM had to carry the costs of launching the Herald AM competitor. And now Denis O'Brien has built up an 8.4% shareholding in INM through his Communicorp firm.
For now though INM stills owns the highest circulation daily and Sunday newspapers on the island.
Key Irish Assets: Sunday and Irish Independent, Sunday World, Daily Irish Star (50%), Evening Herald, Sunday Life and their 50% of Newspread the newspaper and magazine dsitributor

Communicorp
Denis O'Brien's Communicorp is a private company, so it is hard to measure what the total value of his media interests are. One thing is sure – they are growing and this radio orientated firm has developed or bought stations with growing listenerships. It is estimated that with the new acquisitions O'Brien would control 45% of 26-County advertising revenue.
Like his rival O'Reilly, O'Brien has considerable interests outside of Ireland, Communicorp has 33 stations in seven different European states, and his Digicel mobile phone company has become the Number 1 mobile phone firm in the Caribbean with over 4 million customers.
For now O'Brien seems to have deep pockets and is willing to pay top price for the media assets he bids for. His offer for Today FM, FM104 and Highland outbid TV3, UTV and the Irish Times. The challenge for INM is coming.
Key Irish Interests: 98 FM, Newstalk, Spin and 8.4% of INM

Thomas Crosbie Holdings (TCH)
TCM is the slow burner of the Irish media sector and built up substantial media interests expanding outside of its Cork base into newspapers across the island as well as radio and the internet.
TCH's 2005 operating profit was €11.3 million and drawn from not just the flagship Irish Examiner, but across the group's 16 local papers, as well as shareholdings in Red FM and Mid West FM. The company also owns RecruitIreland.com and Motornet.ie. They also own the Sunday Business Post.
TCH have been trying to integrate their print and radio news in a web service and have now launched breakingnews.ie as they link old and new media. This year TCH have bought 75% of both Waterford based WLR FM and South East youth radio station beat 102-103.
Key Irish Interests: Irish Examiner, Red FM, Sunday Business Post and Recruit Ireland.com.

UTV
Much more than a regional TV station UTV has emerged as a significant media group in Ireland and Britain. Profits from its radio division in 2006 grew by over 50% to €21.3 million. Its television profits fell to €17.4 million. Its UTV Internet service generated profits of €1.6 million.
UTV's radio interests include Q102 in Ireland and Talk Sport in Britain. UTV has eight Irish radio stations including Cork's 96Fm and 103FM stations as well as Galway Bay FM and Limerick's Live 95FM. They have 19 British stations.
UTV still want to buy more media outlets. They have been pipped in the last year from not just buying Today FM but Myhome.ie also, which the Irish Times bought.
Key Irish Interests: UTV, Q102, Cork 96FM and Galway Bay FM.

Irish Times
The Irish Times over the past three years has become much more aggressive in Irish media markets, seeking acquisitions and growing revenue. Operating profit grew by 25% in 2006 to €22.7 million, and the group splashed out €45.78 million to buy the popular property web site Myhome.ie and they bought the Gazette Group of papers based in West Dublin.
It hasn't been all plain sailing for the Times; they are carrying losses from their share of the Irish Metro. It cost them €2.23 million in 2006 alone and it's unclear how much revenue the company is making from the Ireland.com web portal which was upgraded this year. For now, though, the Irish Times chequebook is open.

UPC
UPC is owned by media giant Liberty Global. In Ireland we know them as NTL and Chorus. Liberty paid €325 million for NTL in 2005, a knock down on the €500 million plus it was sold for at the height of the dot.com boom.
In 2006 they added Chorus and are now the major cable TV company on the island with nearly 600,000 subscribers. UPC are set to expand into the broadband and fixed line phone market and have a much larger kitty than either Eircom or Smartcom.

News International and BSkyB
Where do we begin to talk about Rupert Murdoch and his Irish media interests? First there are the newspapers which have been successfully 'greened' and are showing growing circulation and readership. Murdoch's three flagship papers The Sun, Sunday Times and News of the World are all growing in circulation here. Then there is the Leviathan that is BskyB available to over a million homes in Ireland, not to mention their own 400,000 plus satellite subscribers. That's not counting the odd 20th Century Fox film you might see. It seems that Murdoch's strategy for taking power in Ireland has been with the Simpsons in one hand and a satellite dish in the other. It's working so far, most notably in BSkyB's ability to take the Communications Regulator to court and win the right not to be subject to Irish media market regulators.
Key Irish Interests: Sun, Sunday Times, News of the World and BSkyB.

The next generation
The rapid growth of Setanta shows the power of new media in Ireland. The company's gambling on their ability to repackage sporting rights has been a successful strategy so far. Setanta have partnerships with TV3 and BT and together these three companies could make a major impact on how television and the internet is used, not just in Ireland but Britain and further a field.
Associated Newspapers are pumping money into their Irish Daily Mail and Sunday Mail and it is unclear how profitable these papers can be in the long term. Then there are the trans-national giants like Viacom who bring us Paramount Comedy, Nickelodeon, MTV, VH1 and CBS on cable as well as being the dominant billboard firm Ireland. Another media giant, Warner, while losing their impact with the ending of Friends, Sex and the City and the Sopranos still have a lot more control of our TV screens. But in recent years Disney's ABC programmes such as Desperate Housewives and Lost have been winning more viewers.

An Phoblacht Magazine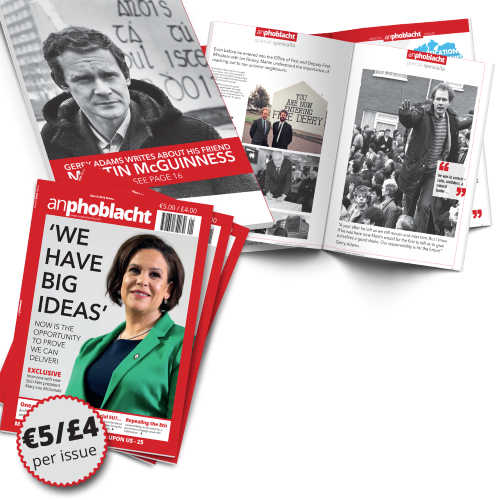 AN PHOBLACHT MAGAZINE:
The first edition of this new magazine will feature a 10 page special on the life and legacy of our leader Martin McGuinness to mark the first anniversary of his untimely passing.
It will include a personal reminiscence by Gerry Adams and contributions from the McGuinness family.
There will also be an exclusive interview with our new Uachtarán Mary Lou McDonald.
test