12 July 2007 Edition
Letter to the Taoiseach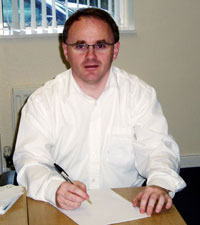 The Seanad Elections are upon us now, Taoiseach. I see that there is unrest within the membership of the Green Party about the suggestion that there will be supervision of their party councillors. This is to make sure that they vote for designated Fianna Fáil candidates.
They will soon get over this in the same way that they have been able to get over the issue of the unduly long Dáil summer recess. Previously, the Green Party TDs were loud in their opposition to the length of the summer break but they soon changed their mind about this, and perhaps more importantly, about the co-location of private and public hospitals side-by-side to publicly owned land.  Not to mention the M3 and sites of massive heritage value.
On a related note, I was shown around the Long Kesh site near Lisburn last Thursday by senior government officials in the North.  A huge number of Irish people and even people from abroad would want the opportunity in the future to see H6, the prison hospital and the prison Chapel. Have you ever thought about visiting it yourself, Taoiseach? I think that you should. I know that you have a great interest in heritage and that you visited the Boyne site recently.  Long Kesh is truly a heritage site of national and international importance
How are you handling the summer recess, apart from this? I am writing to you this week from Room 338 in Stormont Parliament Buildings in Belfast.  We are officially on recess as well but the Sinn Féin team up here is engaged in an intensive Irish language course and 'táimid uilig ag baint sult as'.  We split up into three separate groups – bun rang, meán rang and ard rang.  
I am hearing on the grapevine that a Plenary Meeting of the North-South Ministerial Council may be imminent. Can you confirm for me if this is indeed correct and if we can begin to take a grip on developmental issues which matter equally to people in both states? I was glad to see that the legal framework for Ireland's Single Electricity Market (SEM) became active on Tuesday 3 July and that this pooling of wholesale power North and South is expected to bring long-term savings to electricity customers throughout the country.
And Minister Caitríona Ruane is said to be prioritising co-operation in education.  I hear that there is an oversupply of teachers in the Six Counties.  I believe that there are 5,000 too many teachers in the North. I also gather that there is a need for 4,000 more qualified school teachers in the South.  So said your party and ministerial colleague, Mary Hanifin in the recent past.  An obvious solution is staring people in the face if some political will was to be demonstrated.
Is it any wonder people will be pleased to see the All Ireland Ministerial Council function again in Armagh or wherever they choose to meet?  And I hope that it is sooner rather than later. I have been talking to Martin McGuinness about this in similar terms and I am taking this opportunity to ensure that it is as high on your agenda Bertie, as it is on Martin's.
I am for Clones on Sunday – the Ulster Finals, Tyrone versus Monaghan in the big one. Not to be parochial, I think that we should both join in congratulating the men of Sligo for winning their first Connacht Final in 32 years. Thirty two has a great ring to it.  The opposite of partitionism. And I think it was a good omen for Sligo on Sunday in Hyde Park. Did you know that between us, Tyrone and Kerry have won 36 All-Irelands?  I am speaking on aggregate, that is.
Finally, from personal experience, I know that the sea water is normally cold in Bundoran but I noticed that you got yourself into some hot water there.  It is no joke, however, Taoiseach and I must side with those who said that your remarks were more than careless. I hope that you have learned from this serious mistake.  We all need to learn from our mistakes in life.

Is mise le meas
Barry McElduff



NB: Bertie Ahern can be contacted on (00 353) 1 619 4020 or e-mail [email protected]  Address: Office of the Taoiseach, Government Buildings, Dublin 2.

An Phoblacht Magazine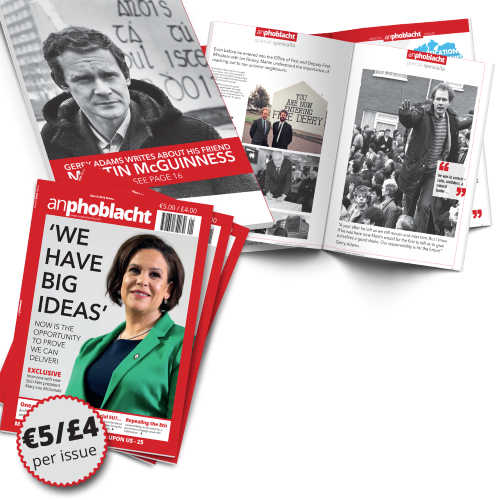 AN PHOBLACHT MAGAZINE:
The first edition of this new magazine will feature a 10 page special on the life and legacy of our leader Martin McGuinness to mark the first anniversary of his untimely passing.
It will include a personal reminiscence by Gerry Adams and contributions from the McGuinness family.
There will also be an exclusive interview with our new Uachtarán Mary Lou McDonald.
test