12 July 2007 Edition
Féile '07 launched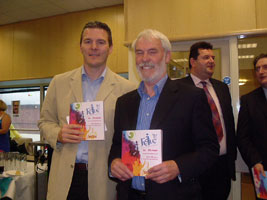 BY PEADAR WHELAN
The Belfast Féile, at its official launch in Andersonstown Leisure Centre on Tuesday 10 July, received a ringing endorsement from former Armagh football captain Jarlath Burns.
Burns reflected on the positive side of Féile and how it became a platform for communities across Belfast to celebrate what is good in those communities.
He remarked how Féile, which takes place around the anniversary of the introduction of internment became an alternative to lighting bonfires and rioting.
Alluding to the Orange Order Burns wished that those people, in other communities throughout Belfast, could celebrate their culture through more community-based activities instead of burning bonfires.
As for Féile itself, as usual the programme is full of mighty events for all the family.
The fun and games kick off on 5 August with the Open Day Carnival Parade, which this year leaves the former site of the Andersonstown Leisure Centre and goes to Dunville Park for the children's fun day.
Throughout the week the usual 'big' nights in the Andersonstown Leisure will see the International night on Wednesday, 8 August. On Saturday 11 August Punk Music is the thing. So if that's your scene then pogo along to hear the Buzzcocks and Combat Rock.
On Tuesday world-renowned Belfast pianist Barry Douglas will perform in Clonard Monastery with the St Agnes Choral Society.
I could go on all day pointing out great events that people could/should attend but the best thing is to go to www.feilebelfast.com and see what it is all about you. Don't miss it.