12 July 2007 Edition
The Matt Treacy Column
Panda power!
The first Dublin match I ever brought Ciara to was the 2001 qualifier against Sligo. She was only five at the time and watching her being tailored out in her blue shirt, tracksuit top and hair band reminded me of the first match my father brought me to except that there was no cool stuff then. Only paper hats that said 'Up Dublin!' in marker on their cardboard peak and which made you look like a matronly Tory Party Conference delegate when it rained and the dye ran into your hair.
Nor was there any cool stuff to eat. Only fizzy orange and Tayto crisps. Until, that is, we were old enough to have a creamy pint of stout. But that wasn't until after your Confirmation. Now it is all hot dogs – the sole remaining reason I suspect for Ciara's persevering with Dublin's forlorn quest for Sam – and even a full Sunday dinner if you are lucky enough to be one of those with a seat in a Corporate Box or the Premier Section.
Which reminds me of a certain person who shall remain nameless but who secured an entrée to a corporate box for last year's semi final between Dublin and Mayo courtesy of an acquaintance in a leading financial institution. As the action on the field became more fraught so did he and was roaring his head off as one does. Things were not going well for the Boys in Blue when he felt someone tapping him on his shoulder. Loath to be distracted he turned around and snapped. "Can I help you?"
"Actually I wonder would you mind keeping it down."
"Keeping it down?"
"Yes. You see my mother is trying to eat her dinner."
"Trying to eat her dinner?"
"Yes."
"Well then why doesn't she go to a f...ing restaurant."
I suspect he will be seeking tickets elsewhere this year.
Anyway myself and Ciara were sent off to Croke Park with strict instructions. Make sure she has something proper to eat, no pubs, no cursing, no throwing child at referee. Hardly worth my while going at all, I thought, but sure what the hell. As part of her indoctrination, I had taught Ciara the words of the Wolfe Tones song about the 1979 Leinster final when the Dubs had beaten Offaly with a late Bernard Brogan goal following the outrageously unjust sending off of Jimmy Keaveney.
She practised on the bus. "On Hill 16, they never gave up hope, without Jimmy Keaveney the man they call the Pope. For the last three minutes the Hill was going mad, Offaly in the Hogan they were looking very sad." And so on. 'Twould bring a tear to a glass eye.
All was going swimmingly until we got off the bus and began to walk towards the pitch. Suddenly there was no more singing or questions about Lar Foley and I glanced anxiously down at the small person beside me who was now wearing a somewhat glum expression.
"Are you okay?" I asked in my best concerned parental voice hoping  to Christ that there was no crisis that would mean us missing the match or alternatively me having to leave Ciara in the care of the winos on the bridge until after it was over.
The big brown eyes looked up at me. "Dad, I think I want to go for Sligo."
I had to stop. Now this is where tagging children comes into its own so that you can confirm that your issue has not been cunningly replaced by a changeling. Calm thoughts. "Why do you want to go for Sligo Ciara?" As if that was in any way a reasonable or rational choice.
"Because panda bears are from Sligo."
So that was it! As we re-commenced our journey through the throngs I could indeed see that many of the young and not so young Sligo people were carrying pandas which of course bear similar markings to themselves. Ciara was casting envious glances at them. If only, I thought, there was a creature of pleasing demeanour and of the furry persuasion which nature had seen fit to tog out in blue and navy. In the 1980s there had been a chap from the Liberties who used to bring a Dublin frog to games but I think he threw it into the Liffey in disgust after one of the Meath matches. We needed a new mascot.
More importantly I needed to placate a small child and ensure that she was not lost to a lifetime of the joy and pleasure of following the Dubs. Something I do not dwell upon for too long as there is only so much disillusionment I can handle.
I had failed to come up with a solution by the time we reached Croke Park. I need not have worried. Panda bears were soon forgotten and Ciara had a new song. "Come on you dunny boys in blue." A tribute to the diction of the Hill perhaps. We still call them the dunnies. We have our tickets for next Sunday against Laois and Ciara will go if she has nothing better on offer. After all, who really wants to spend the day with a load of oul fellas talking about football and hurling.
Anyway, what brought all of it to mind was Sligo's great win over Galway. I didn't see it but it was the biggest story of the weekend if not the best match, the honours going to Waterford and Limerick in the Munster final.
And what brought all the rest of it to mind was that there in the midst of the Sligo supporters greeting the team on their arrival back to Tubbercurry was a panda bear!
Jaysus, he doesn't realise the trouble he nearly caused.

An Phoblacht Magazine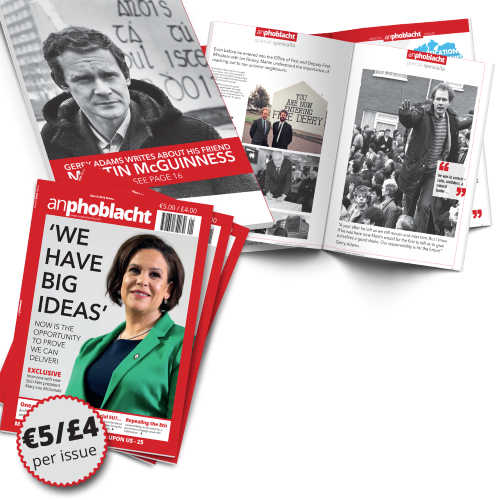 AN PHOBLACHT MAGAZINE:
The first edition of this new magazine will feature a 10 page special on the life and legacy of our leader Martin McGuinness to mark the first anniversary of his untimely passing.
It will include a personal reminiscence by Gerry Adams and contributions from the McGuinness family.
There will also be an exclusive interview with our new Uachtarán Mary Lou McDonald.
test