12 July 2007 Edition
The Resistance Campaign 50 years on
Mícheál MacDonncha continues a monthly series marking the 50th anniversary of the IRA's Resistance Campaign – more widely known as the Border Campaign – which commenced in December 1956. The series will be based on the monthly republican newspaper of the time An tÉireannach Aontaithe/The United Irishman.
Fianna Fáil imposes internment without trial
On 6 July, 1957 the fortnightly meeting of the Sinn Féin Ard Chomhairle was being held at the party's Ard Oifig, 31 Wicklow Street, Dublin. The meeting was raided by the Garda Special Branch and seven members of the Ard Chomhairle were arrested and detained. This signalled the imposition of internment without trial by Éamon de Valera's Fianna Fáil government.
Among those arrested and interned were the President of Sinn Féin, Patrick MacLogan, the Vice-President Tom Doyle and the National Secretary Michael Traynor. The Dáil was in recess when internment was introduced under the Offences Against the State Act 1939. Under that Act and subsequent amending legislation not even a vote of the Dáil is required for a Minister to impose internment without trial.  To this day any person can be detained indefinitely by Government order.
In a statement on the latest wave of repression Sinn Féin said that 70 of its members were being held in the Curragh internment camp in County Kildare. Responding to claims that they were arrested "because they were believed to belong to an 'unlawful organisation'" the Sinn Féin statement issued by Máire Bean Uí Ruiséal asked: "Is such a belief now sufficient to throw members of a constitutional organisation into a concentration camp? The truth is that the leading members of Sinn Féin and key members throughout the country have been jailed without charge or trial."
The London Times praised de Valera, saying: "No other Irish statesman would have dared to strike so hard."
In an editorial The United Irishman pointed out that the Fianna Fáil government had acted after they received a diplomatic note from the British government urging stronger measures against republicans.
"There were now over 100 republican prisoners in the Curragh and Mountjoy, over 200 in Belfast's Crumlin Road and seven in English prisons."
Internment followed an upsurge in the IRA's campaign. On 4 July at Carivegrove between Forkhill and Crossmaglen in South Armagh, the IRA attacked a military tender carrying what the IRA described as an RUC Commando unit. RUC member Cecil Gregg was killed in the attack. On 3 and 4 July B-Special training and drill halls were destroyed in Dernawilt, County Fermanagh and Beragh, County Tyrone.

Death penalty
Unionist Home Affairs Minister W.W.B. Topping threatened that the death penalty and flogging would be used against republicans. He told the Stormont Parliament that the death penalty could be used for possession of explosives and that repressive legislation also allowed for whipping to be carried out. The United Irishman reported that three youths arrested by the RUC in Derry had been beaten with pistols, punched and kicked. Séamus Heuston of Keady, County Armagh who was sentenced to 10 years at Armagh Assizes, had also been beaten and received 18 stitches in his arm. James Oliver Smith of Bessbrook, County Armagh was given eight years at the same trial.
From the United States came condemnation of repression. Liam Cotter and George Harrison of the Irish Republican Prisoners' Aid Committee in New York called for the release of republican prisoners. And Mick Quill, veteran Irish republican, civil rights campaigner and founder and International President of the Transport Workers' Union of America, issued an open letter to British Labour Party leader Aneurin Bevan. Quill stated:
"I say to you Brother Bevan, in view of all that has transpired in the last 57 years, it makes much more sense for your party to advocate the peaceful withdrawal of British troops from Northern Ireland now – before a new generation of Irishmen will be compelled to dynamite them out of their country." 

An Phoblacht Magazine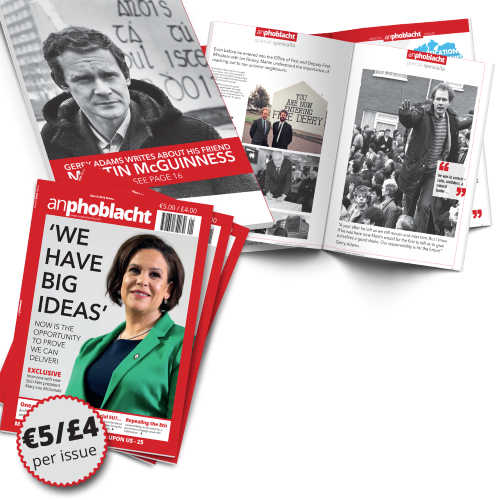 AN PHOBLACHT MAGAZINE:
The first edition of this new magazine will feature a 10 page special on the life and legacy of our leader Martin McGuinness to mark the first anniversary of his untimely passing.
It will include a personal reminiscence by Gerry Adams and contributions from the McGuinness family.
There will also be an exclusive interview with our new Uachtarán Mary Lou McDonald.
test