12 July 2007 Edition
Interview : Hughie Byrne - veteran An Phoblacht van driver retires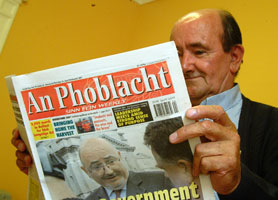 Last month HUGHIE BYRNE (65), a delivery driver with An Phoblacht  for over 18 years, retired. Here he talks to ELLA O'DWYER about growing up in Dublin, his republicanism and  his passion for 'fishing'.
Gone Fishing!
Hughie Byrne's is a familiar face at 58 Parnell Square  where An Phoblacht is produced weekly. On a good day Hughie can be seen in '58' with a wrapped package –  cooked trout in thanks for some printing job done by the paper's production manger.
Looking back over two decades Hughie Byrne says: "In the early days the paper was produced manually and the staff would be up all night working – Mark Dawson the current lay-out man was here back then. I love fishing and sometimes I'd bring them a bit of fish just to keep them going", he laughs.
In those days too An Phoblacht staff were subjected to regular harassment from the Garda Special Branch and you'd need a bit of savvy to get the paper out at all.
"One lad would go down to the van with the negatives and I'd wait and come down a bit later with the 'flats' – a hard copy spread including all the photographs and text. So if the negs were taken we could still publish."
It was a case of throwing in the Trout to catch the Salmon in a manner of speaking – the Branch might catch the negatives but not the paper.
The Gardaí had huge license then as Byrne recalls.
"I remember one time I was stopped in Church Street at 3am. The meat wagon pulled in behind me and this copper got out and said "Hello Mr Byrne can I have a newspaper?' I said you're all right there's nothing about youse in it this week.
"My house would be raided every so often. I remember one raid and the copper said he was looking for guns and bodies. A woman cop even took the lid off the pot of bacon and cabbage to look in. She must have been searching from something very hot altogether!"
Raised in Fenian Street in central Dublin until the age of seven years, Hugie's family then moved to Fatima Mansions in Rialto – an area once heavily afflicted with Dublin's drug problems – until he married and lived in his mother in law's house – again in Fatima Mansions
Eventually Hughie and his wife May, also a republican, and his seven children got a corporation house in Crumlin. Coming from a family of eight children himself Hughie recalls a time when money and material luxuries were scarce enough.
"I remember my first day at school. The teacher gave me a slap on the face. We used to get a sandwich and a cocoa free from the school.  I went back up for another sandwich. The teacher said I was up before and she whacked me! But after a couple of days the same teacher gave me a pile of sandwiches to take home. She probably felt sorry for what she had done."
Hughie also recalls getting a personal escort from the 26 County army when he was about six:
"A prisoner by the name of Nolan had escaped from prison and he was within the vicinity of Bolands' Mill. He was armed so hence the army escort home from school."
But Hughie Byrne didn't spend a lot of time at school. "I used to mitch. The first thing to do was hide the bags and then we'd take off."
Leaving school at just over 13, he went to work delivering groceries for a shop in Pearse Street.
"I earned big money", he laughs, "one pound, two shillings and six a week. I gave the mother the pound every week and I was rich with two and six pence. I spent some of it on fags. I started smoking when I was nine years old and gave them up years ago."
So what got Hughie Byrne interested in republicanism?
"When I saw what was going on at the start of the Troubles in 1969 I got interested – Bloody Sunday and the riots. But down here you weren't getting information. There wouldn't be much in the papers about what was going on – just comments like 'a bomb went off' here or there. That was up until 1979 when a couple of lads came into the public house where I used to drink. They were selling An Phoblacht. I bought it and filled out the application form to join Sinn Féin that was carried in it and gave it to the lads the next week. On the following Monday night I had a caller and that was it. The Frank Stagg Cumann was being set up in the Liberties and I joined.
"My mother was republican but what really inspired me was meeting the former Blanket Man Kieran Nugent in 1980 just after his release from prison. I was working in Limerick at the time and used to stay with a man by the name of Alfie Larkin – another republican. He's dead now. I really admired Kieran because he had been on the No-Wash and Blanket Protests. He was talking about it all and I was really touched. He made a big impression because he went out on his own and started the protest."
After joining Sinn Féin Hughie spent the following years going to cumann meetings, participating in anti H-Block marches, anti-drug protests, selling 'the paper' and doing collections . Then – over 18 years ago – he became a driver for An Phoblacht.
"My friend Rose Dugdale said they needed a driver. It was a commitment I took on and I fulfilled it to the best of my ability. I used to get up at 4am to be in '58'  for six on a Thursday morning. The paper used to be printed in Ashbourne then and I'd drive there and wait until it was ready, then make a drop at the office here. After that I'd start the delivery from Dublin, through to Wicklow and Wexford and in later years that route extended on into Cork and Kerry. There were times when I'd leave the home at 4am on a Thursday morning and not get back until 1am on the Friday."
Asked if he'd do it all over again he said: "Yes. I feel I achieved something and I made great friends who I still meet at Bodenstown. What kept me going was the prisoners. I remember thinking 'I'm sure the prisoners would love to be able to be out here delivering the papers'."
Hughie's wife May is also a strong republican and she recently completed the mini marathon to fundraise for the Irish Hospice, an organisation that works with the dying. May and Hughie lost a 28-year-old daughter Deborah to cancer – a tragedy that made the couple very aware of the value of the work done in hospices throughout Ireland. So Hughie is no stranger to tragedy and he recalled too some of the sadder moments in republican history. "I was gutted the day Bobby Sands died", he said.
Hughie Brynes has a quiet mirth, a happy spirit and a philosophical approach to life. "You just take it one day at a time" he says.
So what's he going to do now with all this spare time?  "I'm going fishing", he says.

An Phoblacht Magazine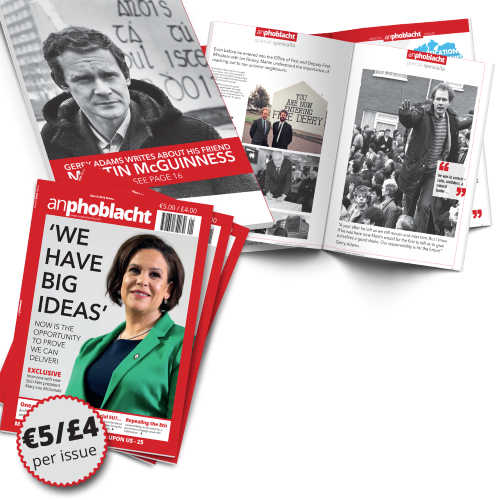 AN PHOBLACHT MAGAZINE:
The first edition of this new magazine will feature a 10 page special on the life and legacy of our leader Martin McGuinness to mark the first anniversary of his untimely passing.
It will include a personal reminiscence by Gerry Adams and contributions from the McGuinness family.
There will also be an exclusive interview with our new Uachtarán Mary Lou McDonald.
test