12 July 2007 Edition
The Mary Nelis Column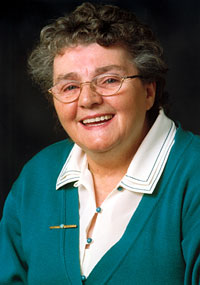 Conscience money?
How does any Government nurture peace if they refuse to acknowledge their role in the root causes of conflict? That's the question. 
The Dublin Government announced this week that they will provide €25 million to fund a conflict resolution unit to help develop peaceful solutions in trouble spots abroad. A positive move, but one that will hardly make a dent in resolving the many conflicts around the world.
Take Iraq as an example. How does the Dublin Government propose to resolve the conflict in that most distressful country when they continue to permit the use of Shannon Airport to transport US soldiers to Iraqi killing fields? That ties the Dublin Government firmly into the occupation of Iraq and many opposed to the war will view this initiative as a sort of conscience money.
You wonder who thinks up these schemes and for what purpose. After all, the conflict in Ireland could have been resolved long ago had the various Dublin administrations not stood idly by while its citizens were being murdered in their own country.
Our own wee patch is awash with unresolved conflict the product of a war created long before our time but like Iraq, as a result of occupation by an imperial power.   
Dermot Ahern in announcing the new role for Ireland in the world scheme of things, made a passing reference to the "many challenges that remain on our island"  and the journey that  people made  from what he described as "the distrust and hatred ingrained across our island to the historic settlement between Orange and Green". Code for 'sort it out yourselves; we have bigger fish to fry'. He ignored, of course, the third party in the bed chamber, choosing instead to tell us how the fund would ensure a continuous stream of academic expertise and a system of "roving ambassadors"  to conflict regions throughout the world.
If he is really concerned with conflict resolution, he should send a few of the roving ambassadors to the North, where last week the Public Prosecution Service announced that there will be no prosecutions of those members of the RUC involved in the murder of Pat Finnucane an announcement designed to provoke conflict rather than resolve it.
And what of the continuing allegations that Irish authorities actively covered up the activities of unionist paramilitary death squads who operated with impunity in the Southern jurisdiction and who appear to have been given a 'by ball'?
What of the murders of Eddie Fullerton and Martin Doherty and Seamus Ludlow and the biggest atrocity of the entire conflict -– the Dublin Monaghan bombings?
The issue of state involvement in collusion described by the Oireachtas sub committee last year as acts of 'international terrorism' in Ireland by the British Government, needs to be resolved before we embark on any attempt to address conflict elsewhere. That means we clean up our own backyard. After all those who live in glass houses cannot afford to throw stones even with if they come with a €25 million peace tag.

An Phoblacht Magazine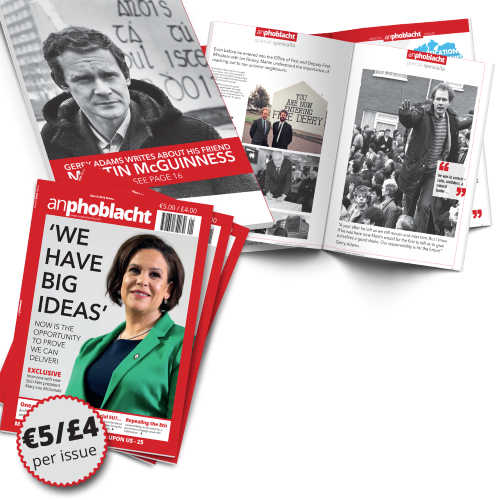 AN PHOBLACHT MAGAZINE:
The first edition of this new magazine will feature a 10 page special on the life and legacy of our leader Martin McGuinness to mark the first anniversary of his untimely passing.
It will include a personal reminiscence by Gerry Adams and contributions from the McGuinness family.
There will also be an exclusive interview with our new Uachtarán Mary Lou McDonald.
test