5 July 2007 Edition
Police brutality in Coleraine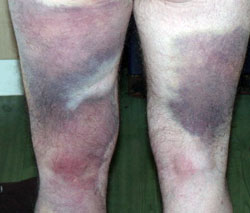 Sinn Féin councillor Billy Leonard has said that some police over-reacted in their dealings with a sectarian clash in Coleraine last weekend.
Loyalist flags were removed in the town and fights between rival groups took place. The police have claimed that five of their officers were treated for injuries.
Councillor Leonard said:
"Sinn Féin acknowledges that this was a drink fuelled series of incidents and the community do not want any of it. However, a 51 year old man who had nothing to do with the incidents was attacked and savagely beaten by baton wielding police officers that night.
The photographs show the extent and severity of the beating on the legs and an arm. This was callous and totally uncalled for.
We cannot have loyalist politicians and community groups spinning half-truths about responsibilities for the incidents without it being put on record that some police acted ferociously and in a partisan manner. Only for a lady screaming at an officer this man's injuries would have been even worse.
Another group of officers stood by and watched a loyalists viciously attack another middle-aged man in the same area."
Leonard confirmed that the man who was beaten by police officers is to complain to the Police Ombudsman's office.
There are now tensions in the town ahead of a loyalist parade in the same area that last weekend's fights took place and Leonard has appealed for calm ahead of it.
"There is a real responsibility on everyone to ensure that tensions are reduced and the parade passes off without incident."