5 July 2007 Edition
Interview : Dublin City Councillor Louise Minihan
Looking forward to bringing positive change to Ballyfermot
Vice Chairperson of Dublin Sinn Féin, LOUISE MINIHAN was recently co-opted as a member of Dublin City Council after Ballyfermot Sinn Féin Councillor Tony Smithers stepped down from his seat for family reasons. Here, Councillor Minihan talks to ELLA O'DWYER about her background, the influences that caused  her to get involved in republican politics and her desire to get "stuck in" in her constituency of Dublin South Central.

Do you come from a republican background?
My father was outside the British Embassy in Dublin when it was burnt in 1972 and he went on the protests during the Hunger Strike in 1981 - the year I was born. My mother was busy raising six children - my three sisters, two brothers and myself - but there was always talk in the house about what was going on. Even my mother would agree with the IRA strategy.

Tell me about school and growing up in Ballyfermot
Ballyfermot sometimes gets bad press but it's a great community. Everyone knows each other and you can see the community spirit in everyday terms. If you're getting off the bus with a pram someone will help you - ordinary things like that. The nearest school was The Model School in Inchicore. I can safely say that school days were the best days of my life, I made great friends there and people I met back then are still my friends. I left school when I was 16 because I got pregnant. I had to decide then whether to return to school after I had my son Keith or do a course so I decided to do a course in Computerised Business Accounts.

It must have been difficult being pregnant as a 16-year-old?
It was. I was in fourth year at school but my parents were great. My mother had a lot of experience of babies having had six kids. It was hard but I wanted to do well educationally in order to give the child a good life. It does change your life having a child especially at such a young age but my advice to anyone in a similar position is to go and get some qualifications - get an education so as to have something to fall back on. I completed the business course at Collinstown Community School. Then I started work in an engineering company as a receptionist/secretary and later I did temping while doing a Diploma in Payroll Technology and Payroll Management at night time.

So why and when did you get involved in republican politics?
The awareness of republicanism in the house at home particularly through my father was one factor but apparently it was always in me. I remember in fourth year in art class that when we were asked to design a T-Shirt I painted a tricolour and an IRA sniper on mine. Needless to say I was asked to remove the sniper because it was for an exhibition!  Another factor was the Roisín McAliskey case, a young pregnant woman being sent to jail in England. Ironically I myself got pregnant a year after Roisín. Keith was only a few months old when I joined Sinn Féin Youth. I'd bring the baby to the meetings and everyone was great. If I was involved in a colour party for a commemoration or the like I wouldn't see Keith for the day - the other members of the cumann would mind him for me. Everyone wanted to push the pram during the march - they were very supportive. If it wasn't for their support it would have been a lot harder to stay involved.
I was the Women's Equality Officer for Sinn Féin Youth in Dublin at the time. It was during Aengus Ó Snodaigh's  2002 general election campaign when I was a canvas leader that I met Sinn Féin National treasurer Treasa Quinn and her husband Tommy. Treasa discovered my accounts background and asked me to come and work in accounts for An Phoblacht so that's how I ended up working here for the past year-and-a half.

You recently became a Sinn Féin councillor. How did that come about and how do you feel about it?
Tony Smithers had been thinking of stepping down and he suggested that I consider accepting a Council co-option. Others such as Aengus Ó Snodaigh, his wife Aisling and Councillor Críona Ní Dhálaigh encouraged me also and after a good deal of thought I agreed.
I'm very proud to have been selected and I'm looking forward to the challenge - I particularly want to get involved in work around social and affordable housing  - a big issue for Ballyfermot. There's also a need for a greater Garda presence on the ground. Ours is a big constituency encompassing Ballyfermot, Chapelizod, Bluebell and part of Inchicore with 10,000 houses. That's a lot of people with a lot of issues and I want to get stuck in. I'm excited about the prospects of bringing about positive change in peoples' lives and people in Ballyfermot want change. They've seen the work done on the ground by Sinn Féin activists.

You're only 26 years old. You've been a Sinn Féin activist since you were 16. Wouldn't you far prefer to travel the world or something?
I love my country - it's history, culture, music etc. People travel here from all over the world to see all that. I'm a kind of home bird, happy to be here in Ireland. I enjoy life here too. I've lots of friends - good ones. I got to know Aengus and Aisling when I joined the James Connolly Cumann in Ballyfermot. They became great friends of mine, giving support and advice all along the way. I have friends the length and breadth of Ireland - the people I met back when I was in Sinn Féin Youth. We kept in touch. Joining Sinn Féin was good for me from the start when you think of the level of drug related problems that were about when I was growing up. Being a councillor is a big challenge but I enjoy community based work and I have a lot of support from my family and my partner Daithí and the cumann.

How do you think you'll handle it if you don't win the seat at the next Local Elections?
I was Aengus's Director of Elections for the general election last month and the experience at the count was unnerving. I was petrified but we had to keep focused on the tally and the count. I'd like to think I'd have the dignity that Seán Crowe showed on the day. When he knew he'd lost the seat he went over to his elections workers and supporters and thanked them in a respectful and sincere way and said he'd continue to work for them. That's what I call leadership - when you're down you just get up again.

In an ideal world where would you see yourself in 20 years from now?
[Grins] In a United Ireland succeeding Deputy Ó Snodaigh on his retirement as Minister for Justice!
 
An Phoblacht Magazine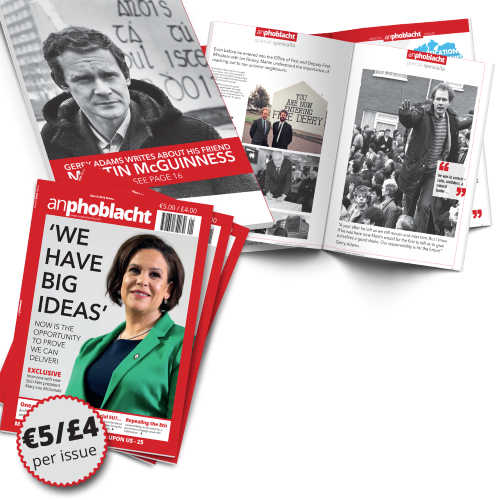 AN PHOBLACHT MAGAZINE:
The first edition of this new magazine will feature a 10 page special on the life and legacy of our leader Martin McGuinness to mark the first anniversary of his untimely passing.
It will include a personal reminiscence by Gerry Adams and contributions from the McGuinness family.
There will also be an exclusive interview with our new Uachtarán Mary Lou McDonald.
test