5 July 2007 Edition
OPINION : Benefits of costing our proposals too high to ignore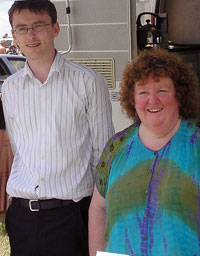 Social Policy depends on a credible economic policy
BY DAVID CULLINANE AND PAULINE HUMPHREYS

As a party Sinn Féin has developed a formidable raft of social policies, based on our general equality agenda. Amongst other things, we argue for increased social and affordable housing, for rent controls, for universal childcare provision, for a single tier, fully accessible Public Health Service, for increased provision for carers, for reduced class sizes and full access to appropriate education for all.
We have adopted these policies because they are right and because we want to see a land where everyone has a decent standard of living. We have a vision of a rights based society where those basic rights to quality healthcare, decent housing, appropriate quality education, are met irrespective of wealth. We want the next generation to grow up in a fair and just society full of opportunity that isn't fettered by income.
All these policies are hard to argue against, because they contain an essential truth - that any society will be judged by the condition of its poorest members, and we see ourselves as a humane people and want to be judged as such.
Where our social policies can come unstuck is when we are faced with the question "How are they to be paid for?" It was a question frequently posed by our political opponents, the media, and on the doorsteps during the last number of months. Unfortunately, it was a question we were unable to answer to any degree of satisfaction and which consequently undermined us electorally.
We have economic policies, of course, but how many of us have a thorough enough understanding of them? How can we put forward social policies with any degree of confidence when they don't appear to the outside world to have been properly costed?
Fundamental to any economy is job creation. There will always be cyclical up and down turns in any capitalist economy, but the trick is to foresee those and to create conditions that will nurture new enterprise that is less vulnerable to those variations and will therefore provide more stable jobs. That means being less reliant on attracting multinational investment, which has no national loyalty and is more readily able to respond to intra-national economic variations, and more on indigenous enterprises. But we cannot do that while venture capital is at the mercy of the banking sector. Banks and other lending institutions are inherently conservative in their funding of start up businesses because their primary purpose is to maximise profits for their shareholders. Our job creation strategy must include a state institution that will be more able to take different venture capital risks than the current lending institutions based on different criteria. It must also include waivers and tax breaks in the critical first years of new businesses, within certain safeguards. We should see this as investment not in private enterprise, but in sustainable jobs.
On fiscal policy we have to consider our options within the context of what we want to deliver on social policy. Perhaps we should consider revising our policy on Corporation Tax to include banded rates according to turnover or profit levels. Our progressive income tax proposals are perfectly reasonable but do we all understand them well enough to explain them?
Our social policies must also have an economic dimension of themselves.
Quality universal healthcare does not come cheaply, but it is not as expensive as ill health. The economic returns on investment in the health of the nation in terms of workdays lost, benefits paid, and the social dependency of the chronically ill needs to be costed. For example, what are the costs of keeping a worker on benefits for a year while s/he waits for an appointment with a consultant for chronic back pain compared to the costs of providing quick access to treatment? How many people would abandon their private health insurance, leaving more disposable income to be spent in the general economy, if quick access to quality diagnostics and treatment were universally available?
What are the costs of effectively combating the spread of MRSA and other hospital acquired infections compared with the current costs of caring for those with these infections?
Universal accessible childcare requires a significant investment, but some social economists estimate that for every Euro invested in childcare, the economy benefits by seven times that amount.
Providing sufficient social and affordable housing units in a reasonable timescale requires a massive investment, but that needs to be offset by alternative spending on rent subsidies and B&B provision, not to mention the knock-on effects on health and social benefits paid.
These are just a few examples of the economic costings that we need and we will not get them from the likes of Jim Power. We have to make some investment of our own in making these comparative analyses. Shannonbrooke Murphy's articles on economic policy on these pages shortly before the election were excellent, and clearly set out the general arguments with some specific costings. However, such a detailed analysis would take dedicated careful research and we cannot afford to have our already overburdened Policy Development Team working solely on this project for the time necessary. Further, such analyses need to be seen to be impartial. There are a number of progressive economists who understand these issues and would be able to do the work for us and provide various fiscal options for us to consider.
We made the mistake of having to debate our fiscal policy versus the cost of our social policy because we had not related the two in any credible way. Let's start now to make sure that won't happen again. Let's gather the evidence, and then ensure that all our candidates in the next election have a thorough understanding of an integrated economic and social policy strategy through comprehensive training.
Whatever the price, we cannot allow ourselves to go into another election open to accusations of economic incompetence. We must do our own cost benefit analysis on this issue and realise that the price of not doing this is too high to pay and the potential benefits too great to ignore.


• Councillor David Cullinane was the Sinn Féin candidate for Waterford in the 26 County general election. Pauline Humpreys is PRO for Waterford Sinn Féin.

An Phoblacht Magazine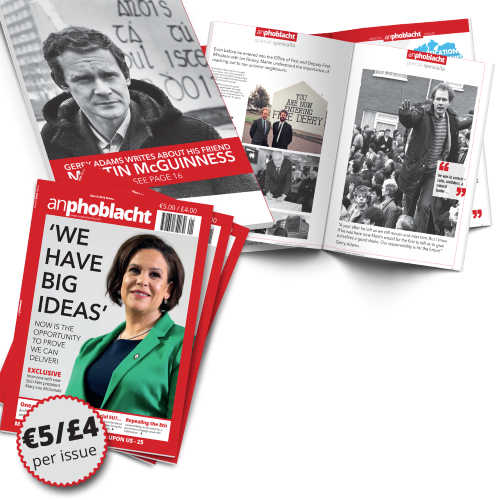 AN PHOBLACHT MAGAZINE:
The first edition of this new magazine will feature a 10 page special on the life and legacy of our leader Martin McGuinness to mark the first anniversary of his untimely passing.
It will include a personal reminiscence by Gerry Adams and contributions from the McGuinness family.
There will also be an exclusive interview with our new Uachtarán Mary Lou McDonald.
test