5 July 2007 Edition
Stanley becomes vice chair of Laois County Council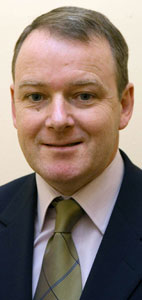 BY ARAN FOLEY
Sinn Féin Laois/Offaly representative Brian Stanley was elected as Vice Chairperson of Laois County Council by a vote of 13 to ten on Monday, 25 June. The votes were one Sinn Féin, nine Fine Gael, one Labour and two independents. Ten Fianna Fail councillors voted against the proposal.
First elected to Portlaoise Town Council in 1999 Brian Stanley became a member of Laois County Council in the local elections of 2004. The same day he was re-elected to Portlaoise Town Council having topped the poll. Shortly afterwards he was elected Mayor of Portlaoise, a position which he held until Thursday 28 June when his term expired and a new Mayor, Independent Councillor Rotimi Adebari was elected.
A Nigerian national, Rotimi Adebari made history by becoming the first black Mayor to be elected in Ireland. Like Stanley he was elected through a Sinn Fein, Independent and Fine Gael pact, which sees the position rotated amongst the three groups. Rotimi Adebari's election was warmly welcomed by Stanley.
Speaking   to An Phoblacht councillor Stanley said he looked forward to the challenge. He would be pushing an agenda of social inclusion and one of the main areas he will be concentrating on increased provision of social and affordable housing he said. Brian is chair of the County Council's Housing Policy Committee.
Stanley also said that the scandal of illegal dumping needed to be addressed and that he would be pushing for greater environmental awareness and action from the council specifically and more generally on the part of the electorate.
A member of the local VEC Stanley is also Chairperson of Laois/Offaly Sinn Féin. Appealing to all Sinn Féin activists to concentrate on the forthcoming local elections in 2009 Stanley said that it could not be understated how crucial the elections will be for the development of Sinn Féin. We must start working toward these elections now as I believe they will be a milestone in expanding our base and thus empowering local communities said the councillor.