28 June 2007 Edition
The Matt Treacy Column
The Beer and Popcorn Brigade
When people treat a game in Croke Park in the same way they do an evening at the cinema it is time to start to be concerned. Last Sunday's Leinster semi-final between Dublin and Offaly was delayed, apparently to facilitate people who were either late coming in or who decided that the throw in could wait until they poured another plastic container of beer down their throat, had another hot dog or stocked up on popcorn.
And before anyone starts to nod sagely and rehearse old shibboleths about the Dubs, it should be pointed out that Hill 16 – allocated mainly through Dublin clubs – was the ONLY part of the ground packed to capacity before the designated start time. Meanwhile, in the stands, streams of people were arriving with their refreshments, the better to shout abuse at "Number 10" or gaze in wonderment at people singing Amhrán na bfFiann as if they were in the presence of the last speaker of Old Norse in the middle of a chant to Odin.
Indeed Dublin supporters near me who actually knew the names of players were the objects of wonderment on the part of those who had possibly heard of a chap called "Whelo" – although they were not quite sure who he was – who had decided that "Mossy" (it was actually Conal Keaney) was a waster, and who were visibly relieved when Jayo appeared because now they could shout "Feed Jayo" instead of "Feed number 15". Even the congenital idiots who think that Dublin GAA starts after the June Bank holiday know Jayo. I'd imagine he is mightily flattered.
Ah, you will be thinking. More evidence that Treacy is becoming an unbearable curmudgeon and hate the world. "Becoming", is it!
Look I don't necessarily mind the fact that thousands of people come to Croke Park in the summer who otherwise evince no interest in the GAA. Apart from when they hoover up tickets that should go to genuine Dublin and other supporters of course. I do, however, think that when they do that they should show some respect. Respect for the team, respect for the opposition, respect for minute's silences.  Oh, and show up in time for the throw in. Not much to ask really.
In the midst of my brooding on these matters there was a moment of serendipity when once again my eating of a Cornetto (bought well before the commencement of the second half for those of you anxious to discover evidence of hypocrisy on my part) once again coincided as it did last year with the scoring of a goal. Even Ciara was impressed.
It was very different from Croke Park in Carlow on Saturday when the Dublin minor hurlers decisively defeated Wexford to reach the Leinster final. It was a hugely impressive performance by a team that has so many stars that it would be invidious to pick out anyone. But I am going to anyway! Rory O'Carroll was superb at centre half back as was David Treacy at centre half forward until forced to retire injured. But special mention to goalkeeper Finn McGarry who was relentless in his non-stop encouragement of the team. He makes Ger Loughnane look like a Trappist monk.
Dublin meet Kilkenny in the final on Sunday prior to the Leinster senior final between Wexford and Kilkenny and the Leinster football semi final between Wexford and Laois. The Laois minor hurlers put up a brave performance in Carlow and might have pushed the Cats closer had they made the most of their chances. They had several outstanding players like John O'Loughlin.
Dublin will have high hopes of winning another Leinster and there is no greater test than Kilkenny in a final. Kilkenny have set the standard. Dublin have striven to emulate it and Sunday will tell us more about how far they have been successful in this lofty ambition.
Unfortunately the football again clashed with the hurling last Sunday so I didn't get to see the third Tipp-Limerick match, which again went to extra time. This time Limerick seemed to have lasted the pace better and will now meet Waterford in the final, a unique pairing in modern times. The last time they met was in 1934 when Limerick were the victors. Waterford will be favourites this time but Limerick will fear no-one after their epic encounter with Tipp.
Another rare event took place in Ulster where Monaghan beat Derry to reach their first final since 1988 when they had players like the great Nudie Hughes and Paddy Linden. Speaking of whom, both – certainly Nudie – adorn the walls of the Paragon in Clones, a nice place for cocktails of an evening as Billy Connolly might say, which feature murals of some of the greats of gaelic football.
And I say "some" advisedly because the last time I was there I noted that there were no Dubs among the chosen giants of the game. On querying this strange omission, I was greeted with the rejoinder, "Aye, and there f...ing won't be either." Charming.
Speaking of Clones reminds me that I was the victim of a tirade of abuse last week on foot of my slighting comment on Fermanagh, and the good fortune of whatever team would draw them in the qualifiers.
It was meant in jest good folk of the Lake country.
And it seems like the lucky teams is going to be either Laois or Wexford !

An Phoblacht Magazine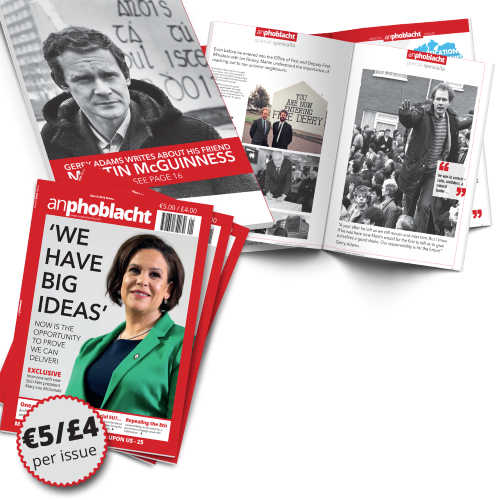 AN PHOBLACHT MAGAZINE:
The first edition of this new magazine will feature a 10 page special on the life and legacy of our leader Martin McGuinness to mark the first anniversary of his untimely passing.
It will include a personal reminiscence by Gerry Adams and contributions from the McGuinness family.
There will also be an exclusive interview with our new Uachtarán Mary Lou McDonald.
test