28 June 2007 Edition
End of Blair era
This week witnessed the end of Tony Blair's Premiership in Britain. There is no doubt that in the long, difficult and often violent relationship between Ireland and Britain and after the recent decades of occupation, repression and armed conflict in the Six Counties, Tony Blair devoted more time and energy to finding a peaceful way forward than any of his predecessors at 10 Downing Street.
Blair's positive contribution to the Irish peace process has helped immensely in the building of better and peaceful relationships in Ireland and between Ireland and Britain.
However, many, many people throughout Ireland and abroad will also remember Tony Blair for his decision to participate in the illegal invasion and occupation of Iraq. The misery and destruction now being wrought upon that country and its people and the wider global instability and violence caused as a result is wrong and is evidence of the folly of that decision.  
Blair's departure coincides with further evidence of the legacy of the dirty war prosecuted by the British state Ireland. The decision by the Public Prosecution Service in the Six Counties not to press charges against any British soldier or RUC officer for the murder of Pat Finucane has exposed the continuing state cover up of the extent of collusion between unionist paramilitaries and British state forces. The British Government's refusal to act is about protecting its own soldiers and agents including Brigadier Gordon Kerr, the former head of the Force Research Unit (FRU) which controlled and directed agents within the unionist paramilitary death squads and who is now a senior British army officer serving in Iraq.
Tony Blair's departure also coincides with another departure this week – that of the last remaining British troops from South Armagh. For decades the people of South Armagh have endured the worst affects of British occupation – the murder of family members, friends and neighbours, the military theft of farmland, British army destruction of their property and pollution of their environment by military surveillance technology.
The South Armagh community has faced military occupation and state violence with a fierce resistance that has been a source of pride and inspiration to republicans throughout Ireland.
The British government must now ensure that all occupied lands, stolen from people in South Armagh are returned.
The sight of the last British troops leaving South Armagh is one welcomed by republicans but we will not rest until we see the full and final withdrawal of all British military personnel from every part of the Six Counties.
There is a range of matters, which Sinn Féin intends to pursue with Tony Blair's successor, Gordon Brown. They include dealing with the legacy of British misrule in Ireland, getting to the truth about collusion and finally ending British jurisdiction in this country.
An Phoblacht Magazine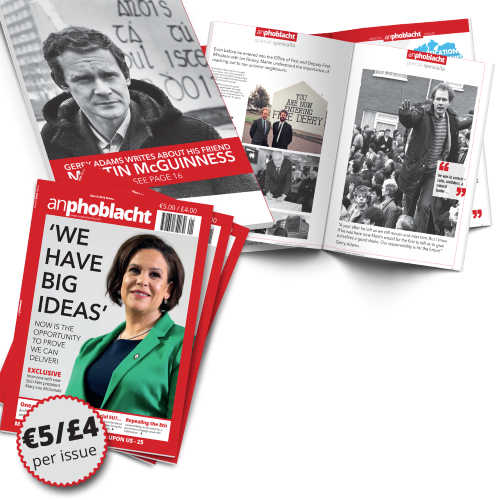 AN PHOBLACHT MAGAZINE:
The first edition of this new magazine will feature a 10 page special on the life and legacy of our leader Martin McGuinness to mark the first anniversary of his untimely passing.
It will include a personal reminiscence by Gerry Adams and contributions from the McGuinness family.
There will also be an exclusive interview with our new Uachtarán Mary Lou McDonald.
test