21 June 2007 Edition
The Matt Treacy Column
'Madser' makes his mark
Diligent readers of this column and those of you who keep scrap books carefully filled with my sapient musings on the robust and manly jostling of the Gael will immediately recall my predictions of some time back as to the great future that lay in store for tousle headed young Mark Vaughan. Known to his chums as Madser, or more latterly Vince.
He first made his mark as a Dublin minor and then under 21 and his growing 'maturity' – as those who like to speak of footballers in the same way as wine or mouldy cheese would have it – has been charted by his gradually more understated mullet. The day Mark appears with a nice neat Val Doonicanesque short back and sides dyed the colour of the Corrib in November is the day that Mr. Brennan better get ready to hand Sam over to the Dubs.
He really came of age in the 2005 county championship for Crokes especially in the semi-final when he scored 1 - 8 and in the final against Na Fianna. He has made occasional appearances for Dublin since then but has struggled to retain a first team position. The main reason that he made the cut for last Sunday's game was the fact that Tomás Quinn did not have a good day from frees in the drawn match.
Vaughan certainly justified the confidence with eight points, including six from placed balls and a sublime sideline kick from close to the position where Cian Ward equalised for Meath the last day. Vaughan reminds me a bit of the great Keith Barr in his approach to the longer kicks and if he can maintain that standard he will bring a much needed added dimension to Dublin's order of battle. A good place kicker from distance makes every foul within 60 metres a potential score. The absence of same places a premium on dragging down runners.
That the rest of the Dublin forwards only contributed three points from play is on the one hand a cause for concern. On the other, it raises the intriguing question as to what would they will be like if they all hit form on the one day. Like Victorian ornithologists we will patiently await the arrival of football's equivalent of the Great Auk. More in hope than expectation, perhaps.
In Clones, Tyrone took a much vaunted Donegal to pieces. In fairness to the latter they were unfortunate to be denied a goal in place of a penalty that was missed, and then concede a goal from a penalty. It is unlikely, however, that they could have hoped for any better than a closer margin on a day when Tyrone looked to have recovered the hunger and efficiency that seemed to have deserted them last year.
Tyrone now face either Monaghan or Derry in the Ulster final while Donegal embark on an uncertain and hazardous journey through the qualifiers, the first round draw for which will be made on Sunday evening and already involves heavy hitters like Armagh and Mayo and a perhaps newly revivified Meath. With Division Four sides now excluded, there will be no easy games for anyone from now on. Except for whoever gets Fermanagh.
Unfortunately the Dublin Meath replay meant that I missed the epic in Thurles. And yes, before the grumpy dead Tipperary Whiteboy ancestors start to stir themselves from the grave to come and hamstring my herd of guinea pigs Saturday's match was also epic. In its own way.
The meeting of Waterford and Cork was the most eagerly awaited match of the year and it didn't disappoint. These two sides over the past three or four years have provided us with heart stopping classics. Last Sunday's game will rank right up there even if certain pundits argue that the high number of scores conceded was indicative of an error strewn game.
Having watched it since, I do not believe that this was the case. Rather it was that the game was played at such an unfailingly high rate of intensity and excellence that the player in possession, whether back or forward nine times out of ten did the right thing. Such was the pace that it was like two games in one and with twice as many scores!
There is much nonsense talked of 'bottle' and 'choking' these days, generally by people who are more familiar with bottles and putting things down their throat than they are with feats of athletic endeavour. The current Dublin football team have the name of being 'bottlers'. Some have levelled the same charge at the Waterford hurlers. What nonsense.
American golfer Phil Mickelson was also unfairly given that title because of his apparent inability to win a major tournament. A deficiency he put right when winning the US Masters in 2004. Mickelson's greatest handicap of course is that the pinnacle of his own career coincided with that of possibly the greatest golfer of all time, Tiger Woods. When questioned about his status as a "loser", Mickelson imparted some wise words: "If I judge success on whether I won or not, I'm putting a variable on other guys, and I can't control what they do."
That may not apply to the same extent in sports where there is direct physical confrontation but it does capture one of the essences of any sport. You may be good, you may be as good as you will ever be, but if there is another person or team that is better then mostly you will lose. It is coping with that and staying the course and continually striving that defines character in sport. Or in any aspect of life for that matter.
On that basis, Waterford demonstrated last Sunday that they have character in abundance and that if they do not win the All Ireland it will be because they have been beaten by a better team. Not a morally superior one.

An Phoblacht Magazine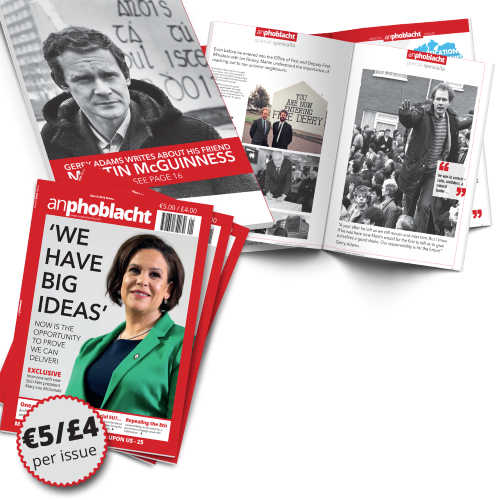 AN PHOBLACHT MAGAZINE:
The first edition of this new magazine will feature a 10 page special on the life and legacy of our leader Martin McGuinness to mark the first anniversary of his untimely passing.
It will include a personal reminiscence by Gerry Adams and contributions from the McGuinness family.
There will also be an exclusive interview with our new Uachtarán Mary Lou McDonald.
test