21 June 2007 Edition
TV Review : Programme failed to put hard questions to the right people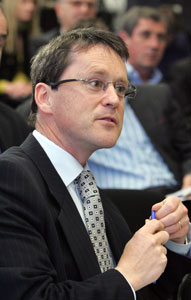 Petrol Porn!
TV Review
Future Shock:
End of the oil age
RTE 1
18 June


Yes the oil is running out on planet earth. Yes Ireland is the most car and oil dependent economy in the world and yes it seems that the Government is doing very little about planning how to deal with this, so how would you go about making a 50 minute TV programme investigating such a crisis?
Maybe you might include someone from the Irish government among the 17 people I counted that were interviewed during the broadcast. It seems that George Lee, RTÉ's chief economist who is the brainchild behind the Future Shock series, decided that those Fianna Fáil people who have been in power for 17 plus years of the last 20 didn't need to be interviewed for this programme.
Examples of the need to have a government spokesperson, or maybe a minister even cropped up continually during the show such as the point when George told us that seven out of ten people use a car to get to work every day in the 26 Counties which is the opposite of many of our European counterparts where the average is 18% of workers travelling by car. That would be a good question to put to a Transport minister, wouldn't it?
You could ask why is it that in Ireland we drive 70% more than France or Germany, 50% more than Britain and even 30% more than the USA where the car is king! None of these questions were put to any authority figure during the programme, but rather the suggestion was floated that the Irish adult is a hopeless car addict.
It wasn't that George was short on opinion and the programme wheeled through a series of experts including Conor Faughnan from the AA, an Irish Road Haulier's Association spokesperson. Frank McDonald, the Irish Times environment correspondent, Jim Barry from National Toll Roads as well as other economists and energy specialists such as Dr Fatih Birol Chief economist at the International Energy Agency.
And then there was presenter George Lee, whose serious brooding countenance dominated much of the footage. George is worried, seriously worried, and he looked it. If his brow could have been more furrowed, it would have qualified him for a walk on role in Star Trek as a Clingon warrior.
George wants us to be worried about "Peak Oil" theory, the "single biggest threat" to our economic prosperity. It's a simple theory really, we consume 200,000 barrels of oil a day in the 26 Counties and oil resources are finite, there will come a day when as the oil runs out, the price will rise and as a small island nation, Ireland will be well, screwed basically.
Not that George uses words like "screwed", he doesn't. He uses words like "threat" and "shock", and when will the oil begin to run out, dates varied in the programme from 2005, oops you missed it, too 2011, or 2030, put it in the diary.
For an economy that exports a lot and imports over €60 billion of finished goods every year, we will find it more expensive to do business, the multinationals will leave, we will all have to seriously change our lifestyles, grow our own food again and return to the local shop as it will be too expensive to travel, we will have lots of solar panels and wind turbines on every house. It didn't sound all that bad, really!
So there is no doubt that the Peak Oil theory does have some weight, and yes we have one of the most badly planned transport infrastructure of any industrial state, with too few buses, not enough trains etc. And yes we haven't done enough on renewable energy like wind, wave and solar power, but this brings us back to the nub of the programme, as consumers we are not to blame.
We didn't deliberately starve CIE of funds, we didn't corrupt the planning process to build huge out of town shopping malls only accessible by road. We didn't build the suburban sprawl. It wasn't the consumer who ignored the need to invest in renewable energy resources. Are we to believe that the problems for example with ESB grid not being able to deal with increased wind power are down to its customers?
Hats off to Martin Spain, former An Phoblacht editor who had a cameo in the programme when interviewed by chance in Blanchardstown Shopping Centre car park. Martin gave the line about needing a proper public transport system and government failures but George moved on.
George Lee interviewed former Labour Environment minister Michael Meacher, about Ireland's natural gas dependency, the role of the British in supplying this through undersea pipelines and how this gas could too run out. No mention of the Corrib Fields etc and those pesky government people aka Fianna Fáil who gave it all away!
Again and again throughout this programme, you wondered when George was going to put any of these questions to someone in authority, anyone, please! Instead we had hinted and veiled references as George drove around Dublin in his car, the camera glancing suggestively at the recently published Energy White Paper – Delivering a Sustainable Energy Future for Ireland which lay beside him on the passenger car seat.
This was matched with endless cutaway shots of shiny new cars, SUVS, lots of slow moving traffic and by the end of the programme I wasn't that concerned about peak oil theory as I needed to go on a long drive, and maybe have a cigarette after. Why should George have all the fun!

BY ROBBIE SMYTH
 
An Phoblacht Magazine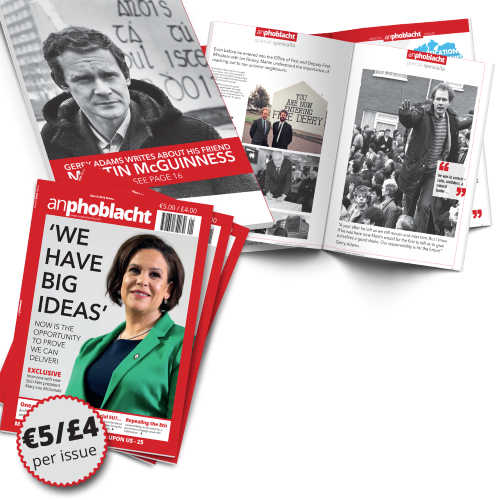 AN PHOBLACHT MAGAZINE:
The first edition of this new magazine will feature a 10 page special on the life and legacy of our leader Martin McGuinness to mark the first anniversary of his untimely passing.
It will include a personal reminiscence by Gerry Adams and contributions from the McGuinness family.
There will also be an exclusive interview with our new Uachtarán Mary Lou McDonald.
test